Latest OCAU News
ADATA Ultimate SU800 256GB SSD (4 Comments) (link)
Wednesday, 18-January-2017 12:33:20 (GMT +10) - by Agg


I've taken a quick look at a new SSD from ADATA - the "Ultimate SU800". It's one of the first drives to bring 3D NAND to market: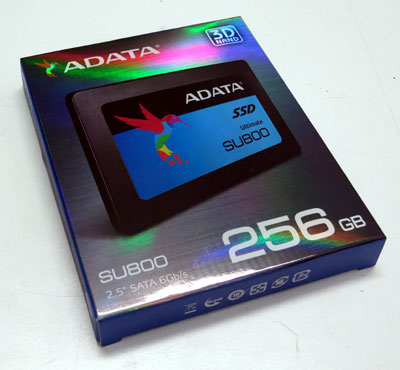 click for the review!






Tuesday Afternoon Reviews (0 Comments) (link)
Tuesday, 17-January-2017 13:44:53 (GMT +10) - by Agg


Cooling:
XFX Hard Swap LED Fans on LanOC.
Cooler Master MasterNotepal Maker Cooling Pad on MadShrimps.

Storage:
KingFast P600 120GB Portable SSD on MadShrimps.
Corsair Force MP500 480GB M.2 NVMe SSD on LegitReviews.
Intel DC P3520 2TB Enterprise PCIe NVMe SSD on Tweaktown.
Toshiba OCZ TL100 240GB Solid State Drive on APHNetworks.

Audio Visual:
Audioengine HD3 Premium Powered Desktop Speakers on CustomPCReview.
Sennheiser GSX 1000 amplifier on Vortez.

Input Etc:
Logitech G502 Proteus Spectrum Gaming Mouse on TechARP.
ROCCAT Suora FX Mechanical Keyboard on APHNetworks.
Corsair Scimitar Pro RGB mouse on OCAholic.

Crucial Ballistix Elite 3200 MHz DDR4 16 GB memory on TechPowerUp.
Seasonic PRIME Titanium Series Power Supplies on PCPerspective.
Antec GX1200 Chassis on FunkyKit.

Misc:
Ring Pro Doorbell on TechnologyX.
Amazon Echo on TechnologyX.
Canary Smart Home Security Device on NikKTech.
Oculus Rift VR Benching on BabelTechReviews.




Monday Afternoon (5 Comments) (link)
Monday, 16-January-2017 17:16:17 (GMT +10) - by Agg


A few places are reporting a USB exploit in Intel Skylake and Kaby Lake systems. This vulnerability allows attackers to bypass security mechanisms by using a debugging interface exploit, which allows attackers to install malicious code, rewrite firmware and even rewrite your system's BIOS. This bug affects any system with a Skylake CPU that has a debugging interface that is accessible via USB 3.0. What is most scary about this exploit is that it is currently undetectable using existing security tools. I'll chase up some more details for the next news post.

The FTC are suing D-Link for poor network security. The FTC is back again, this time suing D-Link for routers and video cameras that the company claimed were "easy to secure" and delivered "advanced network security," yet were about as secure as a kitten-guarded pillow fort. Like Asus, D-Link's hardware also frequently ships with easily-guessed default login credentials.

OCClub have a GTX 1070 Overclocking Guide. Now, start the Unigine Heaven benchmark in windowed mode so you can change the frequency while it is running. I generally use the Heaven benchmark as it's easy to run in windowed mode and artifacts are noticeable. Start with 100MHz OC and apply, then watch for any artifacts in the textures. These may be seen as flashing green, pink, or black textures. If none are present, push it up another 100MHz. Continue this until 400MHz.

HWSecrets report on the major companies at CES 2017, while ThinkComputers cover the case mods and builds seen there. CES is always a great place to find amazing PC Mods and Builds. CES is a place for many companies to showcase their new products and what better way to get attention to those products than to have them inside of a great mod or build. PC Modding has never been bigger and many companies actually commission modders to create builds for CES.



Want more news? View previous 7 days, 14 days, 30 days or monthly archives.
All original content copyright James Rolfe.
All rights reserved. No reproduction allowed without written permission.
Interested in advertising on OCAU? Contact us for info.

Recent Content


FSP Hydro 700W and Hydro G 850W PSUs


Crucial BX200 SSD


ADATA SP550 240GB SSD


Lexar Jumpdrive M20i Flash Drive


Lexar Jumpdrive M20c Flash Drive


Thecus N5810PRO 5-Bay UPS NAS


Synology DS715