Latest OCAU News

Thanks to BFM and HyRax1 this week! Here's a timewaster: make yourself in Family Guy style. Here's mine. :)




































Thursday Afternoon (3 Comments) (link)
Thursday, 18-January-2018 16:31:16 (GMT +10) - by Agg


Time to clear out the news box. The Spectre/Meltdown Intel bugs and associated patches are still dominating the headlines. Gibson Research have a simple tool to let you know if your system is vulnerable. This InSpectre utility was designed to clarify every system's current situation so that appropriate measures can be taken to update the system's hardware and software for maximum security and performance.

ZDNet have an article about how much slower your PC will feel after patching. Intel has published both data collected from both users and synthetic benchmarks and the bottom line is that users will experience a real-world performance hit of about between six and eight percent, with systems running 8th-generation processors seeing a smaller impact than those running 7th- or 6th-generation hardware. Phoronix report on the Linux performance impact of Spectre patches.

Shadowman spotted this article which explains why Raspberry Pi isn't vulnerable, and in doing so explains the problem quite well. Both vulnerabilities exploit performance features (caching and speculative execution) common to many modern processors to leak data via a so-called side-channel attack. Happily, the Raspberry Pi isn't susceptible to these vulnerabilities, because of the particular ARM cores that we use. To help us understand why, here's a little primer on some concepts in modern processor design. We'll illustrate these concepts using simple programs in Python syntax like this one:

There wasn't too much news from CES 2018 that caught my eye, but Dell's new convertible laptop gives a glimpse of the new Intel-with-AMD-graphics chips - and it's good news. Needless to say, graphics performance definitely looks promising for these new 8th generation Intel Core processors with AMD graphics. We don't know how long this AMD partnership will last, but the bitter rivals should be commended for likely hitting it out of the park on the first try here.

HotHardware chose their best of CES, while ThinkComputers have case mods and builds covered. Meanwhile TomsHardware looked at the PSUs of CES and TechARP rounded up all the AMD updates. Alongside announcing the first desktop Ryzen processors with built-in Radeon Vega Graphics, AMD also detailed the full line-up of Ryzen Mobile APUs including the new Ryzen PRO and Ryzen 3 models, and provided a first look at the performance of its upcoming 12nm Ryzen 2 desktop CPU expected to launch in April 2018. In graphics, AMD announced the expansion of the AMD Vega family with Radeon Vega Mobile and that its first 7nm product is planned to be a Radeon Vega GPU specifically built for machine learning applications.

NVIDIA's big launch at CES was the BFGD, or Big Format Gaming Display, although no DOOM fan will ever read the acronym that way. The Big Format Gaming Displays also have an ultra-low latency design, delivering the low response time gamers are looking for in their screens - one of the main reasons why traditional TVs lacking such support haven't been that great for PC gaming.

HWInfo compared 7 AMD X399 motherboards. Even though Intel has the lead in multi-threaded benchmarks with their astronomically priced Core i9 processors, AMD offers a lot of computation power for a relatively cheap price. Which motherboard is best paired with this budget monster? We tested seven X399 motherboards (which was the majority of the available boards at the time of writing).

They also have a roundup of 22 mechanical keyboards. The appeal of keyboards with mechanical keys is part solid construction and part the feeling and feedback of the switches while typing or playing games. Ever since the German manufacturer of the Cherry MX switches was, almost by accident, promoted to being all but the global standard, a lot has changed in the land of mechanical switches.

TechSpot have an article series explaining why it's a bad idea to build a gaming PC at the moment. There was plenty to be excited about PC hardware in 2017, but there's a lot to be upset about as well. Part one of this series will be dedicated discuss DDR4 memory pricing and why it's so high. RAM pricing is currently a big issue plaguing those wanting to build a new computer or update an old one, more than doubling in price in less than two years. Part 2 covers expensive/unavailable GPUs due to those pesky crypto-miners - pay no attention to my new GTX1060, ahem.




Thursday Afternoon Reviews (0 Comments) (link)
Thursday, 18-January-2018 15:41:01 (GMT +10) - by Agg


Power Supply:
SilverStone Strider 1300W Titanium on PC Perspective.
beQuiet! Straight Power 11 Power Supply 750W on Guru3D.

Portable & Prebuilt:
Xidax X-8 Gaming PC Review: Skylake-X And Dual GTX 1080 Ti Cards on HotHardware.
Samsung Galaxy A8 | A8+ 2018 launch event on TechARP.

Audio Visual:
Genius Mobile Theater MT-20 Bluetooth Speaker on BenchmarkReviews.
Creative Omni Portable Multi-Room Wi-Fi/BT Voice-enabled Speaker on MadShrimps.
Noontec Hammo Wireless on TechPowerUp.
Tt eSports Shock PRO RGB headset on Vortez.

Cooling:
Noctua NF-F12 & NF-A14 Industrial PPC Fan on OCClub.
Cooler Master ML120L RGB All-In-One CPU Cooler on HardOCP.

Misc:
Crucial MX500 1TB SATA 2.5" SSD on FunkyKit.
SAPPHIRE NITRO+ Radeon RX VEGA 56 Limited Edition 8G HBM2 on OCClub.
ASRock Fatal1ty AB350 Gaming ITX/ac & X370 Gaming ITX/ac on HWInfo.
In Win 101C on OCaholic.




Retro Let's Play: Rocket Knight Adventures (0 Comments) (link)
Wednesday, 17-January-2018 13:36:46 (GMT +10) - by Agg


OCAU's "Retro Let's Play" game for late January 2018 is Rocket Knight Adventures: Developed and published by Konami in 1993 for Sega Megadrive and Genesis consoles. "Rocket Knight Adventures" is currently ranked 9th on HG101's top 47,858 games of all time. This one you can play in your browser, too!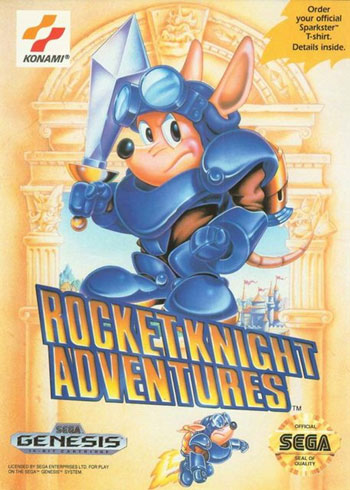 click for the thread!






Tuesday Night (1 Comments) (link)
Tuesday, 16-January-2018 23:47:26 (GMT +10) - by Agg


The ATO is paying more attention to crypto traders. A team of specialists across tax law, technology, banking and finance will devise strategies to follow the money on gains made from investment in digital currency. "We are consulting with key stakeholders who have expressed an interest in tax issues relating to cryptocurrencies," a spokesman for the ATO said.

Victorian authorities have used VR to help demonstrate the perils of bushfires. The virtual reality programme features three scenarios to show how responding late to a bushfire can prove fatal. "Through this type of technology, they will be able to see the scenario of what they might be faced against and will make a better decision," state Emergency Management Commissioner Craig Lapsley told the ABC.

GoPro are quitting the drone business, after taking on DJI and, well, failing. GoPro has announced that it's exiting the drone business, citing the challenges of turning a profit in an "extremely competitive" market. The company revealed the news during its earnings report today, saying that its Karma drone would be the last it would make. The company is also laying off hundreds of staff and reducing the pay of CEO Nicholas Woodman to $1 as it struggles to manage its rocky financials.

Here's an interesting article about what happened with Vista, from an insider. We couldn't exactly go backwards in terms of security in our next major OS release. So it was that Vista became massively more secure than any earlier OS shipped by Microsoft, but in the process also managed to break application and device driver compatibility in an unprecedented manner for the ecosystem. Customers hated it because their apps broke and ecosystem partners hated it because they felt they didn't have enough time to update and certify their drivers and applications as Vista was rushed out the door to compete with a resurgent Apple.

Australia recently slipped behind Kazakhstan in Ookla's global internet speed index. The Ookla Speed Test Global Index ranked Australia as 55th in the world for fixed broadband in December, with an average download speed of 25.88 Mbps. Globally, the average download speed is 40.71 Mbps, pushing Australia behind countries including Austria, Slovenia, the Czech Republic and Russia.




Tuesday Evening Reviews (0 Comments) (link)
Tuesday, 16-January-2018 18:30:16 (GMT +10) - by Agg


Storage:
ADATA XPG SX6000: Benchmarking A ~$50 USD 128GB NVMe SSD on Phoronix.
Phison E8 512GB M.2 NVMe PCIe SSD Preview on Tweaktown.

Audio Visual:
Cougar Immersa Pro Gaming Headset on Guru3D.
Tribit XFree Move Bluetooth Headset on FunkyKit.
Acer Predator X34P Monitor on TechSpot.

Power Supply:
Thermaltake Toughpower Grand RGB 1200W on NikKTech.
Seasonic PRIME Ultra 750W on HardOCP.

Cooling:
Noctua NH-L9a-AM4 & NH-L12S Low-Profile CPU Cooler on NeoSeeker.
IceMan AMD Threadripper Water Block Breakdown on HardOCP.

Cases:
Corsair Carbide SPEC-OMEGA on OCAholic.
Enermax Ostrog ADV LED ATX Mid-Tower on ModSynergy.

Misc:
Cherry MX Board 3.0 keyboard on TechPowerUp.
MSI X370 Gaming M7 ACK AMD Ryzen Motherboard on HardOCP.



Want more news? View previous 7 days, 14 days, 30 days or monthly archives.
All original content copyright James Rolfe.
All rights reserved. No reproduction allowed without written permission.
Interested in advertising on OCAU? Contact us for info.

Recent Content


Getting Started with Arduino


ADATA Ultimate SU800 256GB SSD


FSP Hydro 700W and Hydro G 850W PSUs


Crucial BX200 SSD


ADATA SP550 240GB SSD


Lexar Jumpdrive M20i Flash Drive


Lexar Jumpdrive M20c Flash Drive