Latest OCAU News
Sunday Night Reviews (0 Comments) (link)
Sunday, 14-February-2016 23:49:00 (GMT +10) - by Agg


Storage:
OCZ TRION 150 480GB SATA III SSD on Tweaktown.
Synology DiskStation DS416 4-bay NAS on MadShrimps.
OCZ Trion 150 480GB SSD on LegitReviews.
OCZ Trion 150 SSD on HotHardware.
Mushkin Striker 480GB Solid State Drive on eTeknix.

Memory:
G.Skill TridentZ 3200 MHz DDR4 on Guru3D.
GeIL Super Luce DDR4-3000C16 16GB on OCAholic.

Cases:
Phanteks Enthoo Pro M on APHNetworks.
Corsair Carbide 400C on APHNetworks.

Video Cards:
Sapphire R9 380 ITX Compact 4GB on LanOC.
ASUS GeForce GTX 980 Ti Matrix 6 GB on TechPowerUp.
GeForce GTX 980 Ti vs. Radeon R9 FuryX on OCAholic.
EVGA GeForce GTX 970 Hybrid Gaming on LegitReviews.

Audio Visual:
ASUS PB328Q 2560x1440 32-in VA-panel Monitor on PCPerspective.
Monster Adistar Adidas Bluetooth Headphones on TechWareLabs.
Kinivo URBN Bluetooth Headphones on ThinkComputers.

Input Etc:
Cougar 450K Hybrid Mechanical Gaming Keyboard on Tweaktown.
G.Skill Ripjaws KM780 MX Keyboard on HWAsylum.

Misc:
CRYORIG A80 Hybrid Liquid Cooling System on NikKTech.
NZXT HUE+ RGB LED Controller on BenchmarkReviews.
Moto 360 Sport - A Smartwatch Fitness Tracking Hyrid on HotHardware.
GIGABYTE GTX 980Ti G1 & XTREME GAMING motherboards on Vortez.
ToughTested Rugged Battery Pack on LegitReviews.




Free Telstra Mobile Data Tomorrow (24 Comments) (link)
Saturday, 13-February-2016 17:28:23 (GMT +10) - by Agg


If you're a Telstra customer you probably know this already, but if not, Telstra are offering free mobile data tomorrow, by way of apology for the recent major outage. To show how sorry we are for the inconvenience this caused, we're giving our Telstra mobile customers free mobile data within Australia this Sunday. Free mobile data is available from midnight to midnight in your local Australian time zone on Sunday 14 February 2016. I assume the "within Australia" refers to where your device is, not that it only applies to websites hosted within Australia. :)




Scheduled Outages (3 Comments) (link)
Saturday, 13-February-2016 09:39:43 (GMT +10) - by Agg


Around midnight tonight and at about 10am tomorrow there'll be a couple of forum outages for maintenance and upgrades. The plan is to upgrade a few things including the forum software, which will hopefully help us narrow down some other issues. Thanks for your patience.

Done! Report any weirdness in this thread, please.



Thanks to mpot and OneArmedMan this week!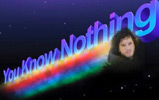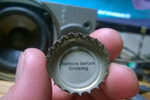 and now here's a quick timewaster: search for "atari breakout" in Google then go to the images page. Enjoy!




Thursday Morning Reviews (0 Comments) (link)
Thursday, 11-February-2016 07:53:36 (GMT +10) - by booj


Motherboards & CPUs:
AMD Carrizo on Anandtech.
ASUS Z170 Maximus VIII Extreme Assembly on Guru3D.

Storage:
PNY CS1311 SSD Review (120GB/480GB) on The SSD Review.
Samsung PM863 240 Gigabyte SSD on ocaholic.
ASUSTOR AS5002T 2-Bay Intel Bay Trail NAS on Missing Remote.

Cases:
Fractal Design Core 500 SFF Chassis on Madshrimps.
NZXT Manta on ThinkComputers.
Phanteks Enthoo EVOLV ITX on PC Perspective.

Input etc:
SteelSeries Apex M800 Illuminated Mechanical Gaming Keyboard on Techgage.
Cooler Master Storm QuickFire XT (Cherry MX Green/Blue) Mechanical Keyboard on APH Networks.
Tt eSPORTS Poseidon Z RGB Mechanical Gaming Keyboard on NikKTech.
Ozone Neon Precision Laser Mouse on Neoseeker.
Cougar 450M Ambidextrous Optical Gaming Mouse on TweakTown.
ASUS Cerberus Gaming Peripherals on eTeknix.
Hot Keys Project Artisan Keycaps on LanOC Reviews.

Portables & Prebuilt:
Dell Precision 15 5510 Mobile Workstation on Hot Hardware.
Intel Compute Stick "2" STK1AW32SC 2GB Windows 10 on TweakTown.

Misc:
EVGA 750W GQ Power Supply on PC Perspective.
Swiftech H220 X2 Prestige CPU Cooler on Techpowerup.
GAMDIAS EROS ELITE EQ Headset on Benchmark Reviews.
Stanley FatMax LEDLISL Lithium-Ion LED Flashlight on ModSynergy.




Lexar Jumpdrive M20i Flash Drive (5 Comments) (link)
Wednesday, 10-February-2016 23:46:00 (GMT +10) - by Agg


It's not very often that we look at Apple-specific products, so I had to outsource this review to a friend in the Mac camp. So, what does HE think of the Lexar Jumpdrive M20i? Well...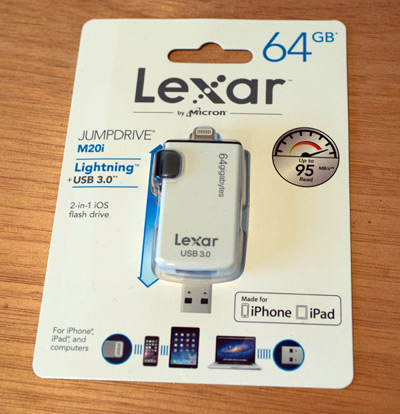 click for the review!






Wednesday Lunchtime (6 Comments) (link)
Wednesday, 10-February-2016 12:46:24 (GMT +10) - by Agg


Today is apparently Safer Internet Day 2016. A couple of people pointed out that Google are encouraging people to review their security settings, by offering 2GB of Google Drive for free. To get the extra Drive space, all you have to do is sign into your Google account and review your security settings, including factors like two-step verification, authorized devices, account verification settings, and a couple more. The process takes just a few minutes, and once you complete the check-up, you'll be awarded the extra 2GB of permanent Drive space for free.

Amazon have a new free game development service called Lumberyard. Amazon Lumberyard is a free, cross-platform, 3D game engine for developers to create the highest-quality games, connect their games to the vast compute and storage of the AWS Cloud, and engage fans on Twitch. This game engine helps developers build beautiful worlds, make realistic characters, and create stunning real-time effects. Discussion here.

One Telstra tech had a bad day yesterday, apparently single-handedly causing a nationwide outage. In his defence, there probably shouldn't be a situation where one misconfiguration can take the whole network down for hours. Telstra chief operations officer Kate McKenzie said that there are 10 signalling nodes distributed around the country and one was taken down around lunchtime. "Unfortunately, the individual did not follow the correct procedures and restarted the malfunctioning node before he transferred the customers off to the other nodes," she said. "That then caused sever congestion across the remaining nodes and prevented people from being able to register a signal."

Apparently Google will serve up bogus search results to would-be Jihadis, thanks aftahours. Jihadi sympathisers who type extremism-related words into Google will be shown anti-radicalisation links instead, under a pilot scheme announced by the internet giant. The new technology means people at risk of radicalisation will be presented with internet links which are the exact opposite of what they were searching for. I'm ok with this specific instance, but somehow this seems a slightly worrying precedent.

The popular media player VLC turns 15. Technically the project is almost 5 years older but this is the anniversary of VLC being licensed to the GPL license, which happened on the 1st of February 2001. Under the GPL license, it is now worked on by many contributors across the world but prior to that it was being developed by students at Ecole Centrale Paris.



Want more news? View previous 7 days, 14 days, 30 days or monthly archives.
All original content copyright James Rolfe.
All rights reserved. No reproduction allowed without written permission.
Interested in advertising on OCAU? Contact us for info.

Recent Content


Lexar Jumpdrive M20c Flash Drive


Thecus N5810PRO 5-Bay UPS NAS


Synology DS715


Ainol Mini PC


Tile

Synology DiskStation DS415+


Silicon Power Mobile X20