Latest OCAU News

Cooling:
CORSAIR Hydro H115i Pro Low Noise 280mm RGB Liquid CPU Cooler on NikKtech
Noctua Chromax on LanOC

Games:
The American Dream Interview (PC) (PS4) (VR) on Gaming Nexus
Yakuza 6: The Song of Life (PS4) on Gaming Nexus
Moss (PS4) (VR) on Gaming Nexus
Q.U.B.E. 2 (XBO) on Gaming Nexus

Storage:
AKiTiO Thunder3 Quad X on TweakTown
CalDigit AV Pro 2 USB-C Storage Hub 3TB on TweakTown
Crucial MX500 1 TB SSD on OCInside
Intel SSD 760p 512GB PCIe NVMe SSD on Legit Reviews
MyDigitalSSD SBX M.2 NVMe SSD on PC Perspective
Crucial MX300 M.2 525 GB on TechPowerUp
Silicon Power Armor A62 4TB USB 3.1 Gen 1 Portable Hard Drive on NikKTech

Motherboard:
MSI B350M Gaming Pro with Ryzen 5 2400G on Guru3D
MSI Z370 SLI Plus on ocaholic

Keyboard/Mouse:
Razer Mamba HyperFlux + Firefly HyperFlux on Vortez
SteelSeries Rival 600 Gaming Mouse on Madshrimps
MSI Vigor GK70 Gaming Keyboard on Modders-Inc

Phone:
Samsung Galaxy S9 on TechARP
Huawei Mate 10 Pro on Hot Hardware

Misc:
Nitro Concepts Series S300 Gaming Chair on Tech Powerup
NZXT H700i Computer Case on APH Networks
WiZ Colors Hero Smart Lamp on ThinkComputers.org
Logitech G560 RGB PC Gaming Speakers on Legit Reviews
D-Link EXO AC2600 Wireless Router on TweakTown



Humble Bundle have a heap of DIY electronics books in their current bundle, which might be useful if you're getting into Arduino or similar. Or maybe you'd prefer to learn Klingon instead. Regardless, seeing as it's Friday again..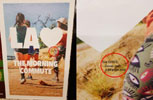 Thursday Afternoon (0 Comments) (link)
Thursday, 15-March-2018 16:47:29 (GMT +10) - by Agg


Professor Stephen Hawking has died aged 76 - this despite at one point not being expected to survive beyond his mid-20s. He died on Albert Einstein's birthday, but shares his birthday with Elvis Presley, so perhaps we shouldn't read too much into that kind of thing. I think his legacy to most people will be his ability to convey the joy and passion of exploring and understanding the universe, to share his incredible knowledge in widely understandable language, and to demonstrate that it is possible to excel and succeed despite even incredible obstacles. In my early teens I happened to be given two copies of "A Brief History of Time" for one birthday and read it a few times over the following years. He certainly helped shape my early interest in science and technology, and I have followed his career and public output ever since. Let's hope that we can collectively get our act together and avoid fulfilling some of his more cautionary predictions of recent times. Rest in peace. People are sharing their thoughts in this thread.

There's a slightly odd story doing the rounds about AMD CPU security issues. Israeli security research firm CTS-Labs has published a white paper detailing nine flaws in AMD processors that they claim leave users open to devastating attacks with no mitigation strategies; these attacks include a range of manufacturer-installed backdoors. However, the way they were disclosed was unconventional and has attracted a backlash. The security community tore into the company, who quickly became a subject of jokes and ridicule. Discussions on social media quickly moved to theories that CTS Labs was trying to short AMD stock using "manufactured" vulnerabilities in an attempt to buy shares at lower values. But the flaws have been independently confirmed and currently there are no patches, so stay tuned. Discussion in this thread.

There's also a widespread Samba security issue. On a Samba 4 AD DC the LDAP server in all versions of Samba from 4.0.0 onwards incorrectly validates permissions to modify passwords over LDAP allowing authenticated users to change any other users' passwords, including administrative users and privileged service accounts (eg Domain Controllers). Patches are available.

HardOCP checked out a 10-year old PSU. Doing computer PSU reviews for over a decade, and keeping full documentation on those, gives us ability to do something that whets computer PSU enthusiasts' appetites. We get to take some of those PSUs that have been in service for 10 years and retest those. Cooler Master is back on the load bank! How does it look after a decade of service?

Amiga fans might want to roll themselves up in this article about the Amiga consciousness, which is part history, part, uh, philosophy. There exists a global community, a loosely knit consciousness of individuals that crosses boundaries of language and artistic disciplines. It resides in both the online and physical space, its followers are dedicated, if not fervent. The object and to some extent, philosophy that unites these adherents, is a computer system called the Commodore Amiga.




Thursday Afternoon Reviews (0 Comments) (link)
Thursday, 15-March-2018 15:35:11 (GMT +10) - by Agg


Audio Visual:
3840x1600 Ultrawide Monitors: How 160 Lines Can Make All the Difference on PC Perspective.
Gigabyte Aorus H5 Gaming Headset on FunkyKit.
ROCCAT Khan Pro Gaming Headset on NikKTech.
SteelSeries Arctis Pro + GameDAC headset and DAC on TechPowerUp.
SteelSeries Arctis Pro + GameDAC on Vortez.

Cooling:
Cooler Master MASTERAIR MA610P CPU Cooler on Tweaktown.
Phanteks Glacier C350i CPU Water Block on TechPowerUp.

Input Etc:
ASUS ROG Strix Flare Mechanical Keyboard Revealed on TechARP.
iKBC MF108 V.2 Keyboard on TechPowerUp.
Cooler Master Masterkeys MK750 Gaming Keyboard on Tweaktown.
Corsair Dark Core RGB SE Wireless Gaming Mouse & MM1000 Mouse Pad on ThinkComputers.
SteelSeries Rival 600 mouse on Vortez.

Storage:
Intel SSD DC P4510 NVMe PCIe on HotHardware.
TekQ Rapide 240GB Thunderbolt 3 Portable SSD on Tweaktown.
Synology DiskStation DS918+ on Modders-Inc.
Silverstone MS09 SATA m.2 Enclosure on Tweaktown.
ADATA XPG GAMMIX S10 512GB PCIe NVMe SSD on LegitReviews.
Halos CatDrive 1TB Networked Drive Review Update on BigBruin.

Misc:
G.Skill Sniper-X DDR4 3600 MHz 16GB memory on Guru3D.
ASUS ROG STRIX RX Vega 56 O8G GAMING video card on HardOCP.
ASRock X299E-ITX/AC Motherboard on FunkyKit.
SilverStone Redline RL06 case on HWAsylum.
Final Fantasy XV PC Game Review & 25 card performance/IQ evaluation on BabelTechReviews.



Want more news? View previous 7 days, 14 days, 30 days or monthly archives.
All original content copyright James Rolfe.
All rights reserved. No reproduction allowed without written permission.
Interested in advertising on OCAU? Contact us for info.

Recent Content


Getting Started with Arduino


ADATA Ultimate SU800 256GB SSD


FSP Hydro 700W and Hydro G 850W PSUs


Crucial BX200 SSD


ADATA SP550 240GB SSD


Lexar Jumpdrive M20i Flash Drive


Lexar Jumpdrive M20c Flash Drive