Latest OCAU News

Have a happy and safe Easter!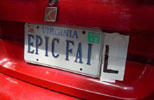 Plextor Easter Egg Hunt (0 Comments) (link)
Friday, 18-April-2014 13:47:34 (GMT +10) - by Agg


Plextor are running a worldwide contest to win one of their SSDs. Welcome to Plextor's fun Easter Contest. Win great prizes including the latest ultra-fast M6e PCIe SSD as you Search for Performance around the world. The contest lasts until 24th April. The contest is open to everyone around the globe and winners for each of the prizes will be randomly drawn from those who find the prizes.




Friday Afternoon Reviews (0 Comments) (link)
Friday, 18-April-2014 13:32:07 (GMT +10) - by Agg


Audio Visual:
PAPAGO! P3 Full HD 1080p Driving Recorder Dashcam on MEGATech.
Sentey Vibros Gaming Headset on Modders-Inc.
AOC Q2770PQU 27" PLS Monitor on eTeknix.
Microlab M-1910 speakers on Vortez.

Cases:
Silverstone Raven Z RVZ01 Mini-ITX on TechSpot.
NZXT H440 on TechPowerUp.

Portable & Prebuilt:
Tivax MiTraveler 3D-8 Android tablet on Vortez.
Lenovo ThinkPad 8 Tablet on HotHardware.
Gigabyte Tegra Note 7 on LegionHW.

Cooling:
be quiet! Dark Rock 3 CPU cooler on TechPowerUp.
Coolermaster Nepton 140XL & 280L All-In-One CPU Water Cooler on eTeknix.
Raijintek Pallas Low Profile Heatsink on Frostytech.
Noctua NH-U12S CPU cooler on LanOC.
Noctua NH-D15 CPU cooler on HardCoreWare.

Input Etc:
Sentey Revolution Pro Laser Gaming Mouse on Tweaknews.
Bloody B540 Mechanical Keyboard and TL8A Laser Gaming Mouse on HWHeaven.
CM Storm Havoc Gaming Mouse on ThinkComputers.
CM Storm Recon mouse on OCaholic.
Ozone Strike Pro Backlit Mechanical Gaming Keyboard on Tweaktown.

Video Cards:
ASUS GeForce GTX 760 Striker Platinum on OCAholic.
HIS R7 260X iPower IceQ X² 2GB GDDR5 on eTeknix.
ASUS GeForce GTX 760 Striker Platinum on Guru3D.
Lexar Professional 600x SDXC UHS-1 Card (256GB) on TheSSDReview.
Sapphire AMD Radeon R7 265 Dual-X 2GB on eTeknix.
XFX Radeon R9 290 CrossFire Video Card Review at 4K Ultra HD on LegitReviews.

Storage:
WD MyCloud EX2 Two-Bay Consumer Cloud Storage on Tweaktown.
Kingston DataTraveler microDuo USB Drive on ThinkComputers.
Kingwin KF-252-BK Internal Hard Drive Hot Swap Rack on Tweaknews.
LaCie Little Big Disk Thunderbolt 2 External Storage Device on Tweaktown.

Misc:
TRENDnet TEW-818DRU AC1900 802.11ac Wireless Router on Tweaktown.
ASUS A88X-Pro AMD Motherboard on BenchmarkReviews.
Antec TruePower Classic 550W PSU on NikKTech.



A few people pointed out that Optus have a court-ordered correction posted on their homepage. In a television advertisement broadcast from about 26 January 2014 until 18 February 2014, Optus represented that the difference between the Optus mobile network and Telstra's mobile network is minimal and insignificant. The Supreme Court of Victoria has found that by broadcasting the advertisement, Optus engaged in conduct that is misleading and deceptive and made false representations in breach of the Australian Consumer Law.

TPG meanwhile have been fined $400k for not ensuring customers could dial emergency numbers. Telco TPG has been fined $400,000 for failing to provide access to emergency numbers for customers who had not paid bills. Federal Court Justice Mordecai Bromberg on Wednesday found TPG failed to give access to triple-0 and 112 on more than 190 occasions between March and September 2011. He also found the company did not ensure that almost 6000 lines had access to emergency numbers over that period.

The ACCC has had a data breach on some of its websites. The affected websites are Recalls Australia, Product Safety Australia, SCAMwatch and the ACCC Public Registers website. The email addresses of some subscribers to the ACCC's information alert services were inadvertently made accessible online. They were not indexed by search engines or linked from a web page on our sites. They could only be found if specific URLs were tried.

If you have a Windows phone and want to check out the Windows Phone 8.1 Preview for Developers, it seems you now can. Even if you're not really a developer you can join the Preview for Developers to get Windows Phone 8.1 today. Every handset running Windows Phone 8 in the wild now is capable of the upgrade. Here's how to get Window Phone 8.1.

Of course you shouldn't use your phone while driving, and Victorian Police can now spot you doing it from more than half a kilometre away. The Herald Sun reports Victoria Police began deploying the cameras last week, which will also focus on seat belt infringements and other distractions such as applying make-up or eating at the wheel. Wait, what? Is eating in a car illegal in NSW too?




Wednesday Afternoon Reviews (0 Comments) (link)
Wednesday, 16-April-2014 14:51:37 (GMT +10) - by Agg


Motherboard & CPU:
ASRock FM2 A85X-ITX on FutureLooks.
Overclocking The AMD AM1 Athlon & Sempron APUs on Phoronix.
Are AMD Athlon/Sempron APUs Fast Enough For Steam On Linux, Steam Machines? on Phoronix.
AMD Athlon 5350 APU and AM1 Platform on LegitReviews.
ECS KBN-I/5200 AMD A6-5200 Mini-ITX on PureOC.
AMD Athlon 5350 / 5150 & Sempron 3850 / 2650 on Phoronix.

Cooling:
Corsair H105 Extreme Performance Liquid CPU Cooler on PCPerspective.
SilentiumPC Fera 2 HE 1224 CPU Cooler on MadShrimps.
Cooler Master Nepton 140XL CPU Cooler on HWSecrets.
Cooler Master Nepton 280L Water Cooler on APHNetworks.
be quiet! Dark Rock 3 CPU Cooler on ThinkComputers.

Cases:
SilverStone PS10 on PureOC.
Nanoxia Deep Silence 6 HPTX on Tweaktown.
Noctua NH-D15 Dual-Tower CPU Cooler on Modders-Inc.
Scythe IORI Scior 1000 CPU cooler on OCaholic.
Cooler Master Elite 110 Mini-ITX on BenchmarkReviews.
In Win 901 Mini-ITX on HWAsylum.
Thermaltake Urban T81 Full Tower on NikKTech.

Input Etc:
Mad Catz R.A.T. TE Gaming Mouse on LegitReviews.
SteelSeries Rival Optical Mouse on APHNetworks.

Portable & Prebuilt:
Acer TA272 HUL All-in-One Android desktop on TechSpot.
Samsung Galaxy S5 Android Smartphone on MegaTechNews.
KobraLan Extreme mini-PC on OCaholic.

Storage:
CoreRise Comay BladeDrive E28 1.6TB Enterprise PCIe SSD on Tweaktown.
OCZ Vertex 460 240GB SSD on eTeknix.
Asustor AS-204TE NAS on TechPowerUp.
HGST Ultrastar SSD800MH 12Gb/s SAS3 Enterprise SSD on Tweaktown.
Kingston 64GB SDXC Class 3 Memory Card & USB 3.0 MobileLite G3 Reader on PureOC.
Thunderbolt 2: Ready for Windows with the ASUS ThunderboltEX II on Tweaktown.
OCZ VERTEX 460 240GB on Vortez.
Plextor M6e 256GB PCI Express SSD on Guru3D.
Samsung XP941 Native PCIe M.2 SSD (512GB) on TechnologyX.
Synology DS414 High Performance 4-bay NAS Server for SMB & SOHO on MadShrimps.
OCZ 240GB Vertex 460 SSD on OCIA.

Video Cards:
XFX Radeon R7 240 Core Edition on HWSecrets.
Powercolor AMD Radeon R7 250X 1GB GDDR5 on eTeknix.
EVGA Backplate Install for the GTX 780 Ti Classified on HWAsylum.
Gigabyte BRIX Pro And Intel Iris Pro Graphics on HotHardware.

Power Supply:
Xtorm LAVA CHARGER Universal Solar / USB Charger on NikKTech.
EVGA SuperNOVA G2 750W on TechPowerUp.

Networking:
Diamond Wireless Range Extender WR300NSI on ThinkComputers.
Linksys WRT1900AC 802.11ac Smart Wireless Router on Tweaktown.

Misc:
DXRacer M-Series Game Chair on LanOC.




Total Lunar Eclipse This Evening (2 Comments) (link)
Tuesday, 15-April-2014 16:22:45 (GMT +10) - by Agg


It's been 2.5 years since a total lunar eclipse was observable from Australia - and one's happening tonight. The Total Lunar Eclipse on April 15th, 2014 is well placed for observers in the Western Hemisphere, and will be visible in its entirety for all of North and South America. Most of Europe and Africa experience moonset just as the eclipse begins, while Australians and New Zealands will see the eclipsed moon at Moonrise. None of the eclipse is visible from north/east Europe, eastern Africa, the Middle East or Central Asia.

For Australians and New Zealanders, the eclipse will be in progress at Moonrise. The further East you are, the more of the eclipse you'll see. The Total stage of the eclipse starts at 5:08pm AEST, with Moonrise at 5:28pm AEST and maximum eclipse at around 5:46pm AEST, but will change depending on your timezone. Check the table further below for timings in a city near you.

More info here and discussion here.



Want more news? View previous 7 days, 14 days, 30 days or monthly archives.
All original content copyright James Rolfe.
All rights reserved. No reproduction allowed without written permission.
Interested in advertising on OCAU? Contact us for info.


Recent Content


MyGica ATV510B Enjoy TV


Thecus N5550


SiliconDust HDHomeRun Dual


Intel Haswell on MSI Z87 MPOWER


Corsair AX860i PSU


Bauhn AMiD-9743G Android Tablet (3G, GPS)


AMD Trinity A10-5800K & GIGABYTE F2A85X-UP4