Latest OCAU News
Wednesday Morning (0 Comments) (link)
Wednesday, 26-July-2017 11:09:13 (GMT +10) - by Agg


The NSW Government is launching a quantum computing fund. The fund will inject money into research in a state that is already home to some of the world's leading researchers in the field, where University of New South Wales professor Michelle Simmons is considered a leading expert. Deputy Premier and Minister for Skills and Small Business John Barilaro said he was hoping to turn NSW into a global hub for quantum computing science.

Intel's principal engineer has left the company, but apparently not to go to AMD. In that role, Piednoël fathered the company's first dual-processor high-end desktop (HEDT) platform, Skulltrail, launched the Extreme Edition brand, optimised performance on the Pentium 4, and aided engineering of the Katmai, Conroe, Penryn and Nehalem central processing unit (CPU) and Sandy Bridge to Skylake, Kaby Lake, Skylake-X, and Atom system-on-chip (SoC) product families.

People are upset that Microsoft are killing Paint! Now Microsoft has announced that, alongside Outlook Express, Reader app and Reading list, Microsoft Paint has been signalled for death having been added to the "features that are removed or deprecated in Windows 10 Fall Creators Update" list. However it seems it will just be moved to the Windows Store and still be available for free.

TechARP have gathered together the info that's known about AMD's Threadripper CPU. The AMD Ryzen Threadripper will have up to 16 cores, processing up to 32 simultaneous threads. It will use the new Socket TR4, have quad-channel DDR4 memory support and feature 64 PCI Express lanes. If you were impressed by the 8-core AMD Ryzen 7 processors (read our AMD Ryzen 7 1800X review), just imagine how powerful the 16-core AMD Ryzen Threadripper processor will be.

Meanwhile AMD's CTO has explained the difficulties of moving to 7nm. To gear up for 7nm, "we had to literally double our efforts across foundry and design teams…It's the toughest lift I've seen in a number of generations," perhaps back to the introduction of copper interconnects, said Mark Papermaster, in a wide-ranging interview with EE Times. The 7nm node requires new "CAD tools and [changes in] the way you architect the device [and] how you connect transistors—the implementation and tools change [as well as] the IT support you need to get through it," he said.

The Mac platform's reputation for being resistant to malware may be under attack. A mysterious piece of malware has been infecting hundreds of Mac computers for years—and no one noticed until a few months ago. Earlier this year, an ex-NSA hacker started looking into a piece of malware he described to me as "unique" and "intriguing." It was a slightly different strain of a malware discovered on four computers earlier this year by security firm Malwarebytes, known as "FruitFly."

USB 3.2 is on the way. "With increased performance and seamless compatibility, the new USB 3.2 specification brings even more speed and bandwidth benefits to new USB 3.2 devices, while remaining compatible with USB 3.0 and earlier devices," said Roanne Sones, General Manager, Strategy and Ecosystem for Windows and Devices, Microsoft. "We're excited to work with our partners in the USB 3.0 Promoter Group to help showcase these benefits to users around the world."

Techspot look back at some awkward moments in tech. Technology may shape the world we live in today, but there are many tech lovers who still consider themselves a bit awkward. As someone who once told a room full of people that playing Vampire – The Masquerade: Bloodlines was the most memorable moment of my life, it's a stereotype I can relate to. But it isn't just the fans that can be bit "socially uneasy" - plenty of moments within the industry have made us cringe over the years. Here are some of the most toe-curling.




Wednesday Morning Reviews (0 Comments) (link)
Wednesday, 26-July-2017 04:10:57 (GMT +10) - by booj


Cases:
Raijintek Paean on techPowerUp.
Corsair Carbide 600C on Techgage.
Phanteks Evolv Shift SFF Chassis on TweakTown.
Phanteks Evolv Shift on techPowerUp.

Cooling:
Watercool HEATKILLER IV PRO CU-NI CPU Waterblock on Funky Kit.
NZXT Kraken X42 on Guru3D.

Input etc:
Logitech G900 Chaos Spectrum Wireless Gaming Mouse on Legit Reviews.
Logitech BRIO on LanOC Reviews.

Monitors:
Acer Predator XB271HU bmiprz 144-165 Hz on techPowerUp.
Acer Predator XB252Q High Speed 240Hz G-Sync Gaming Monitor on Hot Hardware.

Mobile:
LG X power 2 Smartphone on APH Networks.
Samsung Galaxy Tab S3 Tablet & S Pen on TechARP.

Misc:
GIGABYTE X299 AORUS Gaming 7 Motherboard on TweakTown.
Gigabyte AORUS RX 580 GTR 8 GB on techPowerUp.
λutonomous-λ SmartDesk 2 on Modders-Inc.
Aeotec DSA03202-V1 Z-Wave Minimote on Bigbruin.
MJX Bugs 2 WiFi (B2W) GPS FPV Brushless Camera Drone on ModSynergy.
Tesoro A3 Tuned In-Ear Pro Earphones on APH Networks.




Iron Man at Sydney Knife Show (0 Comments) (link)
Monday, 24-July-2017 10:46:19 (GMT +10) - by Agg


If you've been wanting to see ASIGN_Baz's Iron Man Suit in person, you can catch him in action at the Sydney Knife Show next month. If you haven't seen the worklog, it's definitely worth checking out!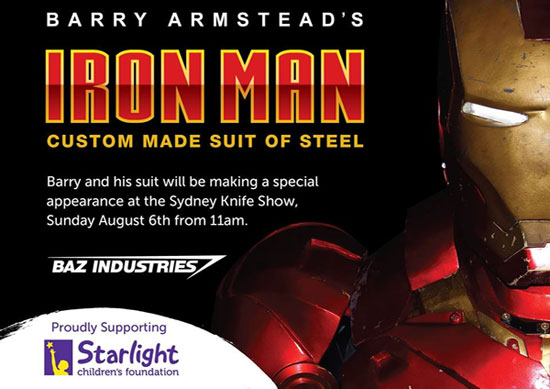 click for the worklog!



"It took over 3 years of weekend's and spare time along with blood sweat and tears to build, but Barry Armstead toughed it out and now has an awesome Iron man suit to show for it.

With help and guidance from a few of the Canberra knife making community Barry was able to learn a new skill set to help make this dream a reality. He learnt how to make knives and money raised from the sale of these helped fund the build.

The suit wasn't made just for Barry though, his intention from the start was to bring a smile to the face of children in hospital by suiting up and letting them get close to a superhero.

Barry has already raised money for The Starlight Children's Foundation and this is the charity he'll be supporting when he makes an appearance at The Sydney Knife Show on Sunday 6th August.

Bring your children (or your inner child) along and have a photo taken of the Ironman MKIV suit Barry has created and donate a gold coin to a very worthy Charity.

We hope to see you there."



TechSpot compared AMD Ryzen 5 1600 vs Intel Core i7-7800X in 30 games. After comparing Intel's new Core i7-7800X and AMD's Ryzen 5 1600 in productivity workloads, we're back by popular request to learn whether Intel still takes the cake when it comes to high-end gaming.

There was a huge cryptocurrency heist recently, this time affecting Ethereum. This is a very interesting article which gets you up to speed on the technology and even the psychology surrounding the issue. Around 12:00 PST, an unknown attacker exploited a critical flaw in the Parity multi-signature wallet on the Ethereum network, draining three massive wallets of over $31,000,000 worth of Ether in a matter of minutes. Given a couple more hours, the hacker could've made off with over $180,000,000 from vulnerable wallets. But someone stopped them.

McLaren have a World's Fastest Gamer competition. I'm finding it tricky to find specific information but maybe that's part of the challenge. It seems to be conducted via rFactor 2 and the prize is "a job in eSports", but if you're keen, have a dig around for more info. The latest update I could find is here, and there's registration details here.

If you're sick of Firefox taking ages to open tabs, good news: you can now open 1691 tabs in 15 seconds. So that's handy. Graph of startup time with 1691 tabs across Firefox versions 20, 30, 40 and 50 - 56. The Y axis is minutes. Yes, Firefox 51 took almost 8 MINUTES to start up. However, as of Firefox 55 it only takes 15 seconds. For 1691 tabs. Really. I no longer fear restarts. Lately, I just restart Firefox for fun sometimes.

HardOCP have posted their list of the 5 greatest motherboards of all time. Of all time! Some motherboards had something special about their design which made them more memorable, interesting, desirable, influential, and ultimately a favorite among enthusiasts. These are the criteria I will use to separate run of the mill excellence from what I consider some of history's best motherboards.




Monday Morning Reviews (0 Comments) (link)
Monday, 24-July-2017 09:45:17 (GMT +10) - by Agg


Video Cards:
MSI GeForce GTX 1080 Ti LIGHTNING Z on Tweaktown.
Gigabyte Aorus GTX 1080 11Gbps on eTeknix.

Input Etc:
HyperX Alloy Elite Mechanical Gaming Keyboard on CustomPCReview.
Bloody AL90 Blazing Laser Gaming Mouse on Tweaktown.
Tt eSPORTS Draconem RGB Gaming Mousepad on Modders-Inc.

Audio Visual:
Focal Spark Earphones on APHNetworks.
VisionTek SoundTube Pro Wireless Speaker on LanOC.
Logitech G433 7.1 Wired Surround Gaming Headset on LegitReviews.

Portable & Prebuilt:
ASUS ROG Zephyrus GX501 GTX 1080 Max-Q Gaming Notebook on PC Perspective.
The HP OMEN Gaming Laptop & Desktop PCs Revealed on TechARP.

Misc:
Kingston 32GB DataTraveler microDuo 3.0 on BigBruin.
Antec Cube Designed By Razer Mini-ITX Case on NikKTech.
EKWB Water Cooling Kit EK-KIT L360 R2.0 on Modders-Inc.



Want more news? View previous 7 days, 14 days, 30 days or monthly archives.
All original content copyright James Rolfe.
All rights reserved. No reproduction allowed without written permission.
Interested in advertising on OCAU? Contact us for info.

Recent Content


Getting Started with Arduino


ADATA Ultimate SU800 256GB SSD


FSP Hydro 700W and Hydro G 850W PSUs


Crucial BX200 SSD


ADATA SP550 240GB SSD


Lexar Jumpdrive M20i Flash Drive


Lexar Jumpdrive M20c Flash Drive