Latest OCAU News
Star Wars: Battlefront (0 Comments) (link)
Saturday, 10-October-2015 00:17:46 (GMT +10) - by Agg


If you're stuck for something to do this weekend, the much-anticipated Star Wars: Battlefront beta has been released. More info and download links here on EA.com. The Star Wars™ Battlefront™ Beta is now available on PlayStation 4, Xbox One and on Origin for PC. Prepare to live out your Star Wars battle fantasies today. Discussion in this thread.



Friday again!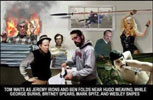 Thursday Night Reviews (0 Comments) (link)
Thursday, 8-October-2015 21:15:57 (GMT +10) - by booj


Motherboards & CPUs:
AMD FX 8320E CPU on Neoseeker.
AMD A10 7870K CPU on TechnologyX.
Gigabyte Z170x-Gaming 7 Motherboard on Hardware Secrets.

Storage:
ADATA XPG SX930 240GB and Premier SP550 240GB SSD on PureOverclock.
HighPoint RocketStor 6414AS Four-Bay Hardware RAID Tower on TweakTown.
PhotoFast i-FlashDrive MAX 32GB USB iOS Flash Drive on TweakTown.
Lexar JumpDrive P20 USB 3.0 Flash Drive on Madshrimps.

Cases:
be quiet! Silent Base 600 Window Mid-Tower on eTeknix.
Phanteks Enthoo Evolv ATX Mid-Tower on eTeknix.
Antec P380 Full Tower on NikKTech.
Streacom F12C on Techpowerup.
Cooler Master Mastercase 5 Pro on ocaholic.
Silverstone ML06-E Mini-ITX HTPC on Benchmark Reviews.

Mobiles & Tablets:
ASUS ZenPad 7.0 on TechARP.
Apple iPhone 6s Plus on Techspot.
Microsoft Surface Pro 4, Surface Book, And Lumia 950XL on Hot Hardware.
Motorola Moto X Style/Pure on Techspot.

Misc:
G.SKILL Ripjaws V DDR4-3200 8GB Dual Channel Memory Kit on ThinkComputers.
GeForce GTX 980 Ti Round-Up Review With MSI, ASUS, And EVGA on Hot Hardware.
Razer Tartarus Chroma keypad on Vortez.
Logitech G633 Artemis Spectrum RGB 7.1 Surround Gaming Headset on Legit Reviews.
Reeven Ouranos CPU Cooler on Modders-Inc.




Wednesday Afternoon (4 Comments) (link)
Wednesday, 7-October-2015 17:54:58 (GMT +10) - by Agg


Australia, with 11 other countries, reached agreement on the long-negotiated Trans-Pacific Partnership free trade deal, details of which are still unclear to the general public. The TPP countries - Australia, Brunei Darussalam, Canada, Chile, Japan, Malaysia, Mexico, New Zealand, Peru, Singapore, the United States and Vietnam - will have to lift tariffs and taxes on a range of imports once the agreement is ratified. The controversial free trade deal has been has been negotiated in full secrecy, with the only insight into what the countries were planning provided by leaked texts. Discussion here.

Apple Maps has expanded its public transportation coverage to include Sydney. The lack of transit directions was a gaping hole in Apple's map offerings, giving city-dwelling smartphone owners another reason to use Google Maps. Apple added the much-needed feature in its iOS 9 software update released this month. Initial launch cities included Baltimore, Chicago, New York, Philadelphia, San Francisco, and Washington, DC, as well as international support for London, Toronto, Berlin, Mexico City, and hundreds of Chinese cities.

Microsoft have released a new surface tablet and, more significantly, a Surface Book that has people talking. The Surface Book should offer another feature found in laptops: better performance. The keyboard unit can include a discrete NVIDIA GPU. That's only usable when the tablet is docked, of course. The keyboard also includes an extra battery; the system as a whole can manage a 12 hour battery life, Microsoft says, but that's only when using both batteries. The tablet itself has much less battery life.

There's a heap of new high-resolution Apollo photos online. Space fans, rejoice: today, just about every image captured by Apollo astronauts on lunar missions is now on the Project Apollo Archive Flickr account. There are some 8,400 photographs in all at a resolution of 1800 dpi, and they're sorted by the roll of film they were on.

Australian scientists have made another quantum computing breakthrough. Until now, they have largely relied on "exotic" materials to construct quantum computers, making them unsuitable for commercial production. But researchers at the University of New South Wales have patented a new design, published in the scientific journal Nature on Tuesday, created specifically with computer industry manufacturing standards in mind and using affordable silicon, which is found in regular computer chips like those we use every day in smartphones or tablets.

Hackers have stolen data from David Jones's website, as well as from Kmart Australia. Kmart emailed customers who had their information stolen from its online product order system on Tuesday to inform them of the situation. If a specific customer did not receive the email, Kmart said, their information had likely not been impacted.

Quartz report on another free online encyclopaedia to challenge Wikipedia, in a way. The Stanford Encyclopedia of Philosophy may be the most interesting website on the internet. Not because of the content—which includes fascinating entries on everything from ambiguity to zombies—but because of the site itself.

Check out this cool ferro-fluid alarm clock!




Tuesday Night Reviews (0 Comments) (link)
Tuesday, 6-October-2015 23:51:32 (GMT +10) - by Agg


Cases:
be quiet! Silent Base 600 Window on Vortez.
In-Win 805 on Guru3D.
BitFenix AEGIS mATX on NeoSeeker.
Cougar MX200 on HWSecrets.

Storage:
Centon C-380 480GB SSD on BenchmarkReviews.
Buffalo TeraStation 5200 Windows Storage Server on Tweaktown.
KingFast 256GB F9 SSD on MadShrimps.
ADATA HD720 External Hard Disk (1TB) on TechnologyX.
Vantec NexStar 3.1 2.5-inch Hard Drive Enclosure on ThinkComputers.
Samsung FIT MUF-64BB 64GB USB 3.0 Pico Flash Drive on Tweaktown.

Input Etc:
Azio MGK1-K and RGB Backlit Mechanical Keyboards on PureOC.
Element Gaming Beryllium Mechanical Gaming Keyboard on eTeknix.

Misc:
EVGA SuperNOVA 650 G2 PSU on TechPowerUp.
Gigabyte Z170X UD5 Motherboard on HWAsylum.
D-Link Wi-Fi Audio Extender on ThinkComputers.



Want more news? View previous 7 days, 14 days, 30 days or monthly archives.
All original content copyright James Rolfe.
All rights reserved. No reproduction allowed without written permission.
Interested in advertising on OCAU? Contact us for info.

Recent Content


Silicon Power USB Gift Pack


Google Chromecast


MyGica ATV510B Enjoy TV


Thecus N5550


SiliconDust HDHomeRun Dual


Intel Haswell on MSI Z87 MPOWER


Corsair AX860i PSU