Latest OCAU News

Friday again!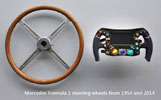 Thursday Morning (1 Comments) (link)
Thursday, 26-February-2015 00:20:46 (GMT +10) - by Agg


Choice have responded to the proposed anti-piracy scheme, with concerns about consumer rights. Although an 'education scheme' to stop piracy sounds harmless, the proposed Code will actually funnel internet users into court actions where industry can seek unlimited amounts of money for alleged piracy, and provide a way for rights holders to gain access to your internet records and personal details so they can sue you or send you a letter demanding payment.

AMD recently previewed their Carrizo mobile APU and Tech Report have the details. This week, in conjunction with ISSCC, AMD has begun to tell the story of how it achieved major improvements in power efficiency and performance in its upcoming Carrizo APU. More info here on Tweaktown. AMD recently introduced the world to its latest mobile APU, Carrizo. With it, AMD promises large power savings and performances in the years ahead. Also here on TechARP.

PCWorld checked out the new Raspberry Pi 2. Let's cut right to the chase: This thing rocks. The new Raspberry Pi 2 Model B fixes the most glaring issues of the three-year-old original Pi, and even better, it manages to do so at the same $35 price point of its predecessor. This credit card sized-mini PC delivers a shocking amount of value for the money.

Guru3D looked into PC Express performance. Have you ever wondered about game performance differences in-between PCI Express slots and the different generations ?? Join us in a review where we look into the PCIe slot in Gen 1.1, 2.0 and 3.0 configurations as we measure performance versus single and Multi-GPU solution. Will that outdated slot configuration really have a huge impact on today's high-end graphics cards?

PC Perspective tested USB 3.1 on an ASUS card. ASUS has a new revision of several motherboards planned with integrated on-board USB 3.1 but is also going to be releasing an add-in card with USB 3.1 support for existing systems. Today we are going to test that add-in card to measure ASUS' implementation of USB 3.1 and see how it stacks up to what MSI had to offer and what improvements and changes you can expect from USB 3.0.

If, like me, you're a sucker for anything Blade Runner related, you'll enjoy this article. What if your city elected a Replicant as mayor and you didn't know it? There's only way to guard against this situation, and that's by administering the Voight-Kampff test to every single candidate during the mayoral election. One newspaper in San Francisco did that back in 2003, and the results were amazing.




Wednesday Night Reviews (0 Comments) (link)
Wednesday, 25-February-2015 21:24:24 (GMT +10) - by Agg


Motherboard & CPU:
Core i7-5960X vs i7-5820K Gaming-Performance - FullHD, 1440p, UHD on OCAholic.
ASUS Sabertooth Z97 Mark S on OCAholic.
GIGABYTE GA-X99M-Gaming 5 on Vortez.

Portable & Prebuilt:
Intel NUC5i5RYK NUC Mini PC (with Broadwell) on Tweaktown.
Xiaomi Mi4 64GB Smartphone on MadShrimps.

Storage:
USB 3.1 SuperSpeed+ tested with the ASUS Z97-A/USB on Guru3D.
ASUSTOR AS7004T 4-Bay NAS on Tweaktown.
Crucial MX200 250 GB on TechSpot.
Crucial BX100 SSD on HWHeaven.
Crucial MX200 and BX100 Series SSD on LegitReviews.

Audio Visual:
Sub-$100 Gaming Headset Roundup on TechSpot.
Turtle Beach Earforce Z60 DTS Headphone X on eTeknix.
Griffin Twenty Digital Audio Amplifier on ThinkComputers.
Kingston HyperX Cloud II Pro Gaming Headset on Tweaktown.

Input Etc:
Roccat Tyon FPS Gaming Mouse on eTeknix.
Cougar 500K Gaming Keyboard on BenchmarkReviews.

Misc:
BitFenix Alchemy Connect LED Strips Case Lights on APHNetworks.
Reeven Justice (RC-1204) CPU Cooler on eTeknix.
Hue Stik Ultra Sleek 2600 mAh Power Bank on Tweaktown.
Thermaltake Core V51 case on HWAsylum.




Tuesday Midday Reviews (0 Comments) (link)
Tuesday, 24-February-2015 12:32:55 (GMT +10) - by Agg


Motherboard & CPU:
ASUS X99-DELUXE Motherboard on Techgage.
ASRock X99 WS-E/10G on Vortez.

Input Etc:
VGA Torq X5 Mouse Review: Ambidextrous Design Done Right on Modders-Inc.
COUGAR 600K Mechanical Keyboard on FutureLooks.
Adesso iMouse E10 – 2.4 GHz RF Wireless Vertical Ergonomic Mouse on eTeknix.
Cougar 200K Keyboard & 200M Mouse on eTeknix.
Kingston HyperX Skyn Mousing Surface on APHNetworks.

Video Cards:
GTX 980 SLI vs R9 290X 8GB CF vs R9 295X2 on the AMD FX-9590 at 8K on Tweaktown.
Gainward Phantom GLH GeForce GTX 960 2GB on eTeknix.
ASUS GTX 980 Matrix 4 GB on TechPowerUp.
GeForce GTX 780 Ti vs GeForce GTX 980 - Should I upgrade? on OCAholic.

Storage:
Toshiba TransMemory-EX II USB 3.0 Flash Drive on MadShrimps.
ASUSTOR AS7010T NAS Server on NikKTech.
BeyondCloud BC214se 2300 by Synology on TechWareLabs.
Crucial BX100 SSD Review (500GB/1TB) on TheSSDReview.
Lexar JumpDrive M20 2-in-1Flash Drive on eTeknix.
ASUSTOR AS7004T Network Attached Storage on APHNetworks.
Serial Cables 24-bay 12Gbps SAS Enterprise JBOD Enclosure on Tweaktown.

Cases:
Thermalright Silver Arrow ITX on TechPowerUp.
Xigmatek Nebula on OCAholic.
Fractal Design's Define R5 on TechReport.
Silverstone Sugo SG13 Mini-ITX on TechSpot.

Audio Visual:
Turtle Beach Elite 800 PlayStation & Mobile Wireless Headset on eTeknix.
Turtle Beach Recon 320 PC & Mobile Gaming Headset on eTeknix.
MPOW Smartphone 3 in 1 Fisheye, Wide Angle, And Macro Lenses on Tweaktown.
Andromedia Curve Mini Bluetooth NFC Speaker Stand on Tweaktown.
ARCTIC P614 BT Bluetooth 4.0 NFC Headphones on Tweaktown.

Portable & Prebuilt:
Lenovo B50 All-in-One 23-Inch Multi-Touch Desktop on HotHardware.
Intel NUC5i5RYK SFF System Review - Broadwell NUC on PCPerspective.
Intel NUC NUC5i5RYK Running HyperX Impact 1600MHz & 1866MHz on LegitReviews.
Dell XPS 13 ultraportable on TechSpot.
Shuttle DS57U mini PC on GlobeGadget.
AK Informatica Rig Super9 on OCaholic.

Power Supply:
Portable USB Wall Charger Roundup on eTeknix.
Sandberg Outdoor Powerbank 10400 mAh on NikKTech.
Antec Mobile Products Lifecard Portable Battery Charger on ThinkComputers.

Cooling:
Corsair H110i GT Liquid CPU Cooler on ThinkComputers.
Cooler Master Nepton 240M Closed Loop Water Cooler on APHNetworks.

Misc:
BACtrack Mobile Breathalyzer on TechnologyX.



Want more news? View previous 7 days, 14 days, 30 days or monthly archives.
All original content copyright James Rolfe.
All rights reserved. No reproduction allowed without written permission.
Interested in advertising on OCAU? Contact us for info.

Recent Content


Silicon Power USB Gift Pack


Google Chromecast


MyGica ATV510B Enjoy TV


Thecus N5550


SiliconDust HDHomeRun Dual


Intel Haswell on MSI Z87 MPOWER


Corsair AX860i PSU