Latest OCAU News
Tuesday Evening (1 Comments) (link)
Tuesday, 23-January-2018 18:27:51 (GMT +10) - by Agg


OCAU Forums member MutantDOA is very kindly giving away a Phanteks Eclipse case in the forums. To be in the running to win this case simply post a photo of the case you currently use. Photo must show your case and monitor and be turned on and you holding a piece of paper with your username on it.

Intel are officially asking people not to install patches for the recent security issues, as they can cause spontaneous rebooting. We recommend that OEMs, cloud service providers, system manufacturers, software vendors and end users stop deployment of current versions, as they may introduce higher than expected reboots and other unpredictable system behavior. For the full list of platforms, see the Intel.com Security Center site.

It turns out that drones are not just bent on enslaving humanity, but can actually rescue people as well. Lifeguards testing out new drone technology in Australia have saved two people stranded off the coast of New South Wales state, as spotted by Quartz. The drone footage shows a birds-eye view of the ocean before the drone ejects the yellow floatation device, which inflates when it hits the water. The two teenage boys were caught about 700 meters (0.4 miles) offshore at Lennox Head in a swell of around three meters (9.8 feet). They were able to grab onto the floatation device and swim to shore.

NVIDIA are reportedly encouraging retailers to sell to gamers, not crypto-miners. You'll have to excuse our weak German translation skills. Regardless, if information recently published from tech site ComputerBase is correct, it seems at least in Europe, NVIDIA is directly asking etailers to limit the number of cards that can wind up in any one customer's hands. The suggested limit is two, which given the current situation seems fair. That limit is in place in many retailers in Australia too, but I'm not sure if it's due to some directive from NVIDIA HQ, or just a general response to the shortage of supply.

The University of York have performed a study into the effect of violence in video games - and found no link to violent behaviour in real life. In a series of experiments, with more than 3,000 participants, the team demonstrated that video game concepts do not 'prime' players to behave in certain ways and that increasing the realism of violent video games does not necessarily increase aggression in game players.

Intel meanwhile have announced the finalists for their Intel Extreme Masters tournament - and there's one Australian finalist! The world will be watching as the top "StarCraft* II" players descend on PyeongChang, South Korea, for the Intel Extreme Masters (IEM) PyeongChang tournament, hosted by Intel in the lead-in to the Winter Olympic Games 2018. Players representing regions from around the world will compete in Blizzard Entertainment's iconic real-time strategy game for a $150,000 prize pool from Feb. 5-7 in a first-of-its-kind tournament ahead of PyeongChang 2018.

Mozz pointed out that the Australian "Office of the eSafety Commissioner" has a lot of info about safety online. The what it is, how to deal with it and where to go for help for all online issues facing youth today.

A timewaster of sorts from IntelInside: Google will find your portrait among the world's art galleries. The app allows users to submit a selfie photo, and uses facial recognition technology to find a match among its international database of artworks. The database includes more than 1,500 museums from 70 countries, including Australia. Is Google harvesting facial info from its userbase? But a spokesperson for Google said the feature never identifies the user in a selfie, and is only used to search the Arts & Culture database to find images with similarities. Google is not training any artificial intelligence on the selfies, nor retaining them in a database, he added. It's just about finding "new ways to get people excited about art and culture".




Australia Wins HWBOT Country Cup 2017 (1 Comments) (link)
Tuesday, 23-January-2018 15:42:33 (GMT +10) - by Agg


Congratulations to Team Australia for winning the recent HWBot Country Cup 2017! Today we are very happy to officially (and finally) confirm Australia as the winning country in the HWBOT Country Cup 2017 contest. After keeping quietly off the radar in the last few weeks of the contest we find the Aussies in complete control of things, following up on their wins in 2013, 2014 and 2015 to take a record fourth HWBOT Country Cup title.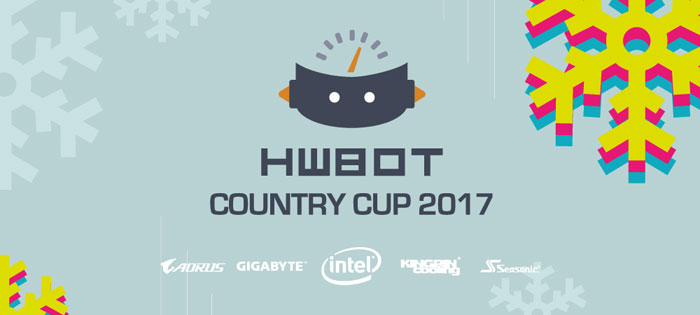 click for the announcement!



Taking a look at the final standings at the end of the contest, there's no doubt regarding the utterly dominant performance from Australia. With wins in five out six stages, they really did jump out from behind their sandbags to take the contest by storm. When we last checked in on the contest two weeks prior to its climax, the Australians had yet to really show their hand, loitering around in 5th place. By the end of the contest, they have won the contest by a country mile, toting up a score of 225 points, just 5 points away from a maximum haul. In terms of prize places, the US and make second place with 180 points while France make third with 159 points.




Monday Morning Reviews (0 Comments) (link)
Monday, 22-January-2018 00:40:22 (GMT +10) - by Agg


Motherboard & CPU:
ASRock X370 Gaming-ITX/ac Gaming (AMD X370) Motherboard on Tweaktown.
GIGABYTE Z370XP SLI (Intel Z370) Motherboard on Tweaktown.
GIGABYTE Z370N WIFI (Intel Z370) Motherboard on Tweaktown.
ASRock X299-ITX/ac Motherboard on TechPowerUp.
GIGABYTE X299 Designare EX (Intel X299) Motherboard on Tweaktown.

Cooling:
Corsair H115i PRO LCS cooler on Guru3D.
Corsair Hydro H150i PRO RGB on OCAholic.
AeroCool Project 7 P7-L240 RGB Liquid CPU Cooler on NikKTech.

Audio Visual:
Genius Mobile Theater MT-20 Bluetooth Speaker on FunkyKit.
Cougar Phontum Gaming Headset on NeoSeeker.

Misc:
noblechairs ICON Series Real Leather Gaming Chair on Tweaktown.
GALAX GeForce GTX 1070 Ti Hall of Fame Edition video card on Guru3D.
AZZA Titan 240 case on OCClub.
Cougar Minos X5 Optical Gaming Mouse on LegitReviews.
Dell Inspiron 15 7000 (7570) Laptop on TechARP.
Toshiba TransMemory U363 & U364 128GB USB 3.0 Flash Drive Comparison on NikKTech.



Thanks to BFM and HyRax1 this week! Here's a timewaster: make yourself in Family Guy style. Here's mine. :)































Want more news? View previous 7 days, 14 days, 30 days or monthly archives.
All original content copyright James Rolfe.
All rights reserved. No reproduction allowed without written permission.
Interested in advertising on OCAU? Contact us for info.

Recent Content


Getting Started with Arduino


ADATA Ultimate SU800 256GB SSD


FSP Hydro 700W and Hydro G 850W PSUs


Crucial BX200 SSD


ADATA SP550 240GB SSD


Lexar Jumpdrive M20i Flash Drive


Lexar Jumpdrive M20c Flash Drive