Latest OCAU News
Interesting Forum Threads (0 Comments) (link)
Monday, 20-May-2013 14:25:29 (GMT +10) - by Agg


Here's a snapshot of what's going on in some of the forums. You can also find new interesting things you might have missed via the Who's Online page, the New Posts page and the Live forum view. Also try the Today's Posts link (find it on the Quick Links menu) and the handy Who Quoted Me? feature.

Xyala @ OverClocking-TV - Epic Backpacking Trip in Australia in Overclocking & Hardware.
Productive uses of PC hardware? in Overclocking & Hardware.
Cutting fan holes cheaply in Modding.
Social media administration - Do you have admin rights? in Business & Enterprise Computing.
Storage / Backup - Server, Self Built or NAS in Business & Enterprise Computing.
So this happened - disgruntled employee - deleting a bunch of users in Business & Enterprise Computing.
Power consumption in the data centre in Business & Enterprise Computing.
Intel next-gen Haswell (LGA1150) CPU line-up leaked in Intel Hardware.
Google I/O 2013 in Google Android.
Old Core 2 Shuttle Kids Gamer in PC Build Logs.
Speed-up tip in Apple Desktop Hardware/Software.
Roundup of the 6 (7 actually) New Gaming Platforms Launching in 2013 in Game Consoles.
Motion Sickness in Game Consoles.
Extruder Screw Manufacturing in Hobby Engineering.
MS-DOS Time-Machine Gaming - Mau1wurf1977's YT Videos in Retro & Arcade.
HARDWARE in PC Games.
We need to save the internet from TPP in Networking, Telephony & Internet.
"Active" Bi-Quad WiFi in Networking, Telephony & Internet.
Affordable cars with low lock-to-lock wheel turns? in Motoring.
We've Solved 90% of Supplement Confusion in Sport, Fitness & Health.
Politifact Australia opens for business in Politics & Policies.
Who here is a lotto player? in The Pub.



The Australian Institute of Criminology have released their Australian Crime Facts & Figures report. The Australian Institute of Criminology's annual compendium of crime statistics shows a continuing decrease in crime levels around Australia with some concerning trends in certain crime types. Facts & figures provides government and justice agencies, the media and the Australian public with accurate, easy to access crime statistics in a single, centralised location. Discussion here.

The latest large-scale data theft victim seems to be Yahoo Japan, thanks mpot. Yahoo Japan Corp. suspects that up to 22 million user IDs may have been stolen during an unauthorized attempt to access the administrative system of its Yahoo! Japan portal. More here. Yahoo is the top most search provider when it comes to Japan with over 50 per cent market share. Google holds 40 per cent market share in comparison.

An American university has made a Raspberry Pi Beowulf cluster. In spite of the obvious benefits, Kiepert's approach is not ideal for every application. Perhaps the biggest downside is that an RPi is nowhere near as powerful as a desktop PC. Also, because of the limited processing capability, the RPiCluster will not reliably support multiple users simultaneously. However, Kiepert believes these drawbacks do not have a negative impact on his current research.

Popular Mechanics have weighed into the IP law debate. Ownership ought to mean something. When you buy a smartphone or an automobile, it should be yours, and companies shouldn't be able to leverage their intellectual property rights in software to keep you from unlocking, repairing, modifying, or reselling it as you see fit. Intellectual property is a good thing, all right. But it turns out that too much of it isn't wonderful at all.

An update to Google Maps will add Google Earth functionality in the browser, instead of needing the stand-alone app or a plugin. The Google Earth Plugin has been an amazing tool to help bring Google Earth into the browser, but with the upcoming release of Google Maps you'll be able to view Google Earth in your web browser without needing a plugin at all!

Meanwhile on other worlds, there's a list of driving records by interplanetary rovers. The champion for driving on another surface still goes to the Soviet Lunokhod 2 rover, which travelled 37 kilometres across the moon in 1973.~




Sunday Afternoon Reviews (0 Comments) (link)
Sunday, 19-May-2013 15:27:52 (GMT +10) - by booj


Motherboards & CPUs:
Asus M5A97 R2.0 on Hardware Secrets.
Intel Core i7-3970X Sandy Bridge-E CPU on Hot Hardware.

Memory:
Kingston HyperX Beast 16GB 2133MHz Memory Kit on Bigbruin.

Storage:
Mushkin Chronos GO Deluxe 1.8″ SATA 3 SSD on The SSD Review.
Kingston SSDNow E100 Enterprise SSD on TweakTown.
Patriot Supersonic Magnum Flash Drive on Benchmark Reviews.
OCZ Vertex 3.20 240GB SSD on OCIA.
WD My Passport Ultra 1TB Portable Storage Drive on Legit Reviews.
Corsair Voyager Air 500GB Wireless Storage Device on TweakTown.

Power Supplies:
Thermaltake EVO Blue 2.0 850-Watt 80 PLUS Gold on TweakTown.
be quiet! Dark Power Pro 10 1200-Watt 80 PLUS Gold on TweakTown.

Cooling:
Noctua NH-U14S CPU Cooler on Vortez.
NZXT FZ-200 Airflow Fan Series 200mm fan on Modders-Inc.

Input etc:
CM Storm Skorpion Mouse Bungee and Control-RX Gaming Surface on PureOverclock.
Logitech G700s Rechargable Gaming Mouse on HardwareHeaven.
Mad Catz R.A.T.M Wireless Mobile Gaming Mouse on NikKTech.
Corsair M95 Gaming Mouse (Video Review) on HardwareHeaven.

Audio:
Asus Xonar DGX and Xonar DSX Audio Cards on Legit Reviews.
Asus ROG Orion Pro Gaming Headset on OCC.
Sunrise Charm3 & Dragon2 Ear buds on techPowerUp.

Portable:
Lenovo IdeaPad Z400 Touch on TechReviewSource.
Samsung Galaxy S4 Smartphone on HardwareHeaven.



Pretty much over the flu now. Remember OCAU has official Twitter, Facebook and Google+ pages now - please add us!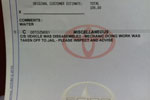 And if you're after more, check out this Wiki page which lists ALL "misc pics" news posts from the archive.



I mentioned earlier that the mandatory ISP filter has been dropped, but mpot and others pointed out a sneaky backdoor filtering program which is underway. The Federal Government has confirmed its financial regulator has started requiring Australian Internet service providers to block websites suspected of providing fraudulent financial opportunities, in a move which appears to also open the door for other government agencies to unilaterally block sites they deem questionable in their own portfolios. More here and here.

Google has a new boss for AU and NZ. Carnegie, who is in her early 40s, has been Proctor & Gamble's managing director for Australia and New Zealand for the past three years, having worked in Australia, Singapore and the US. Meanwhile Google's CEO has reported on some issues with his vocal cords. In a blog post, Page gave a full explanation as to his condition, which started about 14 years ago and has led to him losing his voice and even skipping last year's annual meeting.

With the Melbourne tunnel dramas recently, it seems this idea in Sydney could help. Developed and implemented back in 2011, Laservision's Softstop system projects a familiar bright red stop sign, seemingly in mid-air, at the tunnel's entrance if a vehicle too large to enter is detected. In fact, the stop sign does not float in mid-air, but rather is projected onto a water screen that, should a vehicle not heed its command, would cause no damage from being driven through.

IntelInside sent in this article about vital buildings being at risk from hackers. You're in intensive care at a hospital when the lights go out and the heating turns up. Meanwhile, doctors trying to get you to an operating theatre have been trapped in elevators for almost an hour as hackers take control. Experts are warning that this fictitious scenario is all too plausible after two researchers discovered in Australia 653 computer-based building management systems attached to the public internet.

Today's timewaster is GeoGuessr, from BugsBunny.




Thursday Midday Reviews (0 Comments) (link)
Thursday, 16-May-2013 11:55:49 (GMT +10) - by booj


Storage:
KingFast F3 Plus Series KF2510SCF Enterprise SSD on TweakTown.
Kingston SSDNow V300 240GB SATA III SSD on PCstats.
Kingston DataTraveler HyperX Predator 512GB USB 3 Flash Drive on HardwareHeaven.
Crucial M500 480 GB SSD on techPowerUp.
Icy Dock FlexCage MB975SP-B Tray-Less 5 x 3.5" HDD Dock on TweakTown.

Cases:
Azza Silentium 920 on ThinkComputers.
Cooler Master N200 on Ninjalane.
Cooler Master N200 on Hardware Secrets.

Cooling:
Phanteks PH-TC12DX CPU Cooler on techPowerUp.
Noctua NH-U12S and NH-U14S CPU coolers on Guru3D.
NZXT Kraken X60 Liquid-Cooling System on Xbit Labs.

Audio:
Steelseries Siberia V2 Frost Blue Edition on Funky Kit.
Audiofly AF78 Dual Driver Headphones on TweakTown.

Input etc:
Mad Catz M.O.U.S.9 Wireless Mouse on NikKTech.
CM Storm Recon Gaming Mouse on PureOverclock.

Misc:
ASRock Z77 Extreme11 Mainboard on Xbit Labs.
Asus VivoBook X202E-BH91T-CB on TechReviewSource.
Asoka PlugLink PL9760-Q2 500Mbps Dual Ethernet Powerline Adapter on NikKTech.
Enermax MaxRevo 1500W PSU on PureOverclock.
XFX R7790 Black Edition 1GB Graphics Card on Bjorn3D.
Luxa2 P1 7000mAh Portable Battery and Charger on Pro-Clockers.



Want more news? View previous 7 days, 14 days, 30 days or monthly archives.
All original content copyright James Rolfe.
All rights reserved. No reproduction allowed without written permission.
Interested in advertising on OCAU? Contact us for info.


Recent Content


Corsair AX860i PSU


Bauhn AMiD-9743G Android Tablet (3G, GPS)


AMD Trinity A10-5800K & GIGABYTE F2A85X-UP4


Bauhn AMID-972XS Android Tablet


ASUS P8Z77-V Deluxe


Synology DiskStation DS1812+ NAS


GIGABYTE GTX 570 Super Overclock SOC