Latest OCAU News

Pretty much over the flu now. Remember OCAU has official Twitter, Facebook and Google+ pages now - please add us!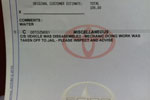 And if you're after more, check out this Wiki page which lists ALL "misc pics" news posts from the archive.



I mentioned earlier that the mandatory ISP filter has been dropped, but mpot and others pointed out a sneaky backdoor filtering program which is underway. The Federal Government has confirmed its financial regulator has started requiring Australian Internet service providers to block websites suspected of providing fraudulent financial opportunities, in a move which appears to also open the door for other government agencies to unilaterally block sites they deem questionable in their own portfolios. More here and here.

Google has a new boss for AU and NZ. Carnegie, who is in her early 40s, has been Proctor & Gamble's managing director for Australia and New Zealand for the past three years, having worked in Australia, Singapore and the US. Meanwhile Google's CEO has reported on some issues with his vocal cords. In a blog post, Page gave a full explanation as to his condition, which started about 14 years ago and has led to him losing his voice and even skipping last year's annual meeting.

With the Melbourne tunnel dramas recently, it seems this idea in Sydney could help. Developed and implemented back in 2011, Laservision's Softstop system projects a familiar bright red stop sign, seemingly in mid-air, at the tunnel's entrance if a vehicle too large to enter is detected. In fact, the stop sign does not float in mid-air, but rather is projected onto a water screen that, should a vehicle not heed its command, would cause no damage from being driven through.

IntelInside sent in this article about vital buildings being at risk from hackers. You're in intensive care at a hospital when the lights go out and the heating turns up. Meanwhile, doctors trying to get you to an operating theatre have been trapped in elevators for almost an hour as hackers take control. Experts are warning that this fictitious scenario is all too plausible after two researchers discovered in Australia 653 computer-based building management systems attached to the public internet.

Today's timewaster is GeoGuessr, from BugsBunny.




Thursday Midday Reviews (0 Comments) (link)
Thursday, 16-May-2013 11:55:49 (GMT +10) - by booj


Storage:
KingFast F3 Plus Series KF2510SCF Enterprise SSD on TweakTown.
Kingston SSDNow V300 240GB SATA III SSD on PCstats.
Kingston DataTraveler HyperX Predator 512GB USB 3 Flash Drive on HardwareHeaven.
Crucial M500 480 GB SSD on techPowerUp.
Icy Dock FlexCage MB975SP-B Tray-Less 5 x 3.5" HDD Dock on TweakTown.

Cases:
Azza Silentium 920 on ThinkComputers.
Cooler Master N200 on Ninjalane.
Cooler Master N200 on Hardware Secrets.

Cooling:
Phanteks PH-TC12DX CPU Cooler on techPowerUp.
Noctua NH-U12S and NH-U14S CPU coolers on Guru3D.
NZXT Kraken X60 Liquid-Cooling System on Xbit Labs.

Audio:
Steelseries Siberia V2 Frost Blue Edition on Funky Kit.
Audiofly AF78 Dual Driver Headphones on TweakTown.

Input etc:
Mad Catz M.O.U.S.9 Wireless Mouse on NikKTech.
CM Storm Recon Gaming Mouse on PureOverclock.

Misc:
ASRock Z77 Extreme11 Mainboard on Xbit Labs.
Asus VivoBook X202E-BH91T-CB on TechReviewSource.
Asoka PlugLink PL9760-Q2 500Mbps Dual Ethernet Powerline Adapter on NikKTech.
Enermax MaxRevo 1500W PSU on PureOverclock.
XFX R7790 Black Edition 1GB Graphics Card on Bjorn3D.
Luxa2 P1 7000mAh Portable Battery and Charger on Pro-Clockers.




Wednesday Night (8 Comments) (link)
Wednesday, 15-May-2013 23:53:07 (GMT +10) - by Agg


So, this Commander Chris Hadfield guy, not content with being a test pilot, fighter pilot, space shuttle pilot, the commander of the International Space Station and having a freakin' airport named after him, turns out to be a pretty good musician as well. Seriously, we have to do something. This guy is making the rest of us look like a bunch of jerks.

Meanwhile the mandatory ISP filter for Australia has been confirmed as officially dumped, saving a projected $4.5M. According to Budget 2013 papers, the government will achieve savings of $4.5m over three years by not proceeding with mandatory filtering legislation, a move announced in November.

Also mentioned in the budget are changes to NBN investment, with Turnbull saying it's been gutted and Conroy saying it's fine. Communications Minister Stephen Conroy has accused his Opposition counterpart of intentionally spreading "hysterical claims" in comments made this week with respect to budget treatment of National Broadband Network funding, in the latest spat between the two over the high-profile infrastructure project.

Microsoft are re-thinking Windows 8, thanks IntelInside. The tune up won't be released to consumers and businesses until later this year. The changes, part of a software package given the codename "Blue", are a tacit acknowledgement of the shortcomings in Windows 8. Microsoft isn't saying much about what the new Windows 8 will have, nor will it say whether it will charge for the upgrade. What the company will say is that it's responding to customer feedback in developing the update.

Tekin spotted this cool timewaster, a satellite view timelapse tool. Google doing time lapse photos from 1984 -> 2013. Interesting to look a urban sprawl growth over 20 years as well as some really interesting examples of glacier retreat.

Also, a google image search for atari breakout is pretty cool.




Tuesday Midday Reviews (0 Comments) (link)
Tuesday, 14-May-2013 11:39:41 (GMT +10) - by booj


Graphics Cards:
ECS GeForce GT 640 on OCC.
Sapphire Radeon HD 7790 2GB OC Edition on TweakTown.
PowerColor Radeon HD 7790 TurboDuo 1GB on Madshrimps.
Sapphire 7790 Dual-X on PureOverclock.
MSI GTX 650 Ti Boost TwinFrozr Gaming 2 GB on techPowerUp.

Storage:
Toshiba 256GB THNSNH256GCST SSD on Vortez
Adata DashDrive Elite UE700 32GB USB 3.0 Flash Drive on ThinkComputers.
Western Digital My Passport Enterprise 500GB USB3.0 External Hard Drive on eTeknix.
Western Digital My Book Live 1TB Personal Cloud Storage on TweakTown.
SilverStone DS322 Dual-Bay RAID Enclosure on TweakTown.
Toshiba MK3001GRRB 300GB SAS 6Gb/s HDD on NikKTech.

Power Supplies:
NZXT HALE90 V2 1000-Watt 80 PLUS Gold on TweakTown.
SilverStone Strider Gold ST65F-G 650W on APH Networks.
Corsair CX600M on HardwareHeaven.

Portable & Prebuilt:
Samsung Galaxy Note 8.0 on HotHardware.
Shuttle Slim-PC DS61 on techPowerUp.
Gigabyte U2442F 14-inch Ultrabook on Techspot.

Input etc:
Roccat Hiro Gaming Mouse Pad on Neoseeker.
Mionix Ensis 320 Luna Mousepad on Rbmods.
Tt eSports Black Element Combat White MMO Gaming Mouse on eTeknix.
Tt eSPORTS THERON Battle Ready Gaming Mouse on NikKTech.
Thermaltake Knucker Plunger Gaming Keyboard on Benchmark Reviews.

Misc:
Gigabyte Z77X-UD5H Motherboard on Hardcoreware.
Cooler Master NotePal A200 Dual Fan Laptop Cooling Pad on Madshrimps.



Want more news? View previous 7 days, 14 days, 30 days or monthly archives.
All original content copyright James Rolfe.
All rights reserved. No reproduction allowed without written permission.
Interested in advertising on OCAU? Contact us for info.


Recent Content


Corsair AX860i PSU


Bauhn AMiD-9743G Android Tablet (3G, GPS)


AMD Trinity A10-5800K & GIGABYTE F2A85X-UP4


Bauhn AMID-972XS Android Tablet


ASUS P8Z77-V Deluxe


Synology DiskStation DS1812+ NAS


GIGABYTE GTX 570 Super Overclock SOC