Latest OCAU News
Tuesday Morning Reviews (0 Comments) (link)
Tuesday, 27-January-2015 00:42:53 (GMT +10) - by Agg


Hope you had a great long weekend!

Audio Visual:
Asus STRIX DSP Gaming Headset on eTeknix.
Luxa2 GroovyW Bluetooth Speaker on TechnologyX.

Cases:
In Win D-Frame Mini Case on TechnologyX.
AZZA Z Mini-ITX Gaming Chassis on Tweaktown.
Lian Li PC-T80 Modular Test Bench Chassis on eTeknix.

Storage:
Plextor M6e Black Edition SSD 256GB on TheSSDReview.
Synology DiskStation DS215j 2-Bay NAS on eTeknix.
Plextor M6M 256GB mSATA SSD on Tweaktown.

Cooling:
Noctua NH-D9L CPU Heatsink on APHNetworks.
Cooler Master Nepton 240M AIO CPU Cooler on eTeknix.
Thermalright Macho Rev.B CPU Cooler on Tweaktown.

Input Etc:
CM Storm Quickfire Ultimate Mechanical Keyboard on eTeknix.
Speedlink Parthica Gaming Keyboard on eTeknix.
Gigabyte FORCE M63 FPS Laser Gaming Mouse on eTeknix.
CM Storm NovaTouch TKL keyboard on OCaholic.
Razer BlackWidow Chroma Mechanical Gaming Keyboard on NikKTech.

Portable & Prebuilt:
Supermicro 7048GR-TR (Intel C612) Workstation Tower System on Tweaktown.
ASUS ZenFone 6 Smartphone on HWHeaven.

Misc:
MSI Z97 GAMING 9 AC (Intel LGA 1150) motherboard on TechPowerUp.
Tenda AV1000 Gigabit Powerline Adapter on eTeknix.
Hands-on With Windows 10's Preview Build 9926 on Techgage.



Well, it's that time of year again when Agg turns a little older, a little wiser, a little more shouty and pointy... and this year is an important one: the big 40!

Happy birthday, Aggster, hope you're having an awesome birthday weekend!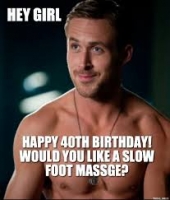 Thanks to aftahours and mpot this week!





































Friday Afternoon (0 Comments) (link)
Friday, 23-January-2015 14:14:33 (GMT +10) - by Agg


Windows 10 will apparently be free for many people, thanks aftahours. The rumors were right: Microsoft is going to make Windows 10 available for free to users running Windows 7, Windows 8.1 and Windows Phone 8.1 on their devices. But there's a catch, at least so far: The Windows 10 update will be available for free for one year from the date that Windows 10 is commercially available. Windows 10 is likely to be commercially available as of fall 2015, according to previous comments from Microsoft execs.

mpot sent in another interesting article from BackBlaze, this time simply considering which is the best HDD. Let's get right to the heart of the post. The table below shows the annual failure rate through the year 2014. Only models where we have 45 or more drives are shown. I chose 45 because that's the number of drives in a Backblaze Storage Pod and it's usually enough drives to start getting a meaningful failure rate if they've been running for a while.

Microsoft's HoloLens will also be helping NASA. NASA and Microsoft have teamed up to develop software called OnSight, a new technology that will enable scientists to work virtually on Mars using wearable technology called Microsoft HoloLens. Developed by NASA's Jet Propulsion Laboratory (JPL) in Pasadena, California, OnSight will give scientists a means to plan and, along with the Mars Curiosity rover, conduct science operations on the Red Planet.

aftahours also spotted this PC in a mouse. The Mouse-Box look and works like a conventional mouse, but contains a processor, flash storage, an HDMI connection, and Wi-Fi connectivity.




Friday Morning Reviews (4 Comments) (link)
Friday, 23-January-2015 11:05:08 (GMT +10) - by Agg


Video Cards:
ASUS GeForce GTX 960 Strix on BenchmarkReviews.
MSI GeForce GTX 960 Gaming OC on Guru3D.
Palit GTX 960 Super JetStream 2 GB on TechPowerUp.
NVIDIA GeForce GTX 960 SLI on TechPowerUp.
ASUS GeForce GTX 960 STRIX OC Edition on OCAholic.
Gigabyte GeForce GTX 960 G1 Gaming on Guru3D.
Gigabyte GeForce GTX 960 G1 Gaming on OCAholic.
2-way SLI review: ASUS GeForce GTX 960 Strix on Guru3D.
Zotac GTX 960 AMP!-edition on Bjorn3D.
KFA2 GeForce GTX 960 EXOC on Guru3D.
NVIDIA GeForce GTX 960 Review With EVGA And ASUS on HotHardware.
EVGA GTX 960 SSC 2 GB on TechPowerUp.
NVIDIA, MSI, EVGA GTX 960 on OCClub.
ZOTAC GeForce GTX 960 AMP! Edition on Tweaktown.
MSI GTX 960 Gaming OC 2 GB on TechPowerUp.
GTX 960 on HWHeaven.
NVIDIA GeForce GTX 960 on Phoronix.
ASUS STRIX GTX 960 on NeoSeeker.
GIGABYTE GTX 960 G1 Gaming on Vortez.
EVGA GTX 960 Super Superclocked on HWAsylum.
NVIDIA GeForce GTX 960 (GM206) on Tweaktown.
Asus GTX 960 Strix on LanOC.
ASUS GTX 960 STRIX DirectCU II on Vortez.
NVIDIA GeForce GTX 960 2GB on PCPerspective.
GeForce GTX 960 on TechSpot.
GeForce GTX 960 on TechReport.
GeForce GTX 960 SLI Review: 2x Gigabyte GTX 960s on TechSpot.
ASUS Strix Edition GeForce GTX 960 on Techgage.
Palit GeForce GTX 960 JetStream on LegionHW.
ASUS GTX 960 STRIX OC 2 GB on TechPowerUp.

Audio Visual:
SteelSeries Siberia Raw Prism headset on Vortez.
Kingston HyperX Cloud II Gaming Headset on BenchmarkReviews.

Input Etc:
Logitech G402 mouse on LanOC.
Corsair Vengeance K70 RGB Fully Mechanical Gaming Keyboard on MadShrimps.
Tt eSPORTS Poseidon ZX Mechanical Gaming Keyboard on ThinkComputers.

Cases:
Thermaltake Core V21 Stackable Micro-ATX on eTeknix.
Raijintek Metis Mini-ITX Aluminum Chassis on eTeknix.
Cooltek C3 small aluminium case on OCAholic.

Storage:
Patriot Blaze 120GB Low-Cost SSD on Tweaktown.
Kingston SDCA3 microSDHC/SDXC UHS-I U3 Card 64GB on TheSSDReview.

Misc:
LUXA2 Aluminium MFi Lightning USB Charge / Sync Cable on ThinkComputers.
Doogee Pixels DG350 Smartphone on ModSynergy.
Thermaltake Toughpower Grand 1050W 80 PLUS Platinum PSU on Tweaktown.
MSI X99S MPower Motherboard Overview and Overclocking Guide on Tweaktown.
Reveen Steropes CPU cooler on TechPowerUp.




Windows 10 and Microsoft HoloLens (3 Comments) (link)
Friday, 23-January-2015 02:13:51 (GMT +10) - by Agg


Microsoft have made some pretty big announcements at their Windows 10 event. As expected, Microsoft made a strong push toward connecting its devices more seamlessly, part of its universal apps program. Office, Outlook, and other apps all work quite similarly across devices, and Cortana is everywhere, working as a natural-language interface and personal assistant. The big surprise, however, was Microsoft's foray into virtual reality, with its HoloLens glasses, an ambitious bid to create a system for overlaying holographic images over the real world. Windows 10 discussion continues here in the forums.

The official Microsoft HoloLens video is viewable here, and ArsTechnica share their thoughts on this new gadget in this article - and they like it. For the second time in as many months, I feel like I've taken a step into the world of science fiction—and for the second time in as many months, it's Microsoft who put me there. More coverage on Engadget.

It's an interesting move, following only a few days since Google announced they were ending Google Glass sales. Google is halting sales of its Internet-linked eyewear Glass but insisted the technology would live on in a future consumer product.



Want more news? View previous 7 days, 14 days, 30 days or monthly archives.
All original content copyright James Rolfe.
All rights reserved. No reproduction allowed without written permission.
Interested in advertising on OCAU? Contact us for info.


Recent Content


Silicon Power USB Gift Pack


Google Chromecast


MyGica ATV510B Enjoy TV


Thecus N5550


SiliconDust HDHomeRun Dual


Intel Haswell on MSI Z87 MPOWER


Corsair AX860i PSU