OCAU News
Monday Lunchtime (6 Comments) (link)
Monday, 16-July-2012 12:42:12 (GMT +10) - by Agg


Matcat sent word that nVidia's forum has been hacked. In addition to asserting that all accounts will have their password changed to a temporary value and that password sent to the registered email address, the Nvidia announcement makes one additional smart suggestion: "As a precautionary measure, we strongly recommend that you change any identical passwords that you may be using elsewhere."

Billabong's website has suffered the same fate, but they apparently stored passwords in plain text. According to a dump from their password database, Billabong stored all passwords in plain text - presumably this made it easier to tell a user what their password was if they'd forgotten it. It also made life very easy for any hackers who wished to masquerade as the users on the site.

Canberra is defending an unpopular plan to require telcos to store data. Mr Bradbury accepted the plan would be controversial. ''When you're talking about balancing the need for security agencies to have access to this information, with the need to protect the privacy interests of individuals, it's an incredibly difficult balancing act.'' More than 90 per cent of almost 9000 people who responded to a Fairfax readers poll yesterday voiced their opposition to mandatory data retention.

From Trevor68: Ravaged is a new Post-Apocalyptic Shooter that is currently in closed beta. I basically have enough beta keys to satisfy as many OCAU members as would like to give it a go, so thought it might be worth a mention on the news page.

Timbot spotted this 3-part Star Trek series called "Of Gods and Men". It seems to have been made a few years ago, and while it features a few of the big name actors of the official series, this seems to be a B-grade fan flick type affair. Still, I watched about 10 minutes and will probably see the rest - it's worth checking out if you're starved of new Star Trek content. :)

Speaking of which, Richard Branson has confirmed Virgin Galactic will take him to space next year. Richard Branson has long said that he'd be on board Virgin Galactic's first commercial space tourism flight, and he's now confirmed that will take place sometime next year with his two adult children along for the ride (a bit of a delay from the company's original 2011 target). That trip will of course be made with the company's SpaceShipTwo craft, which has already completed a number of test flights, and which is capable of flying 100 kilometers (or just over 60 miles) above the Earth for a planned two and a half hour flight with five minutes of weightlessness.

Finally, Simon sent in this sneak preview - seems legit? Smaller than I expected..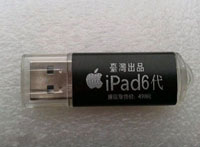 Return to OCAU's News Page

All original content copyright James Rolfe. All rights reserved. No reproduction allowed without written permission.