OCAU News
Wednesday Arrrrrfternoon (3 Comments) (link)
Wednesday, 19-September-2012 15:25:28 (GMT +10) - by Agg


Avast, mateys! Blast yer eyes and blister yer barnacles, it be International Talk Like A Pirate Day once again. In fact it be 10 long years since this day first washed up from the briny depths! So open up your buccaneers for some news from Old Redbeard..

Stow your oars and man the bilge pumps if you're an Internet Explorer user, coz it's got a big hole in it, warn Microsaaaarrrrft. On Monday night, Microsoft urged users of Internet Explorer 9 and earlier versions to deploy a toolkit that could help protect against a series of attacks hitting its system. It was revealed earlier in the day by security forum Rapid7 that Internet Explorer was hit with a new zero-day exploit, which takes advantage of a security hole within websites to carry out attacks.

Also adrift and sinking fast is AMD's stock price, in the wake of the CFO having jumped overboaaaaard. "Thomas leaving is a big deal. He was pretty well-liked by investors. He was viewed as he rock throughout all the changes," Evercore Partners analyst Patrick Wang told Reuters. As a result, AMD's stock has taken a hit, falling by as much as 12 percent in after-hour trading.

Meanwhile those scurvy dogs at Futurelooks look at the future AMD platform, Virgo. It's about that time again as AMD is gearing up to release a new round of processors to the masses. We're set to see a series of new processors based on the "Piledriver" architecture which include new APUs for laptops and desktops codenamed "Trinity".

Mangy currs by the boatload will be plundering iPhone 5 booty tomorrow, but one crafty bilge-rat says ye should spare a thought for those less fortunate. Mr Le says he and a group of supporters will line up on the opposite side of the store pretending to need food to highlight the "folly of consumerism". "It's so people can see how messed up some aspects of our consumer society are," he told AAP. You and your chums can fondle each other's dubloons in this thread, yarr.

A band of merry Facebook friends found a lost land-lubber in the Swiss Arrrrrllps. Mr Hunt's friends had to raise nearly $22,000.The funds helped to pay for a dog team, canyoning experts and helicopter flights, while up to a dozen volunteer paragliders and mountaineers flew into the country to join the search. A post on the page three days later announced success: he had been found alive.

The ship's cat is gnawing on my pegleg, so it's time to sign off. As traditional, I'll leave you in the capable hands of OCAU's Pirate Day mascot, until next yeaaaarrr!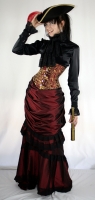 Ahoy there!
Return to OCAU's News Page

All original content copyright James Rolfe. All rights reserved. No reproduction allowed without written permission.