Advertisement:

---
OCAU News

I've given up on being surprised by Friday - even December sneaking up on us has lost its thrill. But the fact that it's nearly 2009 is taking some getting used to. Thanks to Clay and others for these.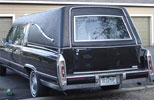 Return to OCAU's News Page
---
Advertisement:



All original content copyright James Rolfe. All rights reserved. No reproduction allowed without written permission.


Advertisement: