Advertisement:

---
OCAU News

It's good that New Years Eve is on a Friday.. makes me think that 2011 will be like one long weekend? :) Maybe not. But thanks to Shawn, Marty and Timbot this week, and thanks to you all for a great year! See you in 2011.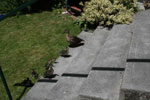 And if you're after more, check out this Wiki page which lists ALL "misc pics" news posts from the archive.




Return to OCAU's News Page
---
Advertisement:



All original content copyright James Rolfe. All rights reserved. No reproduction allowed without written permission.


Advertisement: