ORDERS ARE NOW CLOSED
We are now running a SECOND ROUND of pre-orders for OCAU 10th Anniversary polo shirts and stubby holders. We did say last time we would not be repeating these products, but we actually cut the initial order in half because it seemed we were not getting many pre-sales. However then they exploded in popularity and many people missed out. So this time we will handle it slightly differently.
We'll be accepting pre-orders and payments until the 1st of March.
Then, we will order from the manufacturer exactly how many people have ordered and paid for.
About 2 weeks after that we should recieve the goods and send them out to people ASAP.
What this means is, nobody should miss out, because the order will be exactly as many as people have requested and paid for. But that'll be it, and there will be no more 10th Anniversary polo shirts or stubby holders offered. So if you want some, get on board this time or miss out!
POLO SHIRTS:
Shirts are the same as last time, being "close pique knit 65/35 poly/cotton", in navy blue with a white band on the collar and white embroidered "OCAU 10th Anniversary" logo on the left breast. As per this (rough mockup) pic: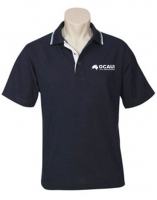 Click to view full size!
People who bought the last lot years ago will attest to them lasting for years and being comfy etc. Good for smart casual, work, etc.
Shirt Sizing:
PLEASE MEASURE BEFORE ORDERING. Last time there were several people who ordered without measuring first and who recieved shirts larger than they wanted. Don't rely on us being able to do exchanges if you order the wrong size.
So, measure an existing shirt of yours across the chest between the armpits (or just remember what size OCAU polo shirt you ordered last time):
S - 52cm
M - 55cm
L - 58cm
XL - 62cm
2XL - 65cm
3XL - 71cm
5XL - 79cm
STUBBY HOLDERS: These are the usual neoprene/rubber things you put around drink cans or bottles to keep them cold and stop your hand freezing off, in navy blue with the OCAU 10th Anniversary logo on them. The printing on these has turned out really sharp and they look great.
Pricing:
1 polo shirt: $ 30
2 polo shirts and a free stubby holder: $ 60
1 stubby holder $ 8
2 stubby holders $ 15
Postage on all orders is an additional $5 no matter how many items are in your order. Pick up is not an option, sorry. All prices include GST and I can provide a GST invoice on request.
As mentioned, this particular merchandise will NOT BE REPEATED after this order. OCAU has had a pretty expensive last 6 months or so with new server hardware, overseas hosting and other dramas, so buying some is one nice way you can help support OCAU and get some cool swag in return. Thanks! If this batch goes well, we will look at mugs and other stuff soon.
How to Order:
ORDERS ARE NOW CLOSED
Email agg@overclockers.com.au with your order (specify sizes), your postal address (including real name) and your OCAU username. Send your cash (remember to add $5 for postage) to:
BSB: 923-100
Account: 18865863
Name: James Rolfe
Bank: ING Direct
INCLUDE YOUR OCAU USERNAME IN THE DESCRIPTION OF YOUR TRANSFER. Note this is NOT the normal OCAU account, because there are fees on every transaction to that one, so I've set up this ING saver thingy which has no fees. If you don't have internet banking or can't send to ING for whatever reason, let me know in your order email and we can organise something else.
Questions? Ask in this thread or send an email.
Return to OCAU's News Page