Review:Linksys AG241 ADSL2 Modem Gateway
From OCAU Wiki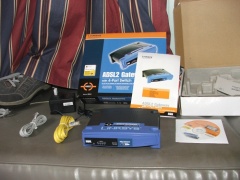 A friend of mine owned a Billion 5100. A lightning storm stuck nearby and basically "bricked" the modem and stopped working. Ahh crap, Time to get the wallet out So it was off to shop at warcom (http://www.warcom.com.au) in search of a replacement modem. The only requirement was that it included a two-port switch and wireless wasn't necessary. It seems that most modems available on the market come with wifi built-in just for the convinces
My budget given was anything below $140 AUD. I ended up choosing the LINKSYS AG241 for $119. Linksys are owned by their parent company Cisco one of the largest networking hardware makers in the world. Linksys's slogan is "The all-in-one solution for Internet connectivity in your home"
Features
The key features of this baby:You can connect 4 computers, laptop, gaming console etc via four port 10/100 switch
A Built-in Modem that's ADSL2/2+ Compliant (up to 24Mbps)
Manageable by easy web interface
SPI Firewall and URL filtering for parental filtering
Promises to block websites on keywords and block Java, Active X code & cookies
DHCP server for handing out IP address automatically
Email and Web-based Logging of Security Events
Flashie LED lights on the front
On/Off switch with reset button on the back
Free 60 day trial/access of Symantec Internet Security for firewall and virus updates
Two year Limited Manufacturer's warranty
=== What's including ===
Quick installation Guide
Power adaptor
User Guide included on CD-ROM
Network Cable
RJ-12 Phone Cable
Yellow Colored RJ-45 Network cable
Installation - Connecting Stuff
When you unwrap and open the box. The first thing you'll see is the glossy quick installation guide. It has easy step-by-step instructions to get you setup and connected to the Internet and you'll be surfing the web in no time, Linksys have colour coded the back of the router making simple installation by easily matching up the colours with matching coloured cable. In my case it took about minute to get everything connected and configured so I could get online.
Settings and Config
The setup is very configurable, although it also keeps it simple for the home users. A quick start wizard doesn't come on the CD. First thing to do is open your preferred web browser (however Safari on Mac will not work) and connect to the default IP address http://192.168.1.1 for the router. At a certain point a dialog box will appear asking for an admin username and password
There's an option to change the user name and password to whatever you desire. But I know most people will leave it as default. If you have nosey family members or wireless access points, It's important that you change the default password to prevent them from messing with your settings up
Once you're logged in, the first page will be the internet setup, where you will configure all your account details and choose settings for logging into your ISP. It looks much the same as the WRT54G Internet set-up page. The gateway supports five different encapsulations. The two common types are PPPoE and PPPoA. Check with your ISP to first or the ISP support page that should tell you, which to use…
Once you've entered your account details and pressed save changes. Give it a minute then load a website from the web or click the 'status' link to show your connection details (IP, DNS servers, Gateway). One of the submenus on the status page shows your ADSL sync details. You can see my upstream sync speed for a 1500/256k connection was below, what I'd expected it to be normally. I had my other modem connected to the same phone line during testing that may have been conflicting with the results
Port forwarding
There are 3 types of port forwarding available:
Single port forwarding just forwarding the one specific port
Port range forwarding is for a entire port range Ex: Open ports from 80-85 and both TCP and & UDP to an internal IP address. Useful if you like using BitTorrent or P2P
Port triggering works on by request. It's a dynamic way of forwarding ports instead of the static method used for normal port forwarding and is mostly used for example, IDENT commands when connecting to IRC servers.

The firewall is turned on by default. The first thing i recommend is go to your administration tab and disable Universal Plug and Flag (UPnP)if you're running a windows 2000/XP system turn it off to protect your system against attacks/worms
I mentioned one of the nifty features is ability to individually filter out the proxy servers, cookies, Java and ActiveX. The good thing about this is that protects the users from the bad adware and spyware/malware that would normally infect their systems. The bad thing is the safe websites won't function or load properly, when the filter is turned on.
The parental filtering that comes with AG241. It lets you create a blacklist of certain websites by keyword or a partial URL address. Website blocking by URL address will block entire domain names or a specific website URL address, But any kid whom knows what a public-proxy does can bypass the filtering easy
At the top of the page a time filter setting allowing you to schedule when you allow your LAN users to have access to the internet. By choice of either blocking all outgoing, all incoming ports and option of blocking both. My understanding of this feature is you're unable to block just a single service. You're given choices of which days you want to block access and can choose time periods to block/allow internet access.
Scrolling down to the bottom you have blocked services. This lets you block access to specific service by blocking an entire port range, if your program/service isn't listed press the add/edit button to adjust settings or add service. In this situation you might want to disable a certain application from talking to the web entirely.
Admin features
There are pretty much the same features on all linksys products. Like your Remote gateway access lets you connect to configure your router over a WAN or via the internet
=== SNMP === used for monitoring of network-attached devices for any conditions that warrant administrative attention or for just showing-off to friends, visitors. In most situation a connected network device, such as a web/file server will ask the SNMP server for information. Using program such as MTRG to convert the information and out in the form of colorized graphical chart data. Which can be put web page or desktops, using samurize for an example.
=== Logging and email === feature will send alerts to you're an email address. Creating paranoia every time someone probes your IP address or port, I've used this feature myself on WRT54g with some 3rd party firmware. You'll find your inbox is filled with 100's extra emails day that's really nonsense junk. Basically Telling you "OMG, Someone's pinged your computer! *PANIC*"
Only thing, I did like about the logging features is the ability to see Internet access activity logs in real-time. Other than, In most home or small office situation logging isn't important. In the diagnostics tab has a small Ping test tool for testing for a response
=== Quality of service or QoS (for short)=== is way to give prioritise traffic based on a level importance. VoIP is very bandwidth intensive on your upload speed and other Internet application chews up bandwidth can degrade your phone quality. Causing annoying conversation break-ups and glitches, ex; So Vo-IP would get the highest priority over other applications such as BitTorrent and other P2P applications
Performance?
I had limited time of 6-8hr to take photos and prepare for writing a review. With no time to run the performance test and usual comparison benchmarking you'd expect in normal reviews. Especially when doing a review for ADSL2/2+ enabled modems the sync tends will varies on the distance from the exchange. For benching modems these days, I reckon you need at least 2-3 different test sites at variable intervals from the exchange; This is mainly for giving accurate/fair modem comparison results with other modems for bests results. I recall a recent APCmag and Whirlpool joint feature was a pretty good example the way it meant to be done. For some strange reason they didn't test the Linksys AG241 only it's bother sister versions
Conclusion
In conclusion. For the firmware support from Linksys was disappointing. Atfirst they were slow in releasing a firmware to squash some bug eventually resolved. Ignoring those issues, Linksys produce great products and for just $119. it's a neat router with lots of powerful features. Rival modems may match in features and comparable price for Netgear DG834, Billion 7402L, DrayTek Vigor 2500. The different will be your personal choice
Update
13/08/2006 - Updated and cleaned structure
18/01/2006 - Linksys have now released the "official firmware". Review revised to reflect the change of situation
18/01/2006 - No complaints or problems from Zack (my brothers friend) 25/2/2006 - Edited upto admin features for spelling and grammar Media:Example.mp3
More Links