Advertisement:

---
OCAU News
Attack of the Fake USB Sticks (52 Comments) (link)
Friday, 22-May-2009 14:31:56 (GMT +10) - by Agg


I recently bought a 64GB Corsair Flash Voyager from DealsDirect.com.au. I've got a couple of smaller Corsair ones already and I've been recommending the 16GB Voyager GT to people wanting a speedy thumbdrive, so when I got an email about a special deal 64GB one for about $100 AUD delivered, it seemed like a deal too good to miss. And maybe in hindsight, too good to be true.

The drive had issues from the start - very slow and corrupting data. It also felt and looked slightly different to the other ones I own, and less well made. So I asked on the Corsair support forums what they thought about it. The official word: The 64 Gig in your picture is a counterfeit product. Seems I'm not the only one with an issue, either.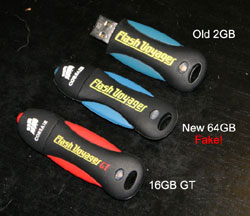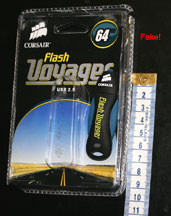 click to enlarge


Apparently the email and listing mentioned that the drives are refurbished and carry a 12-month warranty, although I admit to not noticing that, perhaps in my impulse-buying speed-clicking frenzy. Well, Corsair say they don't sell refurbished drives and their products have a 10 year warranty (update: although there are apparently some genuine refurbished drives out there, which is confusing). But most importantly, they simply don't make a 64GB Flash Voyager that looks like this. The 64GB model is longer and has a chain for the cap: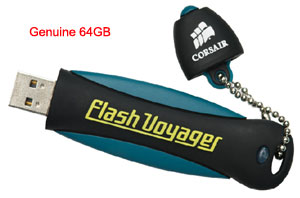 click to enlarge


So, what's the lesson here? Well, we already know that fake memory cards are pretty widespread, but it seems even brand-name USB sticks can be impersonated, and a fairly reputable vendor can sometimes pick up a bad batch. But if your spidey sense is tingling, it's worth checking the manufacturer's website to see if the product on sale even exists in their lineup. I haven't heard back from DealsDirect as yet, but I'm sure there'll be no issue with a refund or replacement. They've already pulled the product page, but I'll be keen to hear how this all happened from their end.




Return to OCAU's News Page
---
Advertisement:



All original content copyright James Rolfe. All rights reserved. No reproduction allowed without written permission.


Advertisement: