Bauhn AMID-972XS Android Tablet


Performance:
Synthetic benchmarks seem a bit pointless on phones and tablets, but for the sake of completeness here's a chart showing the three run averaged scores each device got in "Quadrant Standard", a CPU/GPU benchmark available in the Play Store: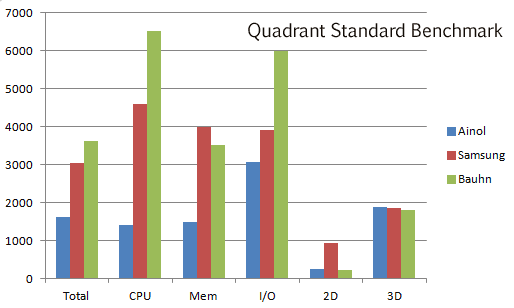 You can see that, overall, the Bauhn handily beats the Samsung Galaxy S II, and both completely trounce the Ainol Novo 7 Advanced. This is mostly due to CPU, memory and I/O performance, with graphics performance closer between the three - apart from the Samsung's stellar result in 2D. I'm not sure what the story is there but it's a repeatable result, in this benchmark anyway.

On to the more real-world comparisons. The Bauhn comes with Android 4.0 or "Ice Cream Sandwich" installed - my other two Android gadgets are still running 2.3.x or "Gingerbread". For a largely irrelevant comparison of performance, here's the cold-boot times between my SGS2 phone, the Ainol and the Bauhn. Note I haven't even setup WiFi on the Bauhn yet, hence the time being wrong:




and here's the normal startup-from-sleep-mode boot on the Bauhn, showing the default desktop.




Usage:
As mentioned earlier, 1024x720 does not sound very good on paper. But in actual usage it's surprisingly good. The photos below show a paused video frame from a Blu-Ray quality 720p trailer for the upcoming Bond film "Skyfall". You can see Daniel Craig's manly stubble in quite sharp detail on both the Bauhn at left and the iPad 3 on the right.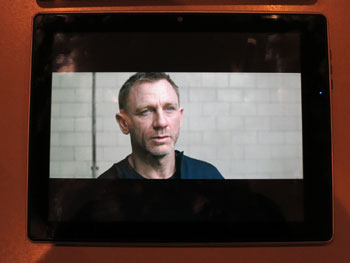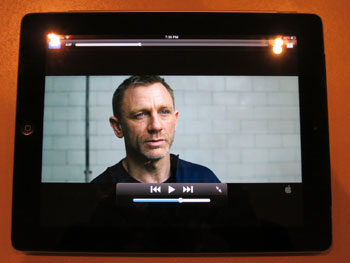 I should note these photos were taken with a PowerShot S100 mini travel camera in a cafe environment at night, so neither screen is probably looking its best. The iPad 3 is sharper, no question. But point is, the Bauhn is perfectly usable and frankly a lot better than I expected for the price.

Finally, here's a bit of generic every-day usage after I've set it up with a few things. In this video I show basic web browsing, Facebook, Google Maps, video playback from the MicroSD card, youtube and Angry Birds. My camera loses the focus in places and there's a moire effect on the video which is not visible when using the tablet, but it gives you an idea of real-world performance:




Battery life seems good - from a full charge I managed 5 hours of near continuous usage before it gave me a battery warning at 15% capacity remaining. The battery usage app reported 89% usage by the screen and I'd had it on full brightness all that time. I managed another half an hour of media playing before it completely gave up the ghost and wouldn't turn on without being plugged in. With a little more care you should be able to stretch it further.

It has a front and back camera, but they're not great. The back, used for general photography, is apparently 2.0MP and the front, used for Skype etc, is something substantially lower. Here's two photos from the front (left) and rear (right) cameras, taken in late afternoon light. Note these link directly to the files as saved by the tablet.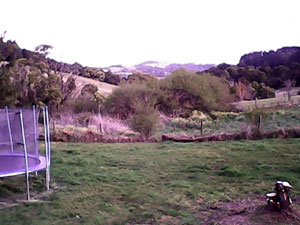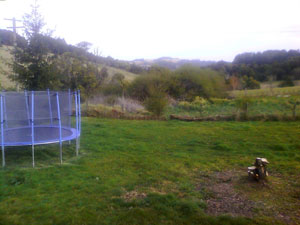 Left: front camera -- Right: rear camera


Here's a couple of videos uploaded to YouTube.

Front Camera
Rear Camera

The front one is probably fine for Skype and similar where image quality doesn't really matter, but the rear one falls into the "better than nothing" category. You wouldn't want it to be the only camera you took on holiday with you.

Some other general comments: the specs list Bluetooth, but the logo is conspicuously absent from the box. However I can confirm that Bluetooth both exists and works fine on this tablet. I've used it to talk to my PC and exchange files. The WiFi also seems reliable and speedy. The MicroSD slot works with my Sandisk 32GB which makes it easy to get media onto the tablet. For the last week I've been using it heavily for normal gmail, facebook, web browsing, media watching and gaming - including quite a lot of Coin Dozer, I shamefully admit - it's been fine. There's been maybe two times an app has dropped me back to the desktop, but that seems on par with the SGS2 and better than the Ainol which has serious WiFi stability issues. No doubt a world of flashing and unlocking awaits those who want to play with different firmware images. The screen is quite reflective, meaning at my desk I have to angle it to avoid the fluorescent lights above me blinding me in the screen. It's also fairly fingerprint-attracting, but there's probably not much that can be done about that apart from including a cleaning cloth, which Bauhn did.

If I had to quibble, there's a mildly annoying status LED which can catch your eye when you're using the tablet. In normal use it's quite bright blue but if you're using the tablet while charging it, it becomes an even more bright red/purple. Fortunately in normal use it doesn't point directly at the user's eyes, but if I was using the tablet in a dark environment I'd be tempted to put a sticker over the LED. I also miss the physical off-screen home/back/settings buttons that the Samsung and Ainol both have, but I'll cope.

So, there's not much more to say. I'll certainly be taking this tablet with me on trips where I need a better screen and keyboard than available on my phone. I have no issues recommending it, although sadly I don't like your chances of finding one. But at the very least, hopefully this will make you a little more confident in exploring other oddly-named and cheap Android tablets.

Feel free to discuss this review and this tablet in this thread. There's also a general "cheap and nasty Android tablets" thread here.


All original content copyright James Rolfe.
All rights reserved. No reproduction allowed without written permission.
Interested in advertising on OCAU? Contact us for info.

Recent Content


Getting Started with Arduino


ADATA Ultimate SU800 256GB SSD


FSP Hydro 700W and Hydro G 850W PSUs


Crucial BX200 SSD


ADATA SP550 240GB SSD


Lexar Jumpdrive M20i Flash Drive


Lexar Jumpdrive M20c Flash Drive