Synology DS720+ NAS
Join the community - in the OCAU Forums!


Synology have released five new NAS units for 2020: two 2-bay units - the DS220+ and the DS720+, two 4-bay units - the DS420+ and DS920+, and a 5-bay unit, the DS1520+. We've had quite a few Synology reviews on OCAU over the years, right back to the DS1812+ in 2012, the DS415+ and DS715 in 2015, their RT1900ac & RT2600ac routers in 2017 and the six-drive DS1618+ in 2018. This time Synology very kindly sent me their DS720+ model.

The first thing I noticed is the new sharper edges of the plastic shell of the NAS. In 2019, Synology introduced chamfered edges in the plastic on the DS1019+, but this is now appearing across all newer models apparently - it gives the NAS units an updated feel, but it's not a dramatic departure from older models with their more rounded edges. With USB3, dual 1Gb Ethernet ports, eSATA for expansion and a Kensington security slot, the ports remain largely the same as previous models.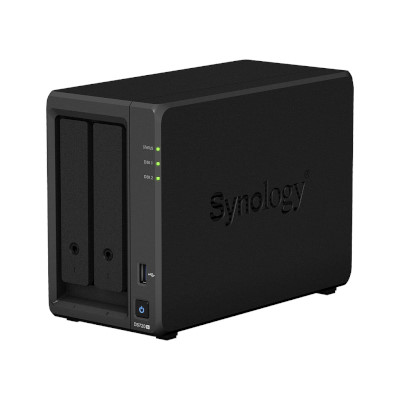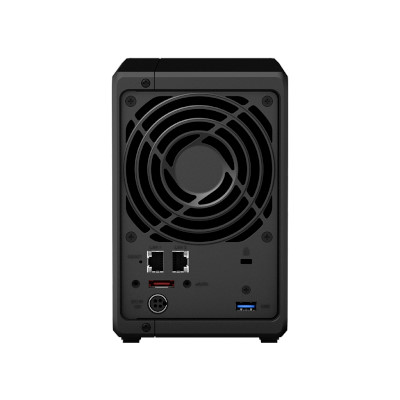 A noticeable upgrade comes in the form of new CPUs. Gone are the asthmatic Atom CPUs of the past, and we're in with the, not exactly powerful, but certainly better Celeron J CPUs - specifically the Celeron J4125 in the DS720+. This is a four-core unit bursting up to 2.7GHz and appears in the DS920+ and the DS1520+ as well, but the DS220+ and DS420+ both have a "slimmer" Celeron J4025 dual-core unit, which makes up for its lower core count somewhat by bursting up to 2.9GHz.

More CPU horsepower is a welcome change, but RAM capacity is now an issue. Gone are the days of two memory sockets - in all five units, we have hard-soldered RAM. 2GB in the DS220+, DS420+ and DS720+, and 4GB in the DS920+ and DS1520+. With only a single SO-DIMM socket for expansion, this doesn't really match the increase in CPU performance.

Synology state that each unit will take a RAM module of a maximum of 4GB, and will only work with their own brand of memory. However, I've installed a spare DDR4 4GB SO-DIMM left over from an upgraded 2018 Mac Mini, and it seems to work just fine so far.

This may not work for everyone though, as some owners have found using non-Synology RAM with the new NAS models have met with limited success, as well as attempting to use larger-than-supported capacities - specifically with 16GB and 32GB modules, with some success with the former, but none with the larger capacity module. I've tested both Kingston and Crucial DDR4 16GB RAM modules with no luck.

The issue seems to stem from the maximum 8 GB of RAM supported by both Celeron models, although there have been instances such as Intel NUCs where Intel released a stated max supported RAM and enthusiasts have installed higher capacities and the modules work just fine. Sometimes all you can do is try and see what results you get.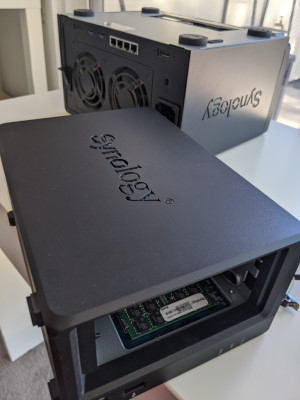 Testing a Synology 16GB DDR4 ECC DIMM from my DS1618+... before I realised the DS720+ doesn't support ECC RAM. Derp.


Looking more closely at the DS720+, it is relatively straightforward with no real surprises, being an iterative upgrade over previous models rather than a great leap forward. It supports:

Two 3.5" (or 2.5") hard drives
Two M.2 NVMe (not SATA) drives in two bays
A DX517 expansion bay, adding five more 2.5"/3.5" drive bays
While the two M.2 slots are meant specifically for caching storage, there are workarounds for installed drives to be used for normal storage. One M.2 NVME module will give you read-only caching, whilst two modules are required for read-write caching. It's hard to say what value home users would get from caching, but if you have a spare NVMe drive, it doesn't make the NAS performance any worse.

I've seen unhappy comments on Reddit and other forums regarding the continued use of 1Gb Ethernet ports - particularly on models like the DS1520+ which feature four 1GbE ports, but no 10GbE. Synology have included 10GbE networking on home/SMB models, most notably the DS1817 from 2017. I would argue that the majority of NAS home users don't need 10GbE at home, and implementation would raise the cost of these already-expensive NAS systems.

That said, there slots to add 10GbE PCIe network cards to various models, but sadly, none of the range we're looking at today feature a PCIe slot.

You can read the full spec sheet of the DS720+ on Synology's website here.

Seagate IronWolf 16TB Drives
Seagate very kindly supplied some of their IronWolf NAS hard drives for this review - 16TB drives in fact. These are so large in capacity that the initialization took almost 24 hours. For the record, when initialised and set up in a RAID1 mirror, Synology's DSM (Disk Station Manager) reports the total usable capacity at 14.55 TB.

The IronWolf range is aimed at the enthusiast NAS market and that is shown in the specs compared to its bigger brothers the IronWolf Pro and EXOS X16. The base IronWolf has a lower sustained transfer rate of 210 MB/s compared to the 250 MB/s of the IronWolf Pro. Seagate recommends using eight or fewer of the lower drive model in NAS environments.

The MTBF (Mean Time Between Failures) is higher on the Pro model - 1.2M hours vs 1M hours - and it has a 5 year warranty compared to 3 years for the base model. Normally I would say something like "for the market the base IronWolf drives are aimed at, this isn't that big a deal" but a brief search shows that the 16TB IronWolf drive can be found for ~$850 whereas the IronWolf Pro version is ~$950.

When you're spending that much for a hard drive drive, that $100 extra for a whole two years of warranty seems like a wise investment, not to mention the MTBF improvements and two years of complementary data rescue service plan in the event of a drive failure.

Does this make the base IronWolf models a bunch of bad drives? No, they're meant for a certain market and they make sense if you're buying in bulk and that $100 cost differential will add up as unit quantity does. There's plenty of operators out there who buy drives in bulk and destroy them when they fail, for data-security reasons, so warranty isn't as much of a concern as general reliability.

Noisy business
I admit that I'm a grumpy old man these days and if a device makes anything more than a whisper of fan noise it gets on my nerves. Fortunately the single fan on the DS720+ is quiet - although I'd be tempted to replace the stock fan with a Noctua fan to really hush the unit. However once set up and running - I'm not sure if it's due to the smaller size of the DS720+ or it's attributable to the 16TB IronWolf drives - the combination is surprisingly noisy.

I suspect this is mostly attributable to the 16TB IronWolf drives - there's a lot of clicks and whirls from them, reminding me a lot of early IDE drives back in the 1990's. This appears to be something specific to Seagate's larger capacity drives apparently as it's anecdotally reported by a number of people with IronWolf drives over 10 TB in capacity.

I got in contact with Seagate's engineering contacts to confirm this is normal, and aside from the usual "are they seated firmly, is there wiggle room, etc" comments, they made a valid point which I feel is the crux of the issue: "The reason is that there are many more disks/platters inside the head/disk assembly and as such requires greater force/mass to change direction of the actuator when random seeking and needing to maintain awesome performance." It's worth noting the 16TB models run at 7,200 RPM, not the also fairly common 5,400 RPM, which adds to the issue.

Combine this with the relatively light casing of the DS720+ and every little twitch and movements of the heads is audible. I've held my hand on the unit and you can distinctly feel the drive activity. It's sitting next to a DS1618+ with five 4TB IronWolf drives and I barely hear those smaller drives. So as a test, I moved one of the 16TB drives to the larger NAS unit. While you could still hear activity noise, it was noticeably quieter, and vibration through the DS1618+ casing was muted somewhat. I also installed a couple of 4TB IronWolf drives into the DS720+ and it was much quieter, although drive activity was again more audible than the older, heavier NAS.

One recommendation for noise management was to use the "loop" side of some adhesive velcro strips in the drive caddy runners to make a tighter fight for the drives, which I've tried and it resulted in a little reduction in noise. The DS720+ is also now resting on some 5mm foamcore pieces that seem to help. Some rubber pads would be even better, but I have to wonder if this is an issue inherent in the 2-bay models due to their lack of "heft".

However, there's no escaping the fact that the larger capacity IronWolf drives are noisier, simply for mechanical reasons. But perhaps the huge capacity is worth tolerating the noise if you can't store it somewhere out of earshot.

Performance
The DS720+ is a comparatively powerful NAS unit for the home or small office, but due to limited RAM capacity, it's certainly not something to run more than a reasonable amount of applications, or a couple of containers or lower-spec virtual machines for custom services, and to be honest, if you're after a powerful storage system with the ability for a decent application workload, a small two-disk NAS is probably not what you need.

That said, the new Intel Celeron J4025 and J4125 CPU's are higher performing than previous generations of Synology NAS units based on the anemic Atom SOC units such as the C2538 "Avoton" units which had an unfortunate habit of suddenly bricking themselves, or the more stable and more capable C3538 "Denverton" unit. Suffice to say, the DS720+ and it's siblings will however cope with a basic NAS/file server load of services such as file services, HyperBackup, Plex, etc.

Unfortunately, there's no clean and native way to benchmark CPU's in a Synology NAS - please let us know if there is - so we're reliant on sites like PassMark to give generalised performance indicators. In this case, the J4125 scores 3238, compared to the C3538 of the DS1618+ with its Passmark score of 1596.

Unfortunately, the Celeron J4025 of the DS220+ and DS420+ scores only 1946, due to its dual cores, rather than the 4 cores of the J4125.

Celeron J4125 Passmark score: https://www.cpubenchmark.net/cpu.php?cpu=Intel+Celeron+J4125+@+2.00GHz&id=3667

Celeron J4025 Passmark score: https://www.cpubenchmark.net/cpu.php?cpu=Intel+Celeron+J4025+@+2.00GHz&id=3668

Atom 3538 Passmark score: https://www.cpubenchmark.net/cpu.php?cpu=Intel+Atom+C3538+@+2.10GHz&id=3253

Regarding media and Plex, currently only software transcoding on these NAS and is only tolerated on lower resolutions - 1080p and below for these models. Plex themselves have a spreadsheet for transcoding with testing transcoding on various NAS models, which covers the five new models. Some reviewers have found that 4k transcoding will tax the Celeron J4125 beyond its capabilities, and this is borne out by the testing and reporting done in that spreadsheet (see below) It can still do offline/pre-transcoding, but anything on the fly beyond 1080p could possibly be a no-go.

On an interesting note, a smaller Synology NAS - the DS620slim - will do hardware transcoding up to 2160p SDR with a Celeron J3355 CPU, but alas, this isn't the case with the DS720+ and its siblings.

Plex transcoding testing spreadsheet: here

Final words
Synology releases NAS units almost every year that are often a mild upgrade of the previous years. It seems that most of the specs stay much the same, with the same Intel Atom processors. It seems most of the improvements are within the DiskStation Manager, and the ever-increasing drive capacities bumping up the total supported capacity of a given model.

The DS720+ and its siblings follow this path, sporting only mild improvements over past years, and although the new Celeron models bring more grunt, giving more scope for Docker-based services and even virtualised OS instances, the memory limitations are a problem. After finally getting the CPU performance bump that a lot of Synology fans have been hoping for, to ham-string it with memory limitations, it's a bit of a let-down. Synology giveth, yet taketh away.

That doesn't make any of the five units actually bad, per se - the usual cornerstones of Synology NAS units are still there: the strong software suite (regularly updated) with extensive official and community app markets; mature options for backups and snapshotting, with native support for most cloud storage providers; straightforward and uncomplicated storage management, with Synology's own hybrid RAID options (SHR and SHR2) allowing upgrade paths with drives of differing capacities. DSM can be quite memory efficient and a lot can be achieved out of only a minor amount of RAM, so the memory limitations may only impact those who utilize their NAS for more than just storing Linux ISOs and running Plex.

But to be frank, this feels like a refresh of the same 2-4-5 drive units we've seen in the Synology portfolio since 2015.

Speaking of storage, the Seagate IronWolf drives have synergy with the Synology NAS line-up, with a certain amount of product-specific support within the DSM software such as drive logos, which are cute, but window-dressing. The biggest benefit is IronWolf Health Reporting. As for the Ironwolf vs IronWolf Pro debate, the base model drives are perfectly acceptable and performant drive models. However, for the price, it would make more sense to spend extra to go to the 16TB IronWolf Pro drives with the extra warranty and peace of mind. If your budget couldn't stretch that far, I would drop down to the 14TB models and buy the Pro model instead. Just be prepared to hear a lot of drive activity noise.

So after all this, would I buy the DS720+ for ~$750 AUD?

Probably not. For only $150-200 more, you could have the DS920+ with 2GB more RAM and two more drive slots. Everything else is identical between the two units. Even then, I would have to think carefully about that maximum of 8GB of RAM and make sure that's all I'll ever need.



As always, many thanks to both Synology and Seagate for the opporunity to test these units!
Feel free to discuss this review in this thread.
---
Advertisement:


All original content copyright James Rolfe.
All rights reserved. No reproduction allowed without written permission.
Interested in advertising on OCAU? Contact us for info.