Computers, in general, are noisy buggers. There's at least one fan in the power supply, a fan on the heatsink cooling the CPU, maybe one on the graphics card, an active hard drive, cdrom, dvd-rom, case fans, burners.. it all adds up to extra ambient noise being produced from that metal and plastic box underneath your desk. So, what can you do about it? You could remove fans, but at the cost of cooling to your beloved rig. And what's the point of removing devices? You're just restricting the functionality of your PC. Hence, there's something of a market for purpose-built PC noise reduction and Dynamat, with their experience with the same problem in automobiles, have tried their hand at a PC kit.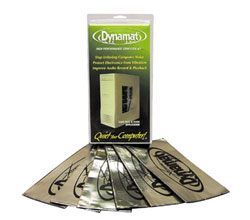 Dynamat have released a small range of PC noise reduction/elimination products, using materials already developed from their successful car product range. The product we were sent was the "Dynamat Xtreme Computer Kit", which contained 6 4" x 10" sheets of Dynamat Extreme material, instructions, and a neat little multipart push-on Dynamat sticker. How rice!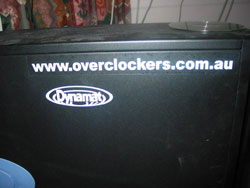 On closer examination of the Dynamat Extreme "sheets", they appeared to be a thin sheet of aluminium, with about 3mm of black sticky... stuff. At the time, I wasn't quite sure what it was, but it served the purpose of adhesion, and I assumed the density of it served a purpose in the noise deadening arena. Their website describes it as a patented, lightweight elastomeric butyl and aluminum constrained-layer vibrational damper, so there you are. The included instructions were clear, well written and had lots of nice little black and white photos. I've condensed the instructions for your reading pleasure:

Take the 6 sheets of Dynamat Extreme, apply all 6 sheets to interior of case: one to the bottom, one to the "ceiling" and two to each side of case.

That's pretty much all you have to do. I thought I would have all sorts of sticky, Home Alone-style hi-jinks and capering about with the Black Adhesion Sheets of Death, but they were surprisingly compliant when applying them to the case. The case in question is my nice Enermax Medium Tower 710BB, which is known by about twenty other names, from twenty different vendors, but it's exactly the same as this case.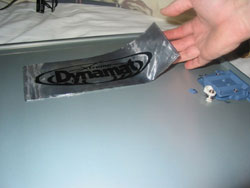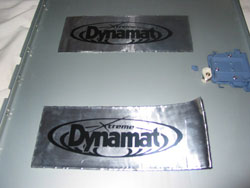 After applying all 6 sheets, I was eager to see if this would reduce the amount of noise spewing forth from my PC. As I picked up the side panels, the two sheets of Dynamat Extreme certainly gave it a solid quality, filling me with quiet awe and understanding of how the sheets would go about quietening down the case. I reattached the sides of the case, stood back, held my breath and hit the "Computer Go Now" button.

I listened.