Abit Siluro GF4 Ti4200 OTES
Join the community - in the OCAU Forums!


OTES Continued, Testing and Results

To see how the OTES cooling unit is constructed and fastened we took the cooling unit of the PCB by removing the 4 bolts and the support shield on the backside. We found (which is a very rare case) that the GPU core was covered with silicone heat transfer paste and the surface of the entire copper made cooling unit (not only the base) has a mirror-polish finish.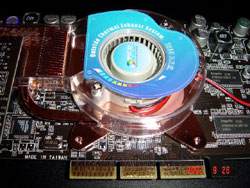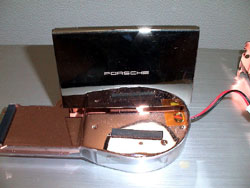 AND THE RESULTS?
ABIT is claiming 2 major advantages OTES has over conventionally cooled video cards:
a) Better GPU overclocking through better cooling
b) Lower case temperature

How to find out that these claims are true? To compare our Siluro OTES sample with another, non-OTES TI 4200 does not make much sense, because the impact of OTES on the GPU's overclocking headroom can easily be exceeded by the usual differences between GPU samples itself. Instead we conducted a little experiment: we removed the OTES cooling unit and replaced it with ThermalTake's Blue Orb VGA cooler. The Blue Orb with a high profile 5,500 rpm fan is at least as efficient as the cooling solutions on regular TI 4200 video cards. The Blue Orb's conventional 2 pin fastening does not fit with the heavy-duty OTES 4 bolt fastening design. We removed the 2 pins and glued the Blue Orb with Arctic Silver epoxy to the GPU. We then checked the mainboard temperature and the overclocking headroom of the GPU when cooled by OTES and compared it with the Blue Orb results. In order simulate a gaming environment we kept one of the UT II 2003 time demos running for 1 hour (instead of the usual 77 seconds) before we took the IT7 Max 2 board temperature with the Winbond monitoring utility. We disabled all case fans to make the heat build up in the case better visible.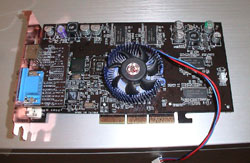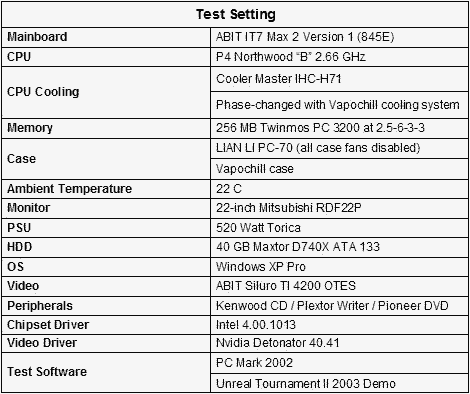 No question: OTES works! A 3 C° lower mainboard temperature and 10 MHz better overclocking headroom for the GPU are not earth shattering, but progress comes in small steps. One might also point out that some TI4200 with conventionally air-cooling can be overclocked even higher than the 319 MHz we achieved. 20. But these lucky samples, which got far above average running GPU would overclock even better with an OTES like cooling system. We were using a roomy Lain Li PC 70 aluminum server case. We think that the temperature lowering OTES impact on board and case would be even better when using a cramped desktop or mid tower case. We also think that the OTES cooling impact is closer to a much more complicated and potentially dangerous water-cooling set-up. As a side note: although enclosed, the OTES fan is really noisy. But it is free from vibrations thanks to the two ball bearing design and the firm fastening with 4 bolts held by the support shield on the back of the card.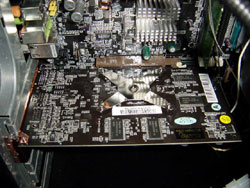 Finally, we ran 3DMark 2001 to see how far we could take our Siluro OTES sample. The memory chips on our sample made it up to 618 MHz without heatsinks, which is an average result for 3.6 ns video memory. We fired up our Vapochill cooling system and with our phase-change cooled Pentium 2.66 running at 3500 MHz, the GPU at 319 MHz and the video memory at 618 MHz we achieved a score of almost 15,000. This is certainly a satisfying result for a GF4 TI4200.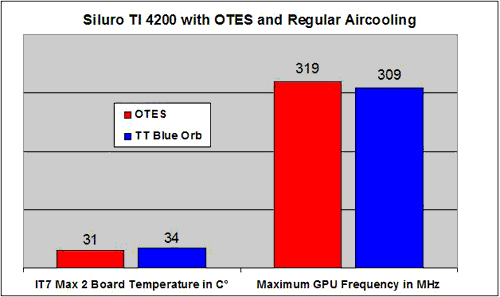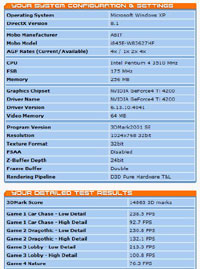 CONCLUSION
We have already seen a lot of "fancy" heatpipe cooling solutions for PC usage. Complicated and expensive solutions, which did not work, or poorly engineered solutions, which even can put your entire system at risk. ABIT's OTES is a convincing solution: the cooling system is well designed, the used material is high-grade, and the entire package is of superb craftsmanship. Even optically the Siluro OTES looks impressive with the gleaming copper contrasting nicely with the black PCB. Best of all: it works. Looking at our test results we regard OTES as the currently best air-cooling solution for video cards. As all this comes basically for no surcharge to the previous Siluro TI 4200 without OTES and with slower memory we definitely recommend the Siluro OTES to anybody looking for a reasonably priced, high performing video card. This Siluro TI 4200 is up to any gaming job. Overclocked GF4 TI 4600 and Radeon 9700 are performing 20%~30% in 3DMark 2001 better than the Siluro TI 4200 OTES, but we doubt that these products represent a better value for money with up to 3 times higher prices.

Finally: We do hope that ABIT is using OTES for the upcoming GF5 (NV 30). Our dream: A limited edition GF5 OTES with handpicked GPUs and lightning fast memory.


---
Advertisement:


All original content copyright James Rolfe.
All rights reserved. No reproduction allowed without written permission.
Interested in advertising on OCAU? Contact us for info.

---
Recent Content


Team Group C440 Cardea Ceramic M.2 NVMe SSD


Synology DS720+ NAS


Raspberry Pi 4 Model B 8GB


Retro Extreme!


Intel Core i9-10980XE


AMD Ryzen Threadripper 3960X


Team Group T-Force Vulcan 500GB SATA SSD