Advertisement:

ASUS 880 TV Tuner and Capture Card
Join the community - in the OCAU Forums!


Introduction and Features

When ASUS asked us to have a look at their new TV Tuner card, the ASUS TV 880, we approached the little device with mild curiosity. Used to testing hardware like CPUs, motherboards and video cards we viewed the little PCI device initially more a toy than a serious tool. This attitude however changed quickly and in the end we came to enjoy the "toy" very much and regarded it as a valuable add-on to our system.

TV Tuner cards have been around for several years, but watching and capturing TV broadcasts on the PC is still not very common. Television sets are cheap and many households even have more than one. Why should somebody spend $100 to $150 for a TV Tuner card? There are could be several reasons: one is space. In a cramped place like a dormitory it can make sense to use the already existing PC monitor for TV watching. Secondly, for many people the PC is the working place, be it at home or at office. To watch TV while working with the PC might not alone serve leisure purposes. Finally, a PC based Tuner card is a convenient tool not only for watching but also for recording and editing TV broadcast and video stream. Given the relative low price, a TV Tuner card can be an interesting add-on for a desktop PC even for somebody rarely using it. The other way around - bringing the PC to the TV screen - has been less successful, because the picture quality of a TV monitor is lower than what we are used to from a CRT or TFT display. That might change when high definition TV plasma screens become more common.

What is a TV Tuner doing and how does it work? In simple words: A TV Tuner card does the same job as the tuner inside a common television: it converts the antenna signal into information that can be displayed on the screen. In principle 3 parts are necessary to bring TV to a desktop PC:
A TV tuner that decodes the video and audio signal received through the antenna cable
A decoder chip that processes the TV signal received from the tuner into images that can be displayed on the PC monitor.
Software to access, watch and record TV programs
TV tuners for usage with a desktop PC come in 3 flavors:
Stand-alone as PCI card, like the ASUS TV 880 we are testing today
Stand-alone as external "box" like nVidia's "Personal Cinema" or Prolink's TV Play Box
Integrated into a video card like the new Radeon All-in-Wonder 9700 Pro from ATI
Judging from what vendors are stocking and displaying it seems that PCI tuner cards are by far the most popular solution. When using a stand-alone PCI tuner card or an external tuner an additional video card (or integrated video core) is necessary. A good introduction into TV Tuner cards, pros and cons, and the technology behind can be found here.

CONTENTS, REQUIREMENTS AND FEATURES
The ASUS 880 TV tuner card comes in a colorful package similar to ASUS video cards. It contains:
The TV tuner card itself
A wireless remote controller module with transmitter, USB port receiver, and batteries
5 CD with drivers and software
Audio cable for connection to sound card
Video-in cable box (S-video and composite) for connection to VHS or video camera
User's manual (can be downloaded here)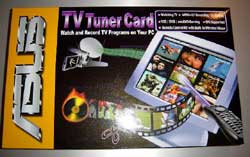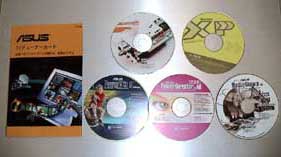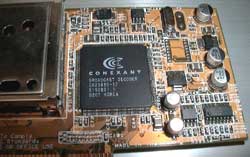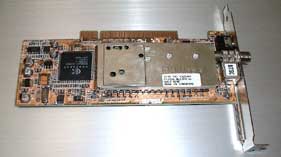 System requirements are a sound card, Direct X 8.0 or higher, at least 64 MB system memory, and a 500 MHz CPU. These are common stock ingredients of any home PC these days, and indeed a TV Tuner card can be used with basically any PC, provided of course a terrestrial, satellite, or cable TV signal is available. ASUS is recommending using the TV Tuner with an Intel or AMD chipset-based main board, but we don't see any reason why this card should not work with chipsets from SiS or VIA. We also doubt that 64 MB memory and a 500 MHz processor are sufficient when some of the additional features for example recording with time shifting are enabled or the bundled editing software is used. As mentioned already, a stand alone PCI Tuner can only be used with a video card or an integrated video core. We used in addition to the TV 880 TV tuner the ASUS V8420S GF4 TI4200 video card.

The ASUS TV 880 Tuner is a 33 MHz revision 2.2 compliant PCI card. The metal-shielded TV tuner module itself occupies most of printed circuit board. It's the well-known Philips TV tuner with a maximum resolution of 720 x 480 pixels and more than 100 channels. A jumper selects NTSC/PAL/SECAM. This is a standard solution used by many TV Tuner cards. More interesting is the relative new Conextant CX23880 audio/video broadcast decoder chip. Here is a quote from the Conextant product description: "The CX23880 captures and decodes all variations of NTSC, PAL, and SECAM video standards with a 10-bit video decoder that achieves Y/C separation with an adaptive comb filter, into digital red-green-blue (RGB) or YUV pixel streams for direct memory access (DMA) to the PC graphics video overlay or peripheral connected devices." The chip is providing a Motion Picture Experts Group (MPEG) port that is compatible with all digital television channel demodulators for DMA to the host and record to hard disk for time-shifting and playback, either in software or hardware. In addition, the CX23880 is providing analog video to MPEG conversion to an external MPEG-2 encoder for real-time compression and a host port for DMA of the compressed data to the host or hard disk. The FM radio decode feature uses radio data system (RDS) information to relay the station call sign, song title, or artist, for display on the PC monitor. In more simple words: This chip is processing the captured video and audio signals received from the TV Tuner into images that can by displayed via a video card and offers recording in MPEG formats. The visual quality of the captured TV broadcast or video stream depends therefore very much on the decoder chip.

Capturing, recording and editing with a TV Tuner requires software. The bundled software is therefore an essential part of any TV tuner package and not just a give-away like bundled games for video cards. The ASUS 880 package includes no less than 5 CDs:
TV Tuner card WDM drivers for SE/ME/2000/XP and Video Safety Utility
CyberLink Power VR 3.0 Standard
Cyber Link Power Director
Cyber Link Media Show
ASUS DVD player (based on Power DVD)
Although the main function of the ASUS 880 is - as with any TV Tuner card - plain and simple capturing TV broadcast and video stream from external sources, there are a few more features the ASUS 880 is offering. There is nothing really new here and most of these functions are available with any newer TV Tuner card as well, nonetheless it's interesting to see how much such a relatively cheap device and the bundled software have to offer.
Watching and recording TV programs
Remote controlled channel surfing
Recording video from external sources like VCR, video cameras, web camera in MPEG-2 or MPEG-1
Editing, authoring and VCD/SVCD/DVD burning
STEREO, MONO, SAP modes while watching TV
Video security and monitoring
Internet video conferencing
According to our knowledge the ASUS 880 is currently the only TV tuner card with Microsoft Windows Hardware Quality Labs (WHQL) certification. That does not certify the quality of the device, but it makes at least sure that it is not conflicting with the operating system or other Microsoft certified devices.

The ASUS 880 rear bracket is too small to accommodate all the necessary connectors. ASUS has therefore put together the Video-in connectors in a separate box that holds the Video-S, video-composite, and audio-in connectors.


---
Advertisement:


All original content copyright James Rolfe.
All rights reserved. No reproduction allowed without written permission.
Interested in advertising on OCAU? Contact us for info.

---
Recent Content


Team Group C440 Cardea Ceramic M.2 NVMe SSD


Synology DS720+ NAS


Raspberry Pi 4 Model B 8GB


Retro Extreme!


Intel Core i9-10980XE


AMD Ryzen Threadripper 3960X


Team Group T-Force Vulcan 500GB SATA SSD