Advertisement:

IBM Model 10K3849 Keyboard and 3 Button Optical Mouse
Join the community - in the OCAU Forums!
Introduction and the keyboard.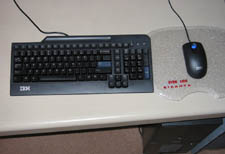 Why am I wasting your bandwidth by writing a review on a keyboard and mouse? Several reasons. Firstly, IBM keyboards and mice are not available through your usual retail channels, so in most cases you will not be able to look at the product before you buy. I have wanted to buy this combo for a long time and spent a lot of time googling to little avail – nobody seems to have reviewed this keyboard. Secondly, I have been shopping for a good input device since early on in my days of being a computer nerd. Because I believe the most important part of the computer is the actual bits which interface with you, I tend to spend more on making sure I have the best monitor, best keyboard, best mouse, and the best speakers that money can buy.

The Keyboard
The keyboard which I current own is a Model 10K3849, described by IBM as a "106 key Preferred USB Keyboard". It is available for AU$105 in IBM's website.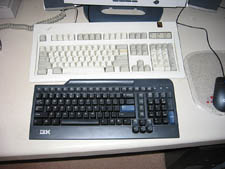 The old and the new …


The best keyboard I have ever owned is the IBM Model M keyboard, reviewed here by Dan. You can buy these keyboards in second-hand computer shops or on eBay, usually between $20 to $50. This is an old fashioned buckling spring keyboard, where each key sits on a switch with the mechanical action controlled by a spring. You can also remove each key cap for cleaning, which is handy for some but irrelevant for lazy people like me. It is also built like a battleship with a steel plate chassis. You can feel the heft when you lift up the keyboard, and I used it lovingly for years. This, my friends, is how IBM got its reputation as a keyboard manufacturer! IBM used to be a leading manufacturer of typewriters back in the day when typewriters were still being sold. I remember my father's secretary teaching me to type on an IBM typewriter when I was a little boy.

In any case, the Model M is not the ideal keyboard because it makes a lot of noise, and my girlfriend used to complain that she could hear me typing when she was trying to sleep. The keys, although providing the perfect resistance for touch typing, are not ideal for first person shooters. Eventually, the space bar died and I had to replace it.

I then bought a Keytronic Lifetime keyboard. Here is a second opinion of this keyboard. I got this many years ago for $100 (which was, and still is, a lot of money to pay for a keyboard) and haven't seen them for sale since. This is a membrane keyboard and feels much lighter than the old IBM. Membrane keyboards use a small "bubble" of plastic to give resistance to the key. When the key is depressed, it closes a contact, typing the letter the user wanted. The key pressure again feels perfect and has not given me any trouble in years of service. Eventually I bent one of the pins in the keyboard plug and it had to go.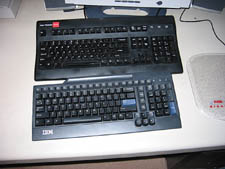 The IBM and the Keytronic. Notice how compact the IBM is.


I then bought a Logitech Cordless Freedom Optical keyboard and mouse combo. Countless people on OCAU and all over the Internet were raving about it. The keyboard felt very good, although the "shortcut keys" were redundant for me. Want to assign a website to a button? Easily done, except that it only worked on Internet Explorer and not Mozilla which I prefer to use! Also, the "Sleep" key is right next to the "Esc" key. I accidentally hit it once, and the computer tried to go to sleep, failed, and crashed instantly. Worse still, you can not unassign the key. The media button allows you to assign Winamp or Windows Media Player to launch when you press it, but it does not allow you to add other players – for example, the Sony OpenMG software which comes with my NetMD minidisk player.

Although it's a personal thing, I also felt the curvy, almost voluptuous styling was rather ricey and all those shortcut buttons reminded me of HP Pavilions, Compaq Proliants and other assorted Harvey Norman-style products for moms and pops and not serious computer gear for a proper computer nerd like myself. But still, the keyboard was comfortable and nice to type on.

I have been eyeing this IBM keyboard for a very long time, but I was not sure if I should buy it. My attention was drawn to it because my first IBM keyboard was simply superb. However, I had doubts because it's now a membrane keyboard, and you can only purchase the keyboard online. Eventually I just bought it.

Given that I was expecting something similar to my first IBM keyboard, I was very disappointed when I removed it from the box. This keyboard is even lighter than both the Keytronic and the Logitech. Inspection of the bottom plate shows hollowed out plastic. It comes with a wrist pad which at least feels solidly constructed. A bit of the old IBM overkill is still there. :)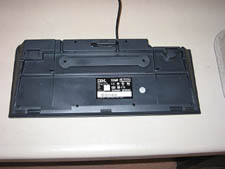 Hollowed out plastic makes the keyboard very light – but it now feels like a generic Taiwanese keyboard when you pick it up.



The IBM keyboard with its wristpad.


However, when actually started to use it, the old IBM quality was still there. The keys are subtly textured and feel expensive, and the two Enter keys are tinted blue. The key effort is greater than your typical Microsoft or Logitech keyboard but not excessive. It is also very quiet to use. However, the chassis feels as flimsy as any modern Microsoft or Logitech product. Those of you who have never handled an old school IBM keyboard won't know what I am talking about.

As you can see from the pictures, the layout of the keys is not typical. The function keys are bunched together in a group of 12, rather than the usual 4-4-4 layout. This makes it a little bit harder to use when you are say, trying to close a window. The "Home" and "End" keys are placed right above the backspace key instead of the usual position above the arrow keys. It took me a while to get used to it but I now prefer it because I used to accidentally hit "Insert" (which will toggle you into overtype mode in MS Word) when I was trying to hit the "Home" key. And, like all modern keyboards, it comes with the irritating Windows key. I would much prefer a double sized ctrl or alt key just like in the good old days.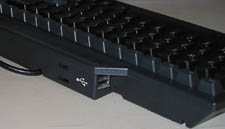 There are also two USB ports at the rear of the keyboard.


This is still not the perfect keyboard for me. I would ideally like it to be of a buckling spring design, cordless, black, conventional layout, NO WINDOWS KEY, no other silly shortcut keys and especially no sleep key. The only shortcut key I will perhaps tolerate would be a volume button. It seems very strange to me that with so many case and motherboard manufacturers catering to the case modding crowd, the keyboard manufacturers have yet to wake up to this and sell a nice keyboard.


---
Advertisement:


All original content copyright James Rolfe.
All rights reserved. No reproduction allowed without written permission.
Interested in advertising on OCAU? Contact us for info.

---
Recent Content


Team Group C440 Cardea Ceramic M.2 NVMe SSD


Synology DS720+ NAS


Raspberry Pi 4 Model B 8GB


Retro Extreme!


Intel Core i9-10980XE


AMD Ryzen Threadripper 3960X


Team Group T-Force Vulcan 500GB SATA SSD