Tomy Char-G RC Car
Join the community - in the OCAU Forums!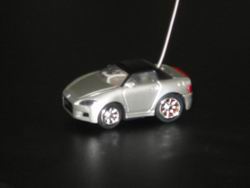 Out of sheer geek desire, having seen one at a CLGA lan not even a week ago, and also just happening upon a random birthday this week, I acquired a Tomy Char-G micro R/C car. They are availiable as a Honda S2000 model of either yellow or silver (my preference), or a Nissan Skyline R34 GT-R in white or blue. The fact I picked up a shiny, showoff colour is not ricey at all: I just like it better. Each car comes in either 27Mhz (megahertz) or 40Mhz radio freqencies, depending on your chosen colour. This of course, will let you race two Char-G's together. I did notice, however, the Skyline had a tendancy to lose it's rear spoiler wen you whack it into various things like keyboards, mice, monitors and feet.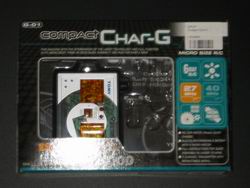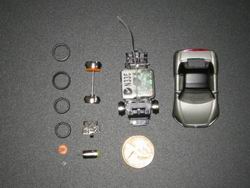 As you can see in the photo on the right, I've placed the components as they come out of the box out to see it's guts. An Australian dollar coin has been added for scale and quality purposes. (If you're from somewhere else that isn't Oz, our sympathies and a dollar coin is about 20mm in diameter.)

What you're looking at, clockwise from left to right:

Rear tires.

Front tires.

Both gears (note the second one is only a few MM across, easily lost).

Rear axle.

Metal plate/thing to hold the motor in.

The motor itself.

The Car (including the PCB and Nickel Cadmium Battery).

One Dorrah (I was going to add Free Fiddy, but Goddammit Monsta I aint giving you no free fiddy).

The Chassis.
As far as I can tell, apart from the bodyshell and the frequency each model runs on, all four are identical upon purchase.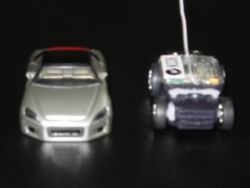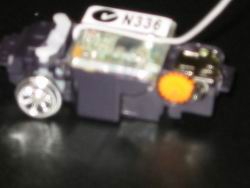 Assembly is a no-brainer. Tomy is a Japanese company, but all instructions are in English and very easy to follow. The only moment of hesitation was when I realised I was holding the car upside down compared to the picture. Confusion, then logic ensued and I felt like an idiot for half a second or more. I also had a bit of trouble getting the heat sink mounted, but then I realised that I couldn't overclock it that much, so I gave up.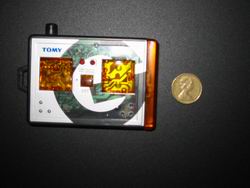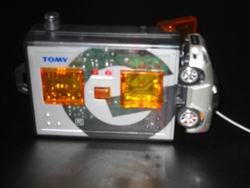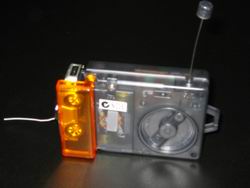 As pictured above, the controller itself is also quite small, but definitely not too small for grown hands. You have your standard RC controls: fowrard, back, left and right. To charge the car you flip up a small, clear orange panel, then physically mount it to the side of the controller for 45 seconds (the right led light switches off when you're done), and you're off again. Run time is stated to last 2 minutes per charge. I've found on lino and wood floors it's can be up to 5 minutes and on carpet (where it's very slow. if it'll even run at all) can be as short as a minute.

The rear of the controller has a winding mechanism to retract the aerial, which when extended goes to about 45cm. You don't need the aerial out to run the car, but beyond a meter the signal drops out. It has about a 2.5 meter radius to operate, but if you point the aerial straight at it you can get maybe 4 or 5 meters. All moving parts can get a bit dusty, but they are easily cleaned and are replaceable. The motor spins up to 22,000 RPM, which is quite fast. When fully charged, I had issues keeping focus on the thing, so I had to actually chase it down for the AVI I've included here :



Click to download the AVI! (Approx. 850kb)


You can pick this pup up at HobbyCo for a whopping $49.95 if you're in Sydney. It's down in Pitt St. Mall and from what I saw, they have a heap of them in stock. Some information links: The offical site , Junkz's review and Dan Rutter's review of a similar mini RC car.

After acquiring the Char-g and writing this up, I realised Junkz knows way too much about them to be called anything less than an avid fan. (Ed: foaming-at-the-mouth rabid would be closer.)

My next step, much to the horror of Honda fans is to put fins on the rear to resemble a "Back to the Future" Delorian. I considered for a moment adding a button battery and an LED for the headlights, but I think given the weight and scale, this'd be pushing things a bit too far. Nevertheless, I'd say this is the prize to get in your stocking this Christmas. It'll go nicely along side those penguin mints and OCAU T-Shirts. I'd have written a longer article, but it's a fun toy and it's time for me to go driving some more :)
---
Advertisement:


All original content copyright James Rolfe.
All rights reserved. No reproduction allowed without written permission.
Interested in advertising on OCAU? Contact us for info.

---
Recent Content


Team Group C440 Cardea Ceramic M.2 NVMe SSD


Synology DS720+ NAS


Raspberry Pi 4 Model B 8GB


Retro Extreme!


Intel Core i9-10980XE


AMD Ryzen Threadripper 3960X


Team Group T-Force Vulcan 500GB SATA SSD