Long-Distance Wireless Testing with Waveguide Antenna
Join the community - in the OCAU Forums!


Map images generated with Whereis.com.au.

The two Andrews (aka #65 FoderMe and #70 Foxx on brismesh) have been at it again. We did some short range testing (300-400meters) a week or two ago and the results from that are in this 106KB image here. Then, we got all motivated and enthused to do some longer distance testing.

What we used was 1 x 32 slot (15db 360 degree omni) waveguide and 1 x 16 slot (16db 180 degree omni) waveguide.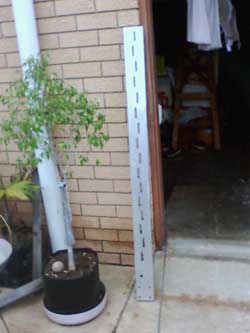 32 slot waveguide antenna


These were connected to Enterasys wireless cards directly using the short pigtail adapter. We then set about finding a location where we had clear line-of-sight (LOS) over a large distance at ground level. Cleveland Point looked pretty good.

First Location 2.2km: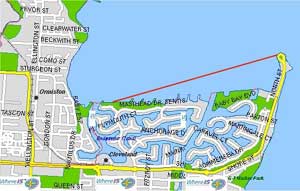 Took as a few minutes to get our bearings, but it was pretty simple finding each others location. Note: uber bright torches work really well for this. Laser pointers + already knowing the exact location (after using torches) + binoculars == complete crap. Whatever you've heard about laser pointers being good to help line up; don't believe a word of it.

Here's the netstumbler results. The short disconnection break was the 16 slot waveguide being disconnected. This was to test if the range of the built-in antenna was strong enough to reach the other waveguide; obviously it wasn't.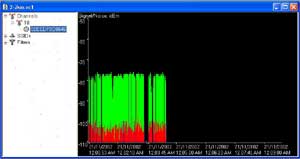 And the link test between clients: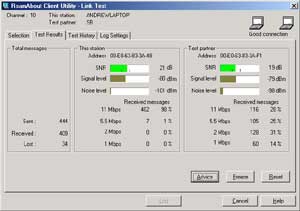 Second Location 2.9km:
This is when we moved to location 2. At first we couldn't get a connection and were somewhat disappointed. After meeting up we discovered that in the move of location, the two clients had changed configuration (probably from one laptop going into hibernation mode) and we sorted that problem out. Unfortunately at this point one of the laptop batteries died. Note: If you're in the Cleveland area your laptop battery goes flat, head up to where the local markets are held and you will find dozens of public power outlets (at the base of light poles) which are not locked. We spent around an hour with our laptops charging, with maps spread out on the ground, working directions out with compasses all at 2am ... isn't there a high terrorist alert at the moment? ;)

After the laptops were fully charged and configured correctly we set off to our separate locations again. The location on the left was supposed to be on the shore line, but as I drove there I found myself on top of a hill with clear LOS to location 2 and thought that it would be perfect.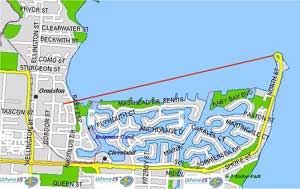 Netstumbler results: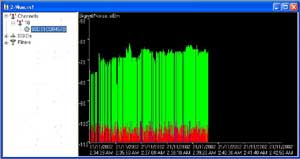 We were a little confused as to why the connection here was better than it was at the 2.2km range. Perhaps we had the antennae lined up better.

Third Location 7km:
This is where we got very optimistic about the whole endeavour. 2.9km was great, but we wanted more ... MORE!! Having already pre-plotted a location during the laptop charging period we looked at the distance between Cleveland point and Wellington point. Just slightly under 7km and again perfect LOS over the water.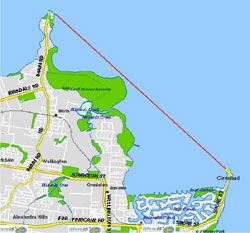 At Wellington point (top/left location) I was sitting on the edge of the jetty (with gale force freezing cold ocean winds nearly blowing me and the waveguide into the water). After compass and map checks we had each other lined up in no time at all.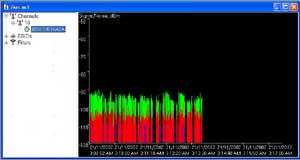 At this point we were using the 'net send' service to communicate what we were doing (playing - testing - lining up - leaving for home etc).

And the link test. Now although the SNR is rather low at 9dB, may I again remind you that we were using a 180 degree omni and a 360 degree omni to connect. Using a directional antenna would have given much better results; but that's not what we were testing.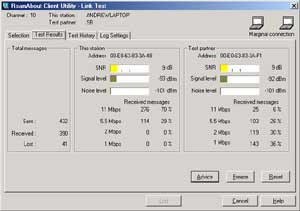 Conclusion:
There you go. 2.2km, 2.9km and 7km links all working in perfect order. This certainly gave us the confidence boost we were after. We would like to try these same links again with a 19dbi directional antenna and compare results. Then, find some larger distances with clear LOS at which we can do even more links. We're very seriously looking at a test link between Mt Cootha and Mt Gravatt which would be a 15km link, also with very good LOS.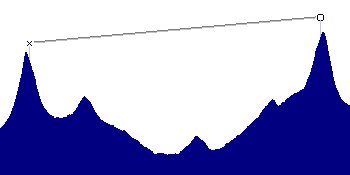 ---
Advertisement:


All original content copyright James Rolfe.
All rights reserved. No reproduction allowed without written permission.
Interested in advertising on OCAU? Contact us for info.