Advertisement:

Cornea MP704 17" LCD Screen
Join the community - in the OCAU Forums!
Intro, Pictures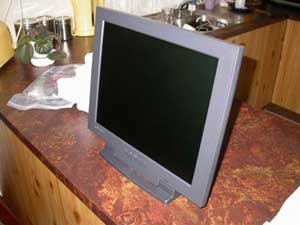 I started off this year with an LCD monitor sitting on my desk. No need to go into details on which brand it was, but needless to say it lasted 4 days before its first fault. In the space of 4 months I received two entire replacements, 2 replacement power supplies and 3 fuse replacements. The funny side of this was that it was plugged directly into an APC Smart-UPS 1000 with a handful of other devices which exhibited no problems. Anyway, 4 months later I received a full refund including all shipping expenses, and I was back to using my trusty old Videocom fishbowl 17" screen.

After working all day on a Dell Laptop with 15" LCD I've grown used to clear, flicker free LCD's. So much so that I no longer get headaches from prolonged 14 hour sessions. I started to take interest again in a LCD screen for home and figured that I'd purchase one before my Christmas holidays. I've been keeping an eye on online retailers and had my sights set on the Samsung 171N but ComputerDisposals came to my attention and had the Cornea 17" MP704 LCD at $999 (rrp $1,499).

I did some research on the Net (google & google groups are your friends!) and found a few reviews from other sites all giving high praise to this cheap monitor. So, I dug into our billion dollar bank account (ha!) and purchased the screen. Computer Disposals provide services to large companies such as IBM, Compaq and in particular Dell. Basically they take cancelled orders that almost made it to the customer and sell them via their web site. This leads to a lower price while still retaining the manufacturer's warranty. For this screen Cornea offer a 1-year replacement policy and a 2-3 year parts and labour via your local agent.

I ordered the screen on Thursday morning and by Monday afternoon I was in LCD heaven. Not bad when you consider I live in rural NSW. Normally overnight means 3 days, you even have to drive to the post office here to pick up your mail over the counter.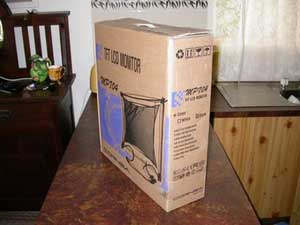 The box is small - I've unpacked many Dell LCD screens and often the packaging is 3 times larger. It's packed rather well, typical styrophome around the product, and its a nice tight fit. However, the box doesn't allow for much room for impacts from the outside.



Nothing special here apart from that lovely black LCD. As you can see just a driver CD, small manual and power supply.



This monitor isn't DVI capable, just raw analogue. No problems, if I wanted DVI perhaps then I would have gone with the more expensive Samsung 172T.



A simple calculation of me on scales (oh dear god!), then me on scales holding LCD, I can see it weighs around 5KG. I can also see I need to eat more vegies and salads and drop the chips and coke and take daily walks, but that's another OCAU article.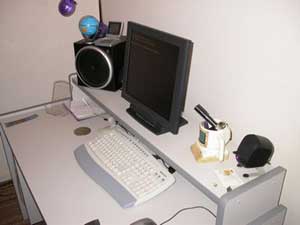 Well, I know which one looks better. Talk about space saving hey, so much better. And smell that new hardware fragrance. Using the power cord from the old monitor I connect it to the power brick. Again this LCD will be fed from an APC Smart-UPS 1000.


---
Advertisement:


All original content copyright James Rolfe.
All rights reserved. No reproduction allowed without written permission.
Interested in advertising on OCAU? Contact us for info.

---
Recent Content


Team Group C440 Cardea Ceramic M.2 NVMe SSD


Synology DS720+ NAS


Raspberry Pi 4 Model B 8GB


Retro Extreme!


Intel Core i9-10980XE


AMD Ryzen Threadripper 3960X


Team Group T-Force Vulcan 500GB SATA SSD