ADATA SP550 240GB SSD
Join the community - in the OCAU Forums!


Today on the testbench we have the ADATA SP550 SSD. ADATA are a relatively young company, having been founded in 2001 in Taiwan, and focus on memory and storage products. The Premier SP550 is a 2.5" 6Gb/s SSD available in 120GB, 240GB, 480GB and 960GB capacities - we'll be looking at the 240GB. It arrived in a simple but attractive package with a window so you can see what you're getting:



The package is very minimal. You get the drive itself, a 2.5mm spacer and a quick-start guide. The spacer is to allow this 7mm high drive to be securely installed into devices with 9.5mm high bays, which makes it compatible with a wider range of laptops. From a desktop perspective, no SATA cable is included, nor any adapter to mount this 2.5" drive into a 3.5" bay. You do get a license key for the popular Acronis True Image program which makes it easier to clone your old drive onto this one.



The drive itself is fairly standard, with a metal housing, SATA power and data connectors. The hummingbird logo is a nice touch but otherwise there's not much so far to distinguish this drive from any other. But under the hood it's a little more interesting, as it uses TLC NAND. TLC allows for higher density than the previous SLC and MLC NAND, but requires more error correction and has more write load, so needs a more powerful controller. In this case the SMI 2256 controller is used with a small DRAM cache to help with the write speeds. The drive also supports DevSleep which reduces idle power consumption and it has a thermal monitor for keeping an eye on temperatures. ADATA also provide a 3-year warranty.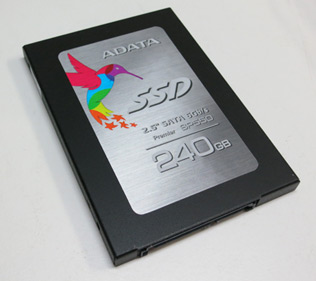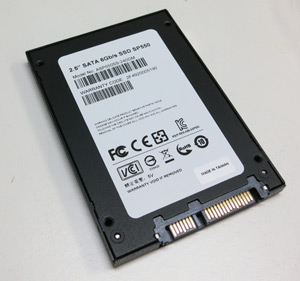 As well as Acronis True Image, you can also download ADATA's in-house SSD Toolbox. Sometimes these utilities are a bit painful but this one actually seems quite useful. You can even use it to check out the other SSDs in your system. For the ADATA drive it reports temperature and total data written, which are both useful to know. You can also flash the firmware, but our drive already had the latest firmware installed. Unfortunately before you can download the SSD utility, you have to provide your email and sign up to ADATA's mailing list, which seems a bit unnecessary.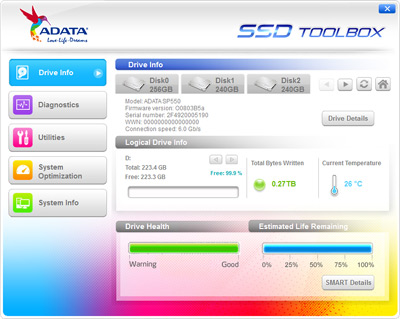 So let's get down to performance. I happen to have two other 240GB SSDs here at the moment, namely the Crucial BX200 and an older Corsair Force GS. The Crucial and ADATA are similarly priced at about $110-130, while the Force GS, an older drive but more high-end, is closer to $200. I flashed the Crucial to the latest firmware, but left the Corsair untouched, because it's the main drive from another PC here. The Corsair has had a lot more use and contains a lot more data than the other two, so bear that in mind in the results.

For a first finger-in-the-air test I used AS SSD, in the default 1GB mode, and recorded the sequential read and write speeds for each drive. I ran each test four times and averaged the results. Interestingly, the ADATA had the broadest spread of results in this test.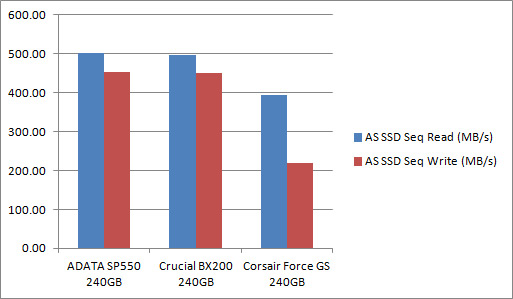 The older Corsair lags behind, but the two newer drives are pretty even here. Next I used PCMark Vantage, an older benchmark but still favoured for storage testing as it has a HDD test suite which plays back data traces recorded while performing common tasks.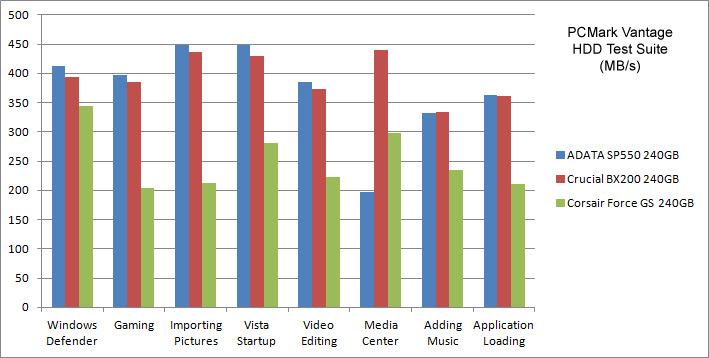 Again we see the newer drives outpacing the older one. The ADATA pips the Crucial in almost every workload but takes a beating in the "Windows Media Center" test. I'm not sure why that is, but it was a completely reproducible result so we have to accept it. Perhaps the larger media files defeat the caching system of this drive?

Finally, for some real world testing I made up a folder of test data. This test data set consisted of some large media files of 400MB to 1.5GB each, one 6GB .bz2 archive, nearly a thousand photos and small videos from my camera, two thousand small documents and spreadsheets and a couple of application installation directories. In total, 3,400 files adding up to 14.3GB. This data set was first copied to each drive from a much faster PCIe SSD. I then copied it from each drive onto itself again, leaving two copies on the drive being tested. In each case I simply timed the copy operations with a stopwatch. Each test was repeated twice and the times averaged.



This was a curious result - I had to go back and double-check I had the right results with the right drives. But in this test it was the Crucial which seemed to suffer the most, with the Corsair and ADATA taking over a minute less time in each test. With every copy you could see the speed start high and then drop away after a little while but it seemed this happened earliest and most dramatically with the Crucial.

Conclusions:
I think we have a pretty clear picture of the ADATA SP550 now. It is a budget drive, but it seems to hold its own quite well in that arena. It also includes some features you might not expect from a budget drive, such as a thermal monitor and DevSleep support. It's well known that one of the easiest ways to boost the normal use performance of a laptop or PC is to switch from a platter-based HDD to an SSD. I think the ADATA is an ideal candidate for that market. For a little over $100 you get 240GB of respectably fast storage and a 3-year warranty. What's not to like?

Thanks to ADATA for the opportunity to test this drive. Feel free to comment on this review in this thread.
---
Advertisement:


All original content copyright James Rolfe.
All rights reserved. No reproduction allowed without written permission.
Interested in advertising on OCAU? Contact us for info.

---
Recent Content


Team Group C440 Cardea Ceramic M.2 NVMe SSD


Synology DS720+ NAS


Raspberry Pi 4 Model B 8GB


Retro Extreme!


Intel Core i9-10980XE


AMD Ryzen Threadripper 3960X


Team Group T-Force Vulcan 500GB SATA SSD