FSP Hydro 700W and Hydro G 850W PSUs
Join the community - in the OCAU Forums!


Introduction, Package, Features

I should begin this review by noting that I don't normally review power supplies, because I think they really need specialised equipment and skills to test them thoroughly. I don't have the equipment or the full understanding to say whether a PSU has good performance from an electronics standpoint. So, in this enthusiast-level review we'll take a look at the package and features and do some real-world testing, but not delve into the world of oscilloscopes and so on. If you're happy with that, then read on..

FSP Group have been around for quite a while in the field of power supplies - right back to 1993. You may not have heard of them previously because they produced OEM units for other brands for many years and have only fairly recently started producing products with their own branding. So you may well have already owned an FSP PSU without knowing it. They also make UPSs, industrial PSUs and so on.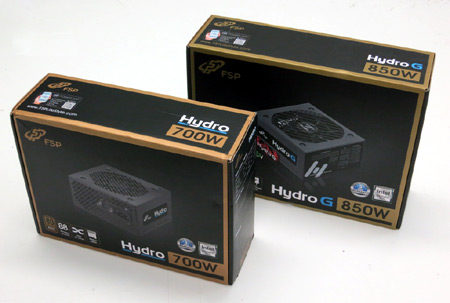 These two units represent two different model lines from FSP, so it'll be interesting to compare them. The Hydro 700W unit is a more value-oriented product, while the Hydro G 850W is more high-end, with fancier features including modular cabling. It's also worth noting that the "Hydro" name does not indicate any kind of built-in water-cooling!

Let's take a look at the 700W first. This is a compact, non-modular PSU with fan control and an 80+ Bronze efficiency rating - although FSP point out that this unit is over 88% efficient.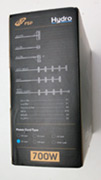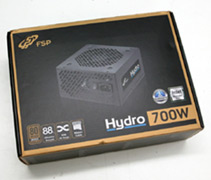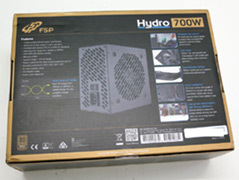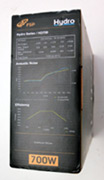 In the package we get the PSU itself, an Australian power lead, four mounting screws, a small manual and info on the recyclability of the unit. As a non-modular PSU, the cables are permanently attached to the unit. The manual is quite clear and detailed but I don't imagine people are going to spend too much time consulting it.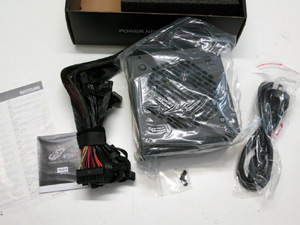 Moving on to the 850W, we can see from the blurb on the box that this is a higher-specced unit, not just in terms of overall wattage. It boasts 100% Japanese-made electrolytic capacitors, which is a sign of quality manufacture. It has a zero-noise function, whereby the unit will turn the fan completely off when possible to eliminate noise. It also has an 80+ Gold rating. There are colour-coded stickers included which sounds like a bit of a gimmick, but if you are including this PSU into a colour-themed modded PC, it'd be handy to have an easy way to make it match your colour scheme.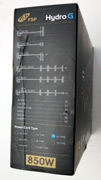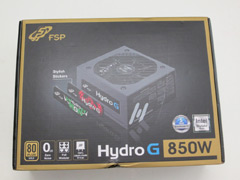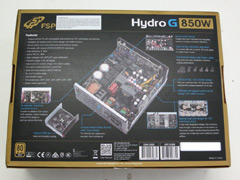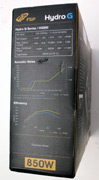 The package contents are pretty much identical to the 700W, apart from the aforementioned coloured stickers and the separate modular cables. The blurb for the 850W unit makes mention of "server grade design". It's worth noting that if you are going to use this on a server board, you should check if it requires two 4+4 power connectors. This 850W unit does have two of those connectors (on the same cable), but the lower-rated units in this line don't.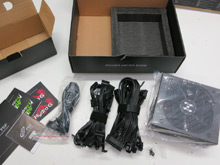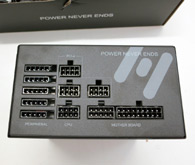 The main physical difference between these units is that the Hydro G 850W is modular, while the Hydro 700W has fixed cables. Modular cabling lets you only connect the cables you need, which makes for a less cluttered space inside your PC, without having to tuck away loads of unwanted cabling. Both units use flat ribbon cables which some people prefer, although they can be a little stiff and unwieldy sometimes. The main ATX plug for the 700W uses the normal braided round cable and I actually found that easier to bend and route during installation. Both units have plenty of SATA connectors but also include some Molex and even floppy connectors for those legacy devices.


---
Advertisement:


All original content copyright James Rolfe.
All rights reserved. No reproduction allowed without written permission.
Interested in advertising on OCAU? Contact us for info.

---
Recent Content


Team Group C440 Cardea Ceramic M.2 NVMe SSD


Synology DS720+ NAS


Raspberry Pi 4 Model B 8GB


Retro Extreme!


Intel Core i9-10980XE


AMD Ryzen Threadripper 3960X


Team Group T-Force Vulcan 500GB SATA SSD