Advertisement:

AMD Ryzen Threadripper 3960X
Join the community - in the OCAU Forums!


AMD RYZEN THREADRIPPER 3960X REVIEW: RAISING THE BAR
AMD has been riding a wave of success that began with the launch of the original Ryzen series. However, the arrival of Ryzen 3 earlier this year has really kicked things into high gear. The market has reacted to AMD's strong portfolio of CPUs with more cores and performance and now AMD is as competitive as itís been at any time in the last 15 years.

When AMD launched its Threadripper range, the High-End Desktop (HEDT) market was shaken from the ground up. Eight or ten cores was no longer the standard. Second generation Threadripper's 32-core 2990WX gave users the kind of multi-threaded grunt that was previously exclusive to the very expensive enterprise realm. It doesnít stop there though. AMD has announced that a 64 core Threadripper processor, the 3990WX, will launch sometime in 2020.



But that's next year. Today we have for review the brand-new Threadripper 3960X. For now, this is the Ďentry levelí processor in the range. It packs in 24 cores and 48 threads. Despite being the entry model, its core count is already well beyond that of Intelís competing 18 core i9-10980XE. It can boost up to 4.5 GHz, which combined with the IPC gains introduced with Zen 2 leaves us with high expectations. At AUD $2249, the pricing of the 3960X gives us an indicator that AMD is supremely confident in the abilities of Threadripper 3.




Hereís a look at the 3rd generation Threadripper line-up. The new models have many high level changes over their predecessors, notably the switch from a 12nm manufacturing process to 7nm, a significant base clock increase, a socket change and a step up in TDP.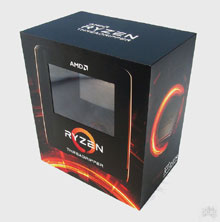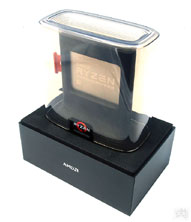 AMDs Threadripper packaging as always been extravagant and the 3960Xís package is no exception. Inside you get a screwdriver that fits the threaded screws holding the CPU in place, a bracket for Asetek built all in one coolers along with a couple of stickers and an installation guide.




REBUILT FROM THE GROUND UP
Ever since AMD launched its Rome processors for the enterprise market, users have been waiting to see what, if any, form Threadripper 3 would take - following rumours of its cancellation earlier in the year. Threadripper 3 processors are built with the Zen 2 architecture introduced earlier this year with the Ryzen 3000 series. The improved 7nm process means better power efficiency and performance per watt. The underlying topology thankfully addresses one of the bigger bottlenecks of 2nd generation Threadripper parts. The four chiplets are all directly connected to the central I/O die which means that the memory latency issues with the 1st/2nd Generation Threadripper have been alleviated. This should mean the 3960X and its siblings offer a better performance balance in bandwidth sensitive applications.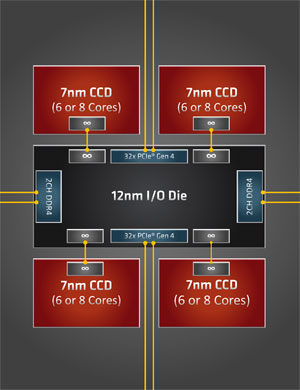 Threadripper 3 carries over all of the architectural improvements found in the AM4 Ryzen 3 models. A redesigned cache hierarchy is responsible for a lot of the gain between Zen+ and Zen 2. A larger micro-op cache, 512k L2 cache and a doubling of the L3 cache to 32MB per die all serve to increase available bandwidth and decrease latency. The latter alone is responsible for a lot of the IPC gain between Threadripper 2 and 3. The doubled L3 cache size results in less requests to main system memory.

Add in other low-level improvements such as a new TAGE branch predictor, doubled floating point capability and the much higher base clock and itís clear that Threadripper 3 should blow Threadripper 2 out of the water. Weíll see in the results section below. The maximum official memory support is now DDR4-3200. Thereís also support for 32GB modules allowing for up to 256GB of system memory.

Where Threadripper 2 contained non-functioning dies, for example 2x 8 core functional dies and two non-functional dies for the 16 core 2950X, Threadripper 3 doesnít. The 3960X with its 24 cores uses all four dies with 6 of the 8 cores active per CCD. For the 3970X, all cores are active. This helps AMD to maximise yields. The 3990X will obviously feature 8 CCDs for a total of 64 cores. Will we see a 48 Core 3980X? AMD obviously wouldnít confirm this to us, but it would seem to be relatively easy to produce an 8x6 core model if thereís market demand.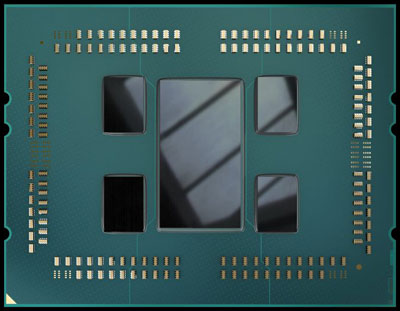 Itís worth further explaining the effect that direct memory access improvements have on general performance. Rather than the windows scheduler running into bottlenecks with non-uniform memory access, which usually occurred when windows tried to shuffle threads across CCDs, all cores now have the same access to system memory. This means thereís no need to resort to 3rd party thread optimizing tools or the likes of Game mode in the Ryzen Master software. Weíll have a look at this in the benchmarking section where we hope to see Threadripper 3 being relatively on par with its desktop Ryzen 3 siblings, and destroy Threadripper 2 where NUMA mode was a bottleneck. This is a very big deal and will boost performance over previous gen TR in many workloads.

The May 10th (build 1903) update to Windows introduces some features in order to get the most out of high core count processors. Windows is better at allocating threads to a single core complex instead of its tendency to shuffle threads around. AMD says this will manifest itself with improved game performance, where threads will not have to go via the I/O die unnecessarily to link with other threads.

AMD faced some issues with Ryzen 3 with regards to its very fast clock ramping leading to monitoring tools misreporting burst voltages and temperatures. AMD claims just 1-2ms to shift between different frequencies which will help for burst type workloads and transitions between various load and idle states. Pre build 1903 Windows supposedly takes up to 30ms to shift between clocks. We didnít see anything untoward with our sample though weíd need to see how Threadripper 3 behaves with different system configurations to conclusively say.

Intel has taken a bit of a PR hit recently with several CPU security vulnerabilities being revealed. Fortunately for AMD, many of the publicized side channel vulnerabilities donít affect AMD processors, but theyíre not immune from all of them. The Spectre exploit has been fixed in hardware. Spectre V4 has also been patched, which in conjunction with OS level protections, should keep AMD processors secure from current known attacks. Other issues such as the more recent zombieload do not affect AMD processors.

A NEW SOCKET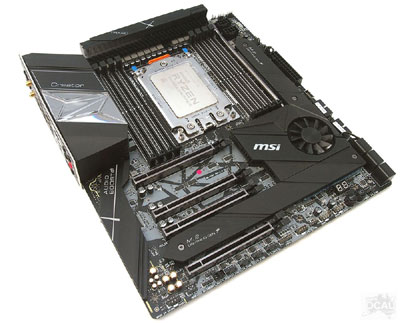 Threadripper 3 CPUs require a new socket and chipset. They are not backwards compatible with X399 motherboards, and similarly, Threadripper 1 and 2 processors will not work in TRX40 motherboards. AMD says the pin arrangement has been adjusted to account for the growth in connectivity and to provide more bandwidth between the CPU and chipset.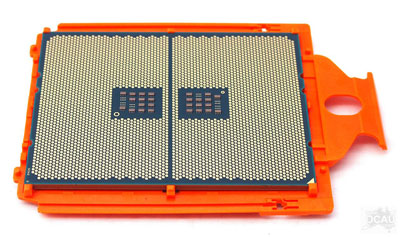 At least the socket dimensions remain the same, so any cooler designed for TR4 and capable of cooling a 250w 2nd generation Threadripper will be compatible with Threadripper 3 models. Overclocking remains supported across the entire range.




TRX40 boards can support up to 72 PCIe 4.0 lanes. Multi GPU, multi NVMe drives, USB 3.2, SATA controllers, 10G LAN, WiFI and more can all be run without compromise thanks to the number of lanes available. All this comes at a cost though, with many TRX40 boards coming in at well over $1000. Thatís a price level that would have been widely mocked not long ago, but it seems thatís what consumers will have to cough up if they want to use the high end boards, from AMD and Intel for that matter.

Page 1: Introduction, Ryzen Rebuilt, A New Socket
Page 2: System Benchmarks, Gaming Benchmarks
Page 3: Performance Summary, Heat and Power, Conclusions


---
Advertisement:


All original content copyright James Rolfe.
All rights reserved. No reproduction allowed without written permission.
Interested in advertising on OCAU? Contact us for info.

---
Recent Content


Team Group C440 Cardea Ceramic M.2 NVMe SSD


Synology DS720+ NAS


Raspberry Pi 4 Model B 8GB


Retro Extreme!


Intel Core i9-10980XE


AMD Ryzen Threadripper 3960X


Team Group T-Force Vulcan 500GB SATA SSD