Advertisement:

Intel Core i9-10980XE
Join the community - in the OCAU Forums!


INTEL CORE I9-10980XE REVIEW: THE REFRESH GETS REFRESHED
Reviewing a CPU like the Core i9-10980XE is a difficult proposition. On paper itís very similar to the preceding i9-9980XE which itself was similar to the i9-7980XE before that. They werenít bad CPUs but, apart from the clock speeds, thereís very little thatís new about the 10980XE. Itís a stretch to call the 10980XE a 10th generation CPU when the headline change is a clock bump for single threaded loads to go along with a revised price. The key specifications remain 18 cores/36 threads, 1MB of L2 cache per core (18MB total), 24.75MB of shared L3 cache and its now very mature 14nm fabrication process.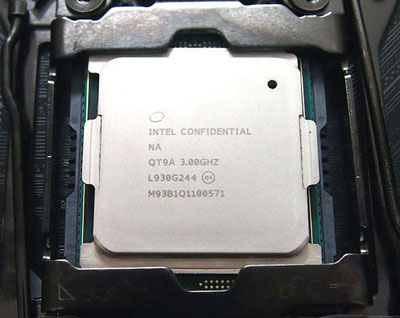 Apart from the CPU itself, the biggest difference between the 9980XE and the 10980XE is the price. Where the 9980XE sold for $2799 in Australia, the 10980XE sells for a more palatable $1799. This alone makes the 10980XE a somewhat more compelling purchase, with a better price/performance ratio, but, it doesnít exist in a vacuum. Thereís the competition from AMD in the form of the new Threadripper 3960X, not to mention the recent release of the outstanding 16 core Ryzen 9 3950X.

Is a refresh enough to help Intel compete? We already know the strengths of Intelís recent generations beginning with Skylake, and given how similar the outgoing 9980XE is, we know that the 10980XE is still a very capable CPU, even if itís not the wow inducing price/performance monster it could have been in the absence of Threadripper. Letís wait until the end of the article to pass judgement though.




SKYLAKE AND 14NM WITH A HEALTHY DOSE OF PLUS SYMBOLS
Itís easy to pigeon hole Cascade Lake-X CPUs as nothing more than overclocked Skylake-X models. At the end of the day thatís mostly the case, but under the hood Intel has made a few changes and introduced a few additional features, even if most of the market wonít make use of them. At least the price drop completely changes the price/performance ratio and keeps Intel on a somewhat competitive footing.

Two things that havenít changed is the use of the venerable 14nm manufacturing process and the use of the ageing Skylake architecture. 14nm++++ has become something of a meme. With the 10980XE being a monolithic die, Intelís number of dies per wafer and yields has to suffer as a result. With AMD on a 7nm process, no amount of claims about relative transistor density or efficiency can hide the fact that Intel desperately needs 10nm, particularly if it sticks with monolithic dies going forward. Itís clear that 14nm is at its limit. With Intel wringing the neck of 14nm, it risks heading down the path of runaway power consumption and temperatures, if it hasnít already. It simply canít afford to go from 7th to 9th to 10th and possibly 11th generation without a new architecture or process. Prescott repeat?

Having said all that, the 10980XE and its 10th generation siblings add further subsets of the AVX-512 instruction set. Notably those that boost AI and deep learning capabilities. While this will be of limited use to mainstream consumers, if your workload can make use of this along with other AVX-512 instructions then the 10980XE will suit. Additionally, Cascade Lake-X CPUs support up to 256GB of DDR4-2933 memory, up from the 128GB of DDR4-2666 supported by 9th generation processors.

All Cascade Lake-X chips come with 48 PCIe lanes, an increase of four from the previous generation. These are still PCIe 3.0 lanes though, which while right now is not a major issue given the relative scarcity of PCIe 4.0 devices, itís still a disadvantage compared to AMD's support for PCIe 4.0 with twice the bandwidth per lane. When tallying up all the available PCIe lanes, Intelís count comes to 72. At least they are available on all the Cascade Lake-X SKUs unlike the artificial restrictions we saw with the 7000 series. The increase in lanes makes it easier for motherboard makers to upgrade their specs with things like WiFi 6 and faster than Gigabit LAN. Thank goodness though, that existing X299 motherboards will accept the new CPUs with a BIOS update.

Users of 9th Gen S1151 CPUs might be familiar with Intelís Performance Maximiser auto overclocking tool. Support is coming to Cascade Lake-X in a future update. While it wasnít available at the time of testing, it is known to work fairly well with our 9900K sample. When used in conjunction with Intelís Turbo boost 3.0, 5GHz on select cores should be possible, whilst still supporting Speedshift and the various C-States for low idle power consumption. We look forward to seeing how this works once the software is available.

Thankfully Intel has retained the soldered interface between the die and heatspreader that was introduced with the 9th generation refresh. This helps with thermal efficiency meaning there is no need to delid. Quality coolers are still required to keep a high core count CPU like a 10980XE cool though.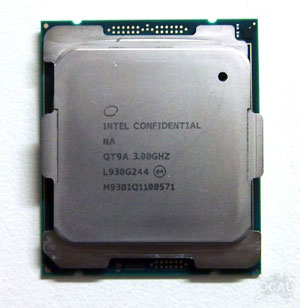 X299 REFRESH MOTHERBOARDS ARE PRICEY BUT FEATURE PACKED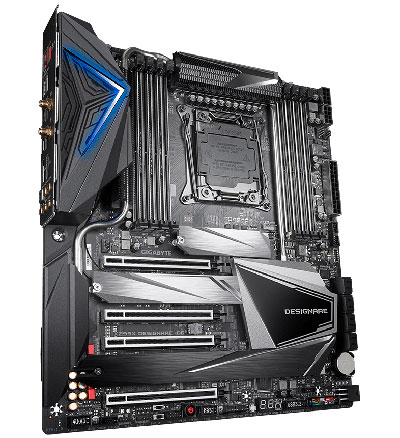 The launch of Cascade Lake-X has given motherboard manufacturers the opportunity to refresh their lineups with features worthy of a 2019 High-End Desktop (HEDT) platform. While many of these boards are loaded with great features, theyíve also taken a scary jump in price. $1000+ is seemingly normal for high end motherboards now. AMD motherboards are following a similar trend. Gigabyteís X299 Waterforce sells for $2899. Umm.. Seriously??!?!

We tested our 10980XE sample with Gigabyteís X299X Designare. Itís got one of the highest specifications of any consumer motherboard on the market including Intel X550-AT Dual 10GbE, 3x M.2 plus a PCIe 4.0 compatible add in card for another 4x M.2, dual Thunderbolt 3 with DisplayPort passthrough and more. As mentioned though, users with existing X299 motherboards can accept Cascade Lake-X CPUs after a BIOS update.

Page 1: Introduction, Details, Motherboards
Page 2: System Benchmarks, Gaming Benchmarks
Page 3: Performance, Heat and Power, Conclusions


---
Advertisement:


All original content copyright James Rolfe.
All rights reserved. No reproduction allowed without written permission.
Interested in advertising on OCAU? Contact us for info.

---
Recent Content


Team Group C440 Cardea Ceramic M.2 NVMe SSD


Synology DS720+ NAS


Raspberry Pi 4 Model B 8GB


Retro Extreme!


Intel Core i9-10980XE


AMD Ryzen Threadripper 3960X


Team Group T-Force Vulcan 500GB SATA SSD