nForce Soundstorm Technology Overview
Join the community - in the OCAU Forums!


The latest AMD platform chipset to hit the shelves is the much anticipated nForce2. While its performance currently has a slight edge over offerings from rival VIA, the extra features that are packed in as well are what make this package such a gem.

One of the most overlooked features is the SoundStorm audio technology. Also found in the Xbox, Soundstorm offers the unique ability to output an AC3 or Dolby Digital 5.1 digital signal which can then be decoded using an appropriate receiver. This feature has been available on both the nForce 1 and 2 platforms.

How it works:
Previously, soundcards that have a digital output are only capable of providing a Pulse Code Modulated (PCM) stereo signal. While this is beneficial for reducing the noise of built in analog converters and amplifiers typically found on most soundcards, it wont provide any of the surround effects available from the analog outputs as PCM is only a stereo 2 channel format. (With the exception of DVDís that have a Dolby Digital or DTS soundtrack in which case it just passes through the digital signal).

Soundstorm however encodes a full 5.1 channel signal which includes Front Left/Centre/Right, Rear Left/Right and subwoofer channels. A digital receiver will then be able to decode the signal and amplify it with the higher quality amplifier. The result is that we can have a digital 5.1 speaker system connected and avoid the analog connections that can reduce sound quality, yet still get the full surround sound speaker effects in more situations other than just DVD playback.

The Asus A7N8X Deluxe board I used for this review includes a coaxial digital output. Additional addon cards can be purchased for this board as well as the Epox 8RDA+. The Asus card in particular, enables the use of both optical and coaxial SPDIF connection methods for both digital input and output.

How it Sounds:
Unfortunately with audio, quantifiable results are difficult to obtain and ultimately provide little insight into how the product actually performs. Subjective opinions are really the best thing we have to go off, and hereís mine:

The Dolby Digital encoding feature of nForce2 is awesome!

Of course a lot of this has to do with the other hardware involved such as speaker setup and the receiver you are using. For my setup I have been using a Yamaha RX-V630 receiver connected using coaxial cable. Speakers are also Yamaha that are well matched to the capabilities of the receiver and subwoofer is a Sony.

The menu system is pretty straightforward and appears as follows: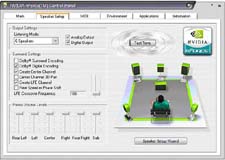 Click to enlarge!


You can set the number of speakers you have setup and the method of output, either analog or digital. It is also possible to output via digital and analog simultaneously. The only exception to this is when playing DVDís in SPDIF passthrough mode.

"Dolby Surround Encoding" is a basically a method of creating more effective surround channels from a 2 channel source, rather than just duplicating in the rear channels.

"Dolby Digital Encoding" is only effective in digital output mode and encodes up to 6 discrete channels into a 640kb/s Dolby Digital signal.

"Create centre channel" generates the centre speaker for a stereo source, as does the centre channel 3d pan only this applies surround processing to the centre speaker.

"Create LFE channel" creates the .1 or Low Frequency effects channel. This is very useful if you have a subwoofer and works very effectively from sources that donít have a separate low frequency channel.

"Rear speaker phase shift" would be used for situations where the audio from the rear speakers interferes with the audio from the front speakers, in which case shifting the phase may reduce the problems.

The remaining options are for setting individual gain levels for each channel and equalizer controls.

The following pictures demonstrate the output mode of the RX-V630 when receiving the Dolby Digital signal: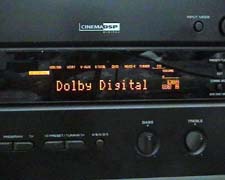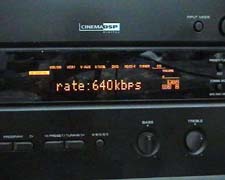 Click to enlarge!


Testing:
Using the test tone on 6 channel mode the Dolby Digital encode method produces 6 clear and distinct channels.

In analog output mode the channels are also very separate and clear.

Dolby Surround encoding in PCM stereo output does a good job of generating a clear centre speaker, however the rear surrounds are nowhere near as defined as the discrete channel modes. Its worth noting that Dolby Surround encoding also appears to mess up the 6ch analog output method with the outputs appearing to get mixed up all over the place and it no longer feels like 6 discrete outputs.

In gaming the Dolby digital encoding feature really shines. Particularly in battlefield 1942 the surround channels work brilliantly. Tanks actually sound like they're about to roll over you. The feature became invaluable when manning the anti aircraft turrets as you can actually pinpoint the direction aircraft are coming from by the buzzing of their engines and start firing at them before they drop a bomb on your head. And even if they do it sounds magical with the subwoofer rumbling away appropriately each time!

Medal of Honour also produces some fantastic results. The Omaha beach landing scene takes on a whole new level of realism as you hear the bullets go whizzing over your head. Itís enough to make you duck for cover. The frantic yells of your comrades as they fall appear to come from all around you through the chaos.

Comparing the 6ch digital output to 6ch analog output is no contest. When playing a stereo source such as mp3 based music, it is instantly noticeable that the digtal method produces much clearer and brighter centre and subwoofer channels and the surround sound fields sound much more powerful and brighter. The clarity of digital connection method is instantly apparent when switching to and from analog output.

Analog output however is still of good quality and up to the standards of most other separate soundcard solutions. The surround channels also appear to work quite well in games.

SPDIF passthrough works flawlessly with sources such as DVDís (Both DD5.1 and DTS modes) and divxís with an AC3 soundtrack.

Not much more can really be said about the quality of the audio other than it was everything I had hoped it to be. More experienced audiophiles may be able to detect drawbacks from the Dolby Digital encoding methods and the bitrate it runs at, or provide a more in depth analysis of the qualities of its output. For the rest of us audio mortals however this is a fantastic solution and from the perspective of a gamer the sound is more than good enough.

As Iím sure some of you would be interested, I will make note that the impact on cpu utilization is not apparent when activating the Dolby Digital encode feature. While playing a stereo divx, on my system cpu utilization was constantly less than 10% regardless of Dolby Digital encode mode being activated or not. If there was any impact on cpu utilization it would be too small to be noticeable. Previously I had been using a Creative SBLive 5.1 and noticed some performance issues in some games, in particular Battlefield 1942. There was no observable performance impact when using Soundstorm audio.

Conclusion:
The main benefits of this feature will be those who have their pcís connected to a high quality digital surround sound system and want to utilise this for gaming.

It works quite effectively with 2 channel sources and Iíd be inclined to say that although at a lower bitrate than the pure PCM output, the Dolby Digital encoding does sound a little better by having the separate channels. The ability to generate the centre and subwoofer channels is a great advantage for sources that donít already have them.

For multichannel sources such as gaming this feature really shines though. If you use the analog connections or donít have a digital receiver then you might not be as excited about soundstorm, however it is a perfectly acceptable analog sound solution nonetheless.

If you do use digital audio and high quality sound system, particularly for an entertainment machine then the nForce platform is the chipset of choice!



Check out the latest entries in the PC Database!
---
Advertisement:


All original content copyright James Rolfe.
All rights reserved. No reproduction allowed without written permission.
Interested in advertising on OCAU? Contact us for info.

---
Recent Content


Team Group C440 Cardea Ceramic M.2 NVMe SSD


Synology DS720+ NAS


Raspberry Pi 4 Model B 8GB


Retro Extreme!


Intel Core i9-10980XE


AMD Ryzen Threadripper 3960X


Team Group T-Force Vulcan 500GB SATA SSD