Advertisement:

Yoper (Your Operating System) RC3 Review.
Join the community - in the OCAU Forums!


After spending 40+ hours downloading Yoper RC3 through my poor 56k modem, I thought I would write a short review of this new OS for OCAU. I will be reporting to those interested the installation of this OS, a quick blurb on my first impressions of Yoper, its interface, programs and of course some screenshots! This is not intended to be a comprehensive review; partly because Yoper is still in RC phase, and I have not spent much time using it. I should make it known I am not a Linux expert, rather an experienced newbie. I hope to remain as objective as possible.

Yoper Release Canditate 3 runs KDE 3.1 RC6, on the Linux 2.4.20 kernel. After burning the single ~660MB .ISO to a CD-R, I wiped Red Hat 8.0 and Win2K from my system, and booted off my toasty new CD.

I was greeted with ISOLINUX 2.00, and then the graphical YOS screen appeared, complete with a picture of a very classy-looking penguin.

The Kernel initialised, and before long, I was at a bash prompt. To continue the installation, I typed 'yoper'.

A disclaimer appeared, which I expected being a RC install. The target hard-disk was displayed, and cfdisk started.

I created the very exciting partitions of 512MB swap, and 19.5GB root.

After the partition table was written, I was shown the message: "YOS is installing. This will take 5-20 minutes, please be patient."

One thing that surprised me here was the complete lack of package selection. Packages come pre-selected for an install of this OS, and a 'custom' install at the package level; which I am used to, was nowhere to be seen. This will no doubt be an annoyance to some people, but has its place.

Although text-based, my general impression of YOPER's installer was good, and it was intuitive and progressive enough to make the installation quite painless.

I was prompted for the network configuration; and following instructions, I selected to configure the network later, considering I am on a dial-up connection.

After more yes/no screens relating to such things as boot-floppy, and the LILO-installation-no-going-back-now-hold-on-to-your-seat warning, I selected my region (Australia-Queensland)

A user name was created, a password for this user configured, and then root password was configured. This will hopefully dissuade brand-new users from being logged as root, as they need to make a regular user before they even hear of the root user.

After rebooting, I noted the time. It took 14 minutes from originally booting off the CD, to re-boot my system and load the OS for the first time. Even taking into account the lack of the usually laborious package selection, this is impressive. A basic system can be loaded quite quickly and painlessly.

Ok, here's some screenshots of KDE 3.1:






Some serious eye-candy here. KDE has come a long way, and RC6 of KDE 3.1 is very nice on the eyes. Although I have never liked KDE as much as Gnome, it is a huge improvement on previous versions, and the final release should impress even more. The only way I can explain the menus is to call them for the most part very "Lycoris-like", in that many of the options hide the actual name of the program. This is something which annoys me slightly, but inexperienced users will find it valuable. The menus, however, are able to be completely customized.

After fixing the lack of a working scroll-wheel on my Optical Intellimouse by editing my XF86Config-4 file, and changing my resolution in the same file, I started poking around.

Applications
I started the OpenOffice 1.0.1 setup program, which was staring at me from the desktop. It installed fine, and then I discovered that MS fonts come loaded in the operating system. The visuals and general interface of OpenOffice keeps getting better, as can be seen below: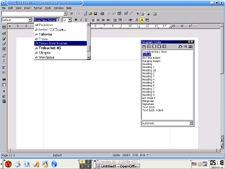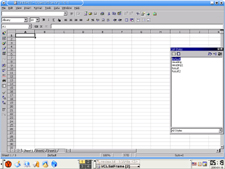 Not long after using OpenOffice Writer, it crashed whenever I tried to save a document or open one. This is a shame, but not too much of a problem as this is a RC version, and not everything can be expected to work perfectly.

The general interface to Yoper is very stable and responsive. The programs that most experienced KDE users will expect are present in Yoper. Another feature I have not seen before was the option to encrypt a file on the right-click context-menu, as shown below. The encryption methods used can also be configured.



Multimedia
Some of the multimedia programs included are XMMS, Noatun, Kaboodle and aKtion! (video player) and k3b (burning suite) among others. Personally, I use a combination of MPlayer and Ogle, and will be sticking with these, along with XCDRoast.

Internet
Konqueror and Mozilla 1.2.1 are the included browsers, with KMail as an E-mail client. KNode news, KBear FTP, KGet download manager and KSirc are some of the other Internet packages.

System
Such features as a Remote Desktop Sharing GUI tool, a nice package manager, a GUI iptables tool (KMyFirewall) and standard KDE system tools are included.

The programs that most experienced KDE users will expect are present. An edutainment directory is a rather cool section I've not seen before. This includes puzzle-like games for all ages and skill-levels, as shown below:

Hardware detection
Yoper detected my somewhat humble hardware perfectly, using the Red Hat hardware detection software, and sound worked upon first boot. I am yet to attempt to get official ATI driver support, however.

Support
Free support for Yoper is forum-based at their homepage, and after a quick browse, it seems to cover most problems that new users may encounter. The community at the yoper homepage seems quite excited about this OS, and with good reason.

Conclusion
I hope you have all gotten something out of this brief article. Yoper is a very impressive distribution; it's clean, responsive, snappy and easy to use. KDE is the only inbuilt window manager, but this particular version is outstanding, even for a Gnome-boy like me.

This distro may not be for everyone, but it's one to check out no matter what. It makes for a good desktop OS, and even at this RC stage is very well put together and the interface is fast. It brings Linux one very large step closer to the desktop. I am looking forward to the final release, and pass kudos to the developers.
---
Advertisement:


All original content copyright James Rolfe.
All rights reserved. No reproduction allowed without written permission.
Interested in advertising on OCAU? Contact us for info.

---
Recent Content


Team Group C440 Cardea Ceramic M.2 NVMe SSD


Synology DS720+ NAS


Raspberry Pi 4 Model B 8GB


Retro Extreme!


Intel Core i9-10980XE


AMD Ryzen Threadripper 3960X


Team Group T-Force Vulcan 500GB SATA SSD