Logitech Cordless Keyboard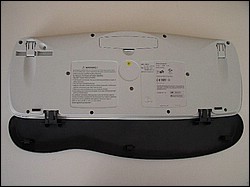 There's nothing extraordinary about the back of the keyboard, except perhaps the battery bay with a tight fitting click-on style lid.

Special features
There's nothing too special about the layout of this keyboard. It's the standard QWERTY layout with three additional buttons to make life a little easier in Windows.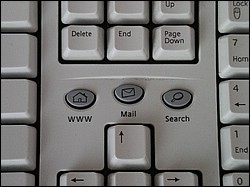 These are the three extra buttons included on the Cordless Keyboard. By default, 'www' starts Internet Explorer, 'Mail' starts Outlook Express, and 'Search' brings up the Windows search program. Thankfully, all three of these buttons are reprogrammable using Logitech's included software.

The Receiver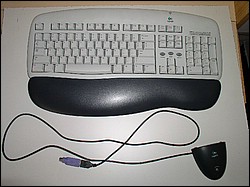 As you can see the receiver is actually quite small in size, so you can place it virtually anywhere within a metre or two of your PS/2 or USB port. The USB to PS/2 converter allows the user to select their desired interface.

Ergonomics
Before you buy any keyboard you should always try out a display model in the store to make sure that you'll actually like typing on it. It's no use having a feature packed top of the line super keyboard when the keys don't feel good to type on or the shape makes it uncomfortable to rest your wrists on. Of course, whether or not you like the feel of the keyboard is a matter of personal preference. The Logitech Cordless Keyboard has keys which depress quite easily but firmly. They're quite short in terms of height compared to most other keyboards, but my fingers seem to like that. So for me, typing is a pleasure on this keyboard. I can't tell you whether or not you'll like it – the only way for you to find out is to type on it yourself.

Minor Problems
The Logitech Cordless Keyboard's communication with its receiver isn't always perfect, but it's close to that. Other electronic devices are most likely to cause interference and delays. For example, placing the receiver inside your computer's case is probably asking for trouble. Other wireless devices with receivers in the same area as the Cordless Keyboard normally shouldn't cause conflict as Logitech have included a button on both the keyboard and receiver to change the frequency at which they communicate. Having said that, if you do keep the receiver away from interfering devices, there should be virtually no delay (just like a corded keyboard) unless you're being particularly silly with the distance at which you use the keyboard from.

Conclusion
So to sum it up, the Logitech Cordless Keyboard is a cordless keyboard with a detachable wrist rest, three customisable buttons and the ability to connect via a PS/2 or USB port. Remember, just because I like the feel of the keyboard it doesn't mean that you will too – go to the store and try it out yourself. Minor problems can be potentially experienced if either you place the receiver near another electronic device or you use the keyboard from a stupidly long distance away from the receiver. But overall, cheers to Logitech for a great keyboard.


All original content copyright James Rolfe.
All rights reserved. No reproduction allowed without written permission.
Interested in advertising on OCAU? Contact us for info.

Recent Content


Getting Started with Arduino


ADATA Ultimate SU800 256GB SSD


FSP Hydro 700W and Hydro G 850W PSUs


Crucial BX200 SSD


ADATA SP550 240GB SSD


Lexar Jumpdrive M20i Flash Drive


Lexar Jumpdrive M20c Flash Drive