Home-made Cooling Duct
Join the community - in the OCAU Forums!


Just thought I'd pass along some pics of a CPU cooling duct I fashioned using acrylic, that stuff we used to use in High School shop class.

It supplies fresh cool air direct from the outside of the case, straight into the CPU cooler. With the case fan at one end, it also acts as a backup in case the CPU fan dies, (which has happened to me a couple of times sending my CPU temp to 90 degrees.)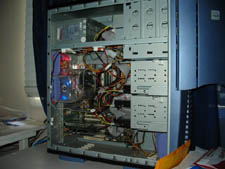 It sucks in cool air, rather than forcing recirculated warm air through the CPU cooler. The design funnels the air around non-restrictive curved corners. The top case fan and the fan in the power supply sucks the warm air straight back out again. I was originally worried that some of the exhausted air might be going straight back into the case, but when you feel the difference between the air going in and the air coming out, I don't think much air is being drawn back in.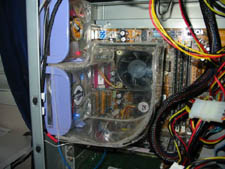 To design it, I had to measure the distance between the case fan and the CPU fan and then draw the types of pieces to make the curves. I cut them out in paper and stickytaped the pieces together to make a paper model to make sure I had all the measurements right.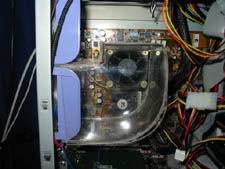 The plastic used is acrylic which I picked up from my local plastics specialist. I cut the pieces into their required shapes using a jigsaw, removed the protective paper and chucked them in the oven on a piece of wood at 180 degrees celcius. Once they turn soft and before they start to bubble I took the pieces out using welding gloves and held them in shape until they were cooled solid. Once all the pieces were made I glued it together and slid it onto the case fan.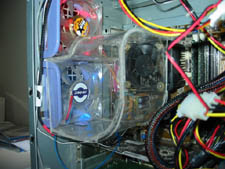 As you can see, my workmanship was pretty dodgy, (I accidentally broke off one of the corners of one of the pieces and some of the bends don't match up properly) but I was going for function rather than style. It could be made much neater by first carving a mould out of wood and bending the pieces around that, (I just held them in place by themselves until they were cooled and reheated them if they weren't in the right shape.) It could also be tidied up using a belt sander to sand down the overlaps and round all the edges. It may look a tad dusty in places, but it has been running in my machine for almost 12 months now and I just gave it a quick dust out. The light fans went in just recently.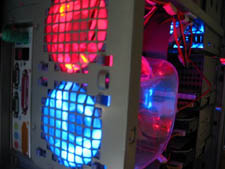 This acrylic could also be used in windows in the side of cases, moulding shapes into the acrylic. It would be pretty cool to have like the shape of a skull sticking out or something (like Daniel's case but physically sticking out), but acrylic probably wouldn't bend sharply enough to do a detailed design like that, but simple designs would probably work really well.

Acrylic also comes in various transparent or opaque colours. I'd someday like to make a moulded window using transparent black acrylic, creating the same sort of effect I saw made into a car bonnet once.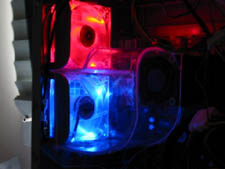 I would have liked to get a video of pumping smoke from the outside of the case and through the duct then through the CPU cooler, but I can't easily get hold of a smoke machine. I have a mist machine, but I really don't think the mist would go too well with a powered motherboard. I have a feeling I measured the temps before putting the duct on and after, and it was only a few degrees difference, but that was without full load testing or anything like that. But I can definately feel a large difference at the 2 fans.
---
Advertisement:


All original content copyright James Rolfe.
All rights reserved. No reproduction allowed without written permission.
Interested in advertising on OCAU? Contact us for info.

---
Recent Content


Team Group C440 Cardea Ceramic M.2 NVMe SSD


Synology DS720+ NAS


Raspberry Pi 4 Model B 8GB


Retro Extreme!


Intel Core i9-10980XE


AMD Ryzen Threadripper 3960X


Team Group T-Force Vulcan 500GB SATA SSD