Advertisement:

A4-Tech RP-648 Wireless Optical Mouse
Join the community - in the OCAU Forums!


Specs, In the Box, Software

A couple of years back a mouse review wouldn't have been necessary. Mouse technology wasn't all that advanced back then. It wasn't until a few years ago that I even noticed there was a difference between a serial mouse and PS2. Now we have infrared mice with different sample rates, cordless mice that all have different results in varying environments and mice with a plethora of buttons to cater for those with a clicking fetish. With so many mice manufacturers on the market, it is important to get a look at the lesser known manufacturer's products, to help insure that they are not overlooked for the more well known mice.



Today I am reviewing the A4 Tech RP-648 cordless mouse. Many computer enthusiasts would automatically skim over the A4 Tech and go for more expensive mice but hopefully this review will give you another mouse to consider when you're on the market for a new mouse.

Specs
Image Processing 4.8 mega-pixels per second
Resolution: 800CPI
Tracking speed: 45 inches/sec
Auto Frame rate: 1000~2300 frames per second
Battery: 4x AA NiHM rechargeable rated 1400mAH
These specs put the RP-648 up there with the much more expensive Logitech MX-700. Manufacturer specs can often be misleading after the marketing team have had their fun with them, but after using the RP-648 for the past 2 weeks I can say with confidence that A4-Tech have been pretty honest about their mouse.



The box the A4Tech comes in is pretty standard. It has a clear plastic shell on the front so the customer can get a good look at the mouse before purchasing. The box is covered in marketing dribble like the following paragraph which had me giggling for a while:

"Feel the Full Comfort and experience the Full Power of the RF/X800 Optical Mouse. Sit back and Relax when you touch the RF/X800. Now you have all the full power of your computer right at your fingertips. Feel the smooth quite ride as you scroll through your applications. And you can bet that the Full Power RF/X800 won't let you down in those precise timing movements. Hold on tight for Full Power at your fingertips; with smooth comfort in your palm."

In The Box
Wireless 3 button mouse
RF Receiver
4 Rechargeable AA 1400 mAh batteries
USB->PS2 adaptor
User Manual
Driver Diskette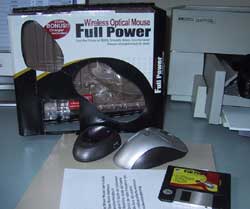 The User Manual contains 2 pages of English instructions on getting your mouse up and running. It's a nice addition to the package but in all honesty, if you need to read instructions to get your mouse up and running I don't know what you're doing here. :) The USB->PS2 adaptor fits snugly on the mouse, a much better fit than the standard Microsoft one. It is also about 1cm shorter than the Microsoft one.

I installed the driver software and had no problems with it. Unlike some other mouse software I have installed in the past, this didn't cause any instability or other problems. The mouse runs just fine without the software, but the software allows you to remap the 3 buttons. This in some ways makes up for the lack of buttons on the mouse itself. The software also shows battery life which is a handy feature.


---
Advertisement:


All original content copyright James Rolfe.
All rights reserved. No reproduction allowed without written permission.
Interested in advertising on OCAU? Contact us for info.