ABIT NF7 meets Granite Bay
Join the community - in the OCAU Forums!


Package, Features, Layout

NVidia's dual channel DDR nForce 2 chipset is currently the undisputed performance leader for Athlon desktop systems. Unlike its predecessor the nForce 2 chipset is well performing and easy to overclock. Thanks to very competitive pricing nForce 2 based mainboards became immediately the enthusiasts' choice after the launch in Autumn 2002. The Taiwanese manufacturer ABIT is targeting exactly this group of budget oriented enthusiasts with its nForce 2 based NF7 series of mainboards.

The NF7 series comprises 3 models:
NF7 (base version)
NF7-S (SATA RAID + IEEE1394)
NF7-M (integrated GF4 MX graphic core)
Detailed NF7 product descriptions can be found at the ABIT website here.

Within just four months ABIT has revised the NF7 several times. We are comparing here the NF7-S revision 1.2 with the initially released NF7-S revision 1.0. To add some spice to our test report we compare the performance of both NF7 revisions with a competing dual-channel DDR Intel system: the Granite Bay (E7205) based 8INXP from Gigabyte. We would have preferred to have an in-house ABIT comparison, but ABIT as well as several other smaller manufacturers decided at the end of 2002 not to put their already finished Intel E7205 chipset based boards into the market. This was mainly because of the high production cost (6-layer PCB) and the small target group for such an expensive product. ABIT has already announced their next generation dual channel DDR mainboard, the IC7-G. This board is i875 (Canterwood) chipset based and should perform even better than the skipped E7205 dual channel DDR chipset. For more info see their press-release document we have mirrored here (4MB Word DOC).

Before we answer the most important questions about performance and overclocking potential we have a short look at the differences between the two NF7-S revisions in our test:

FEATURES
The NF2-S main hardware features are:
nVIDIA nForce 2 C18D chipset with MCP-T Southbridge
Support for Athlon/Athlon XP/Barton with FSB 200/266/333/400 MHz
Support for dual channel DDR 200/266/333/400
SATA 150 RAID (PCI based)
USB 2.0
IEEE1394 (Fire Wire)
Ethernet 100/10 LAN
6-channel sound with MCP-T based Dolby Digital "Soundstorm" technology
These features are more or less standard for nForce 2 motherboards. We would like to point out the following aspects though:


DDR 333/400 support puts the nForce2 chipset ahead of Intel's E7205 chipset which officially supports only DDR 266. There is however another chipset for Intel's P4 which does offer DDR 400 support, the SiS655.
The 100/10 LAN controller from Realtek implemented on the NF7 seems to be slightly outdated. Many newer boards like the 8INXP E7205 reference board in this test are coming with 1000/10 Gigabit LAN
The NF7-S MCP-T (Southbridge) integrated "sound-storm" technology is providing outstanding sound, substantially better than the usual 6-channel on-board sound. The NF7-S is validated as being Dolby Digital 5.1 and NVIDIA SoundStorm compliant by nVidia and DOLBY.
The NF7-S as any other nForce 2 based mainboard does not have native, means Southbridge based, SATA support. SATA functionality is provided by an additional controller working through and limited by the PCI bus. It has to be seen whether the SB based SATA support provided by the upcoming Intel 665/675 based boards will make a difference in this regard.
The complete NF7-S specifications can be found on ABIT's website here.

PACKAGE
The NF7 comes in a shiny box, in bright red, the ABIT colour-coding for AMD systems. ABIT mainboards for Intel processors are shipped in blue boxes. The contents remains unchanged between revision 1.0 and 1.2. The NF7-S comes only with the necessary items to run the board like the usual IDE, floppy, USB and IEEE1394 cables, the I/O shield, an installation CD and a floppy disk with the drivers for the Silicon Image SATA RAID controller. We did not find any bundled software on the driver CD. A useful and unique add-on is the bundled ABIT "Serillel" PATA to SATA converter plus SATA cable. It allows running a PATA (conventional ATA) HDD from one of the SATA ports. This is very useful as the NF7-S does not have PATA RAID anymore, and with this converter at least one of the SATA ports can be put to good use with a PATA disk.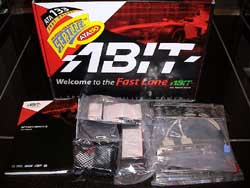 LAYOUT
The NF7-S PCB shows the rotated Northbridge positioning and the 1-2/3 configuration of the DIMM sockets that is standard for nForce chipset based main boards. Noteworthy is that ABIT left enough space below the AGP socket so that it is possible to use one of the double bracket video cards like ABIT's OTES series without blocking a PCI socket. Our Radeon 9700 Pro with the huge fanless Zalman 80 HP heat pipe VGA cooler for example could be installed without blocking the PCI socket below the AGP slot.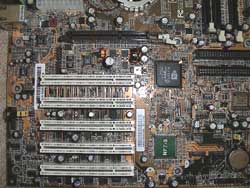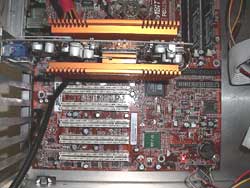 A clearly visible difference between 1.0 and 1.2 is the changed color of the printed circuit board. 1.0 has the traditional light brown. 1.2 comes in an exotic orange tone we have never seen used before on a PCB.



Probably a more important change for many users is the addition of 4 holes around the CPU socket necessary for mounting large CPU heatsinks, such as those from Swiftech and Alpha as well as various water-cooling blocks. These holes were missing on the revision 1.0 motherboard.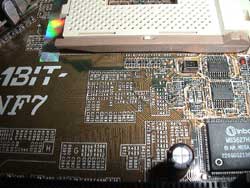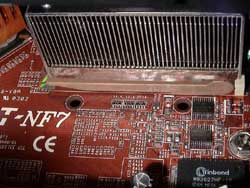 ---
Advertisement:


All original content copyright James Rolfe.
All rights reserved. No reproduction allowed without written permission.
Interested in advertising on OCAU? Contact us for info.

---
Recent Content


Team Group C440 Cardea Ceramic M.2 NVMe SSD


Synology DS720+ NAS


Raspberry Pi 4 Model B 8GB


Retro Extreme!


Intel Core i9-10980XE


AMD Ryzen Threadripper 3960X


Team Group T-Force Vulcan 500GB SATA SSD