Advertisement:

CherryCorp Cybo@rd Plus Wireless Keyboard and Optical Mouse
Join the community - in the OCAU Forums!


Overview, the Mouse

This mini-review was requested by Amfibius from the OCAU forums. Hopefully it will satisfy his need for keyboard articles. Also, keyboards are a much-neglected piece of hardware, despite the fact that it's rather difficult to work on a computer without one.

Cherry is a German keyboard manufacturer who've been around for a while now. I'm not sure what other people think of them. My impression has always been that they're sort of the Porsche of keyboards. Uncommon but not unheard of, only owned by people who think it matters that they own one, but a tidy ride if you've got the $. I may be the victim of marketing hype though. They certainly don't have the high profile and volume of Logitech or Microsoft as far as keyboards and mouses go. This doesn't necessarily mean they're better, but just take a look at other little battlers struggling for some market space against Microsoft, and you'd figure chances are they're about twice as good.

It was with this brandname-junky attitude of mine that I went searching for a wireless keyboard/ mouse for my new box. I wanted something that looked good, felt good and worked good. Or at least looked expensive and worked usually. I knew when I read on the manufacturers website, "Chic design, future-orientated technology: the CyBo@rd Plus is a total trendsetter" and "Surfing, e-mailing, chatting, downloading.... when you go online you need leading edge technologies. Like the keyboards and mice from our Trend Line. Innovative technology and individual design - for users who like to set the trend." that I was onto a deadset winner. Even if the hardware turned out to be rubbish, I would always have the comfort of knowing deep down that I was a total trendsetter.

The Box
I have developed a theorem regarding online hardware reviews. To be known as the packaging edited ratio theory, it is expounded thusly:

The number of words spent discussing the packaging, expressed as a percentage of the total word count, is inversely proportional to the knowledge of the reviewer, and the usefulness of the review.

In order to maintain consistency in my internal world, I will now discuss the packaging in great detail.

For $200aud, you get a box which contains a keyboard, mouse, receiver unit hardwired to mouse and keyboard PS2 plugs, driver CD, rechargeable batteries for the mouse, normal batteries for the keyboard, and a cable to plug into the mouse to charge the batteries.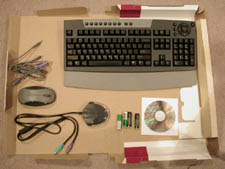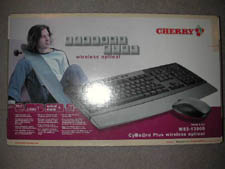 There's a picture on the box of some longboarding dude in dire need of a hair cut. It's not entirely clear why this guy was chosen as spokesmodel for the Cherry Cybo@rd keyboard, but since he's doing nothing but sit on his butt, he can't be all that effective. Questions regarding the choice of this young man remain unanswered despite many emails to the Cherry technical support division.

The box itself is made of some kind of cardboard, which is remarkably similar to a pizza box in the size of the internal corrugations.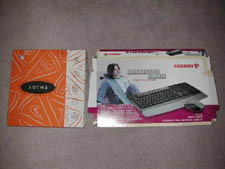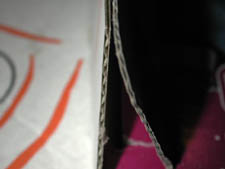 OK, I just want you to know: I could go on about the packaging for a lot longer, just to show how right my theory is, but I'm going to do you a favour at this point and wind it up.

The Wireless Gimmickery
Many wireless keyboards and mice use infrared signals, which requires direct line of sight and only operates over a short range. I needed something with good range because when I get a DLP projector I plan to spend as much of the rest of my life as possible reclining on the couch with a stable-table, looking at a 1024 x 768 image from 5 meters away.

I knew infrared wasn't going to cut it.

The other easily available remote options are 'RF' radiofrequency controlled. There are a few choices, such as Logitech's 'Palomar' 27MHz technology (range 2m), Bluetooth (range 10m) and 2.4GHz wireless (range 5m). These are the commonly quoted ranges, anyway. The thing I don't get is that Bluetooth is 2.4 GHz wireless, except with a cool name and a lot of proprietary frequency hopping and spectrum spreading. If only the IEEE had a few marketers on board, instead of 802.11b, we could have had 'Purplegums' or 'Greentongue' or something good like that. But I digress.

The Cherry setup utilises the 2.4GHz band - alongside Bluetooth, cordless phones, 802.11, gremlins and alien motherships. Naturally, this might lead to some problems with interference. Sure, covering your head with aluminium foil will block out the alien transmissions, but what do you do about your keyboard strokes being recorded by scriptkiddies in the local Starbucks?

Well, the solution Cherry has used is to have a set of 8 dipswitches on each of the mouse, keyboard and receiver.



Using these, there's 16 different frequencies between 2400.5 and 2483.5 MHz you can use, and 16 different ID's for each frequency. So if every gentleman and his dog decides to get one of these after reading this review, only 256 of them can attend any one LAN.

I presume the frequencies increase linearly by about 5.5 MHz from channel 1 to 16. Channel 10 is 2450MHz, but apart from that, the manual doesn't tell you what each frequency channel exactly is.

Right about now this review falls down, because I don't have wireless networking, so I can't tell you what effect this device might have on yours. If anyone wants to donate, setup and administer a wireless network at my house, feel free, I'm happy to offer constructive criticism. I can, however, tell you it doesn't affect my B&O cordless phone. But seeing as you haven't got one, you probably don't care.

The manual claims the range is 5 metres. I developed a sophisticated test to ascertain if this was true, involving typing out the number of meters away from the computer I was into Word.

Here are the results:

555555
777777
101010 I can smell the pizza.

As you can see, by the time I got approximately 10 metres away (with direct line of sight) from this Word document, I was right by the kitchen. I therefore concluded the test by saying the keyboard seems to work from at least 10 metres away, and is quite resistant to reheated pizza juice stains with its dark keys. Subsequent nondestructive evaluation of both the keyboard and mouse revealed that even from about 20 metres away, which was as far as I could go without a packed lunch and filing a trip plan, transmission was error free, including in the dark.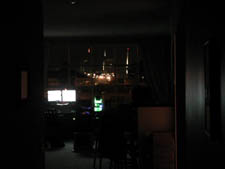 The Mouse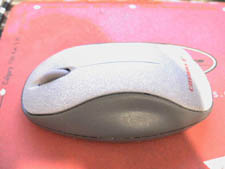 Unlike the keyboard, the mouse is made in China. Not, as Seinfeld would say, that there's anything wrong with that. It's heavier than a corded mouse, but I personally don't notice this until I start writing a review, and then I concentrate on it and it does irritate me a little. (But then by the time I'm editing the review I've forgotten.) Its extra weight is due to the fact that it contains 2 rechargeable alkaline batteries mit kein memory-effekt. Mine lasted 45 days or so out of the box without being charged before they ran out. That's not the 3 months the manual claims, but it's not bad. I did this to let you guys know how long they'd last. Then I read you're not meant to fully discharge the batteries, but charge them up whenever the funky little LED on the receiver starts flashing (red for the mouse, green for the keyboard, and another self esteem body blow for those of us who are red-green colour blind). Bother and tarnation that. I like to live dangerously and kept working on important stuff right up until the mouse bought the farm. Luckily, a new set of batteries were hot swapped into the mouse backplane dual redundant battery compartment, and it kept working away just fine. Xtr3me computing!

There's no funky docking cradle a la Logitech et al, but there is a cable you can hook into your mouse PS2 port and charge the mouse batteries from that. Frankly, if I'd wanted a cable going into my ostensibly wireless mouse I'd have modded some 4mm2 four core fully shielded industrial cabling and charged the thing directly off the three phase supply to the factory downstairs from my apartment. Still, I suppose at least you can keep using it whilst it's charging with the cable setup supplied, unlike a cradle.

It supposedly has 800 DPI optical sensivity, which is presumably a good thing. Personally, apart from a little WarIII, I don't play games, so I can't comment about railgun accuracy. But I've heard enough gamers lazily whining about lag as an excuse for their own lack of talent to know I need to mention it to maintain my street cred.


---
Advertisement:


All original content copyright James Rolfe.
All rights reserved. No reproduction allowed without written permission.
Interested in advertising on OCAU? Contact us for info.

---
Recent Content


Team Group C440 Cardea Ceramic M.2 NVMe SSD


Synology DS720+ NAS


Raspberry Pi 4 Model B 8GB


Retro Extreme!


Intel Core i9-10980XE


AMD Ryzen Threadripper 3960X


Team Group T-Force Vulcan 500GB SATA SSD