Antec LANBOY Mini-Tower Case
Join the community - in the OCAU Forums!


Introduction, Features

For the serious LAN-party attendee, transporting the actual PC has always been something of an issue. Fitting it into (or onto, in some cases) a vehicle isn't that much of a drama, but you inevitably end up lugging it up and down stairs or carrying it long distances around buildings. Even a short distance with a fulltower can wreak physical havok on the, shall we say, non-powerlifters among the gaming community. LCD screens are dropping in price and have become a lot more common at LANs now, no doubt partly due to the lesser weight than their CRT counterparts. But what about the PC itself?

Mini-PC's are a booming market in terms of available products, but I still don't see too many being bought by gamers - perhaps cooling and the lack of expansion are the concern. A high-end laptop would also be a neat, but expensive, solution. What you really want is a tower case that looks good enough to be your main PC at home, but weighs very little and can easily be carried around. Antec obviously have their fingers on the pulse this time because that's pretty much exactly what they've attempted to achieve with their LANBOY product.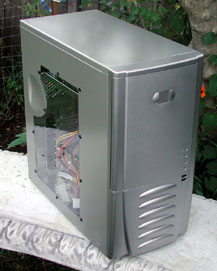 The first thing you notice: spectacularly light. It's constructed almost entirely out of aluminium and Antec's specs page lists it at 10.8 pounds, or 4.8kg. I wasn't sure if that included the power supply - it does, according to the little scale I have here. This is confusingly light - I nearly smacked myself in the jaw with this case when lifting it off a high bench, with my arms expecting closer to 10kg. Adding a few hard drives and the usual innards will weigh it down a bit of course, but you're off to a much better start than with a traditional steel case. For example, one steel version of Thermaltake's Xaser III fulltower case weighs in at 17KG empty!

It's also surprisingly rigid, passing the infamous and amusingly unscientific "hold two opposite corners and twist" test without budging at all. The last aluminium case I reviewed was the Skyhawks 4388+ which I'm sure a determined person could seriously mangle in this kind of test. In that review I blamed the aluminium rather than the quality of construction, but this Antec unit has shown me you can have the strength of steel with the lightness of aluminium.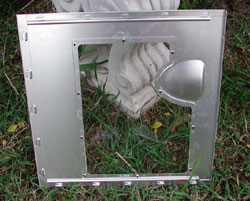 The removable side panel has a window in it as stock. The clear window itself is protected during shipping by a sheet of plastic on either side, easily removed when you set the PC up. It's secured to the frame of the panel by small black plastic bungs which look ok, but some may have preferred metal. This sidepanel is secured to the rest of the case via the normal method, requiring you to slide it backwards an inch or so then lift it straight off the case. Two thumbscrews secure the removable sidepanel and there's a tab on the back of the case which would fit a small padlock (not provided). In this manner you could lock the side panel closed, to make it harder for LAN party thieves to help themselves to your memory or video card while you're asleep or elsewhere.

The other side panel and the top panel are one sheet which is riveted to the frame so can't be easily removed. This is ok, but if you did decide you wanted a blowhole or some other modification to these panels, you would have to strip all the components out of your PC to avoid damage from metal shavings. If these panels were secured with screws you could remove them and work on them elsewhere. Being riveted into place no doubt helps with the overall strength of the chassis, though.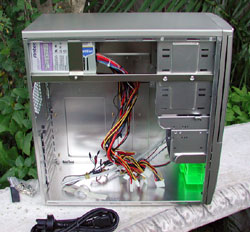 On the cooling side of things there's a nice hexagon-mesh space for an 80mm fan on the back panel, in the usual location to vent hot air from the video card and CPU. At the front there is a plastic mount for another 80mm fan and the vents at the front of the case do provide some airflow instead of being purely decorative like some cheaper cases. The front fan mount stands out from the rest of the case because it is an almost luminous green. When something is irradiated in a nuclear accident on The Simpsons, it ends up this colour. It wouldn't surprise me if this is UV-sensitive material, but I have no UV case lights to test it with. Reflecting off the shiny aluminium interior, the green fan mount is quite striking. There's no fan provided in either space but any 80mm fan should fit fine.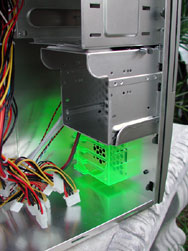 In that picture you can also see the removable lower drive cage. This uses a lever system like other Antec cases we've looked at and makes installing HDD's less fiddly than having to screw them into place inside the case. This isn't just a convenience thing - remember that the other side panel is riveted into place on this case, so without a removable drive cage or a drive-rail system it would be impossible to secure the drive on both sides.



The included power supply is the SmartBlue 350W. This seems to be their Solution Series SL350 with, you guessed it, two of Antec's blue glowing fans installed. I assume they're much the same as the standalone fans I reviewed here. The PSU is held in place by an unusual bracket which runs from a rail on one side of the case, over the top of the PSU to the backplate on the other side. The PSU is also secured at the back by the normal 4 screw system. I think this bracket adds a lot to the overall rigidity of the case, using the PSU as a structural member. In fact, the rail that runs from the front to the back of the case, that the PSU attaches to, seems to be steel and probably is largely responsible for the rigidity of the case. It's a shame this rail can be seen prominently through the side window.

I have nothing but praise for Antec's power supplies, having used several of their 350W and 550W units in various PC's over the last couple of years. A quick scan of some online computer stores show that they really do dominate the Australian market at the moment. Fortunately that's no bad thing, being quiet and reliable units. The cables on this one are probably too long for a minitower case like this, so expect a bit of a tangle unless you cable-tie them out of the way. Like any modern PSU it has the extra Pentium4 power connector and plenty of Molex plugs, along with a couple of floppy-drive plugs. It also has a connector very similar to the old P8 and P9 AT power connectors - I think this is used on certain server motherboards.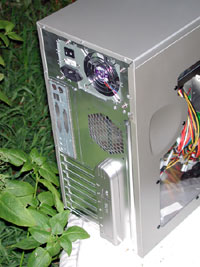 On the back of the case is a curious little plastic lump marked "Hardware". This has a door and contains a small bag of screws and standoffs, similar to what you get with every case nowadays. When we look at the inside rear of the case, we see that this plastic object has another function, but I'm not really sure why. You can see the plastic bay where the bag of screws was actually blocks off the card mounting screws. If you remove this bay, which is simple to do with the provided tabs, you can then access the card-securing screws via the outside of the case, not the inside.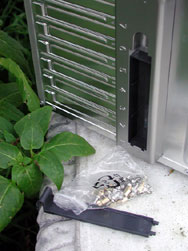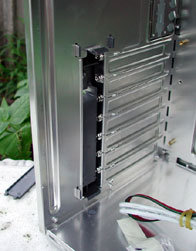 I haven't seen this peculiar arrangement before and I wonder what benefit Antec had in mind when designing it. I guess it lets them make the whole case about 1cm shorter while retaining the same internal space, because the tabs on any PCI or AGP cards will protrude into this small bay. That seems a bit extreme to save a small amount of weight.


---
Advertisement:


All original content copyright James Rolfe.
All rights reserved. No reproduction allowed without written permission.
Interested in advertising on OCAU? Contact us for info.

---
Recent Content


Team Group C440 Cardea Ceramic M.2 NVMe SSD


Synology DS720+ NAS


Raspberry Pi 4 Model B 8GB


Retro Extreme!


Intel Core i9-10980XE


AMD Ryzen Threadripper 3960X


Team Group T-Force Vulcan 500GB SATA SSD