A-DATA PC4000 DDR500 Memory
Join the community - in the OCAU Forums!
Test Results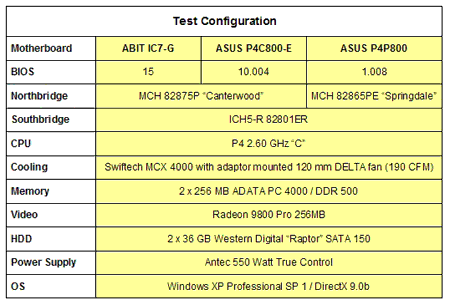 TEST RESULTS
Our first target was to identify the maximum possible frequency of each of the 12 modules. RAM stability testing is often done with the well-known Sandra memory benchmark. The purpose of this benchmark is to measure bandwidth - it does not show whether the RAM modules are actually stable running at the selected frequency or fault free at all. It is possible to run Sandra with faulty modules that could cause the system to crash or freeze as soon as any application or game is running. In fact, it is often possible to run the Sandra memory benchmark with a highly unstable system. Completing the Sandra memory benchmark does not mean therefore that the tested RAM module is good at the applied frequency. To verify memory stability we used Memtest-86 REV 3.0, a non-resident DOS based memory-testing utility. It is testing a wide range of memory addresses in various access patterns.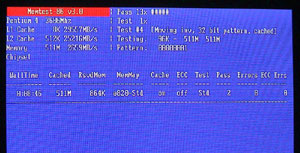 To verify the memory frequency we used CPU-Z 1.18.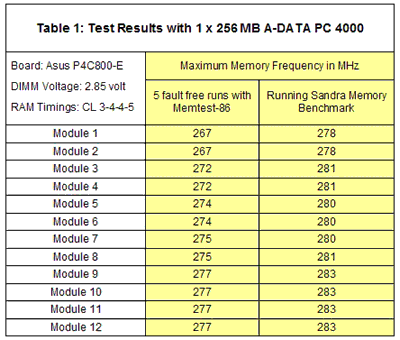 Table 1 shows that the 12 tested A-DATA PC 4000 memory modules were passing Memtest-86 fault free between 269 MHz and 277 MHz at SPD default settings and 2.85 volt. All modules had to complete the standard test at least 5 times running around 30 minutes to be qualified as "passed". The best 4 modules made it to 277 MHz. This is around 11% above the A-DATA advertised frequency of 2 x 250 MHz = 500 MHz. Even the "worst" 2 modules running at "only" 269 MHz still had 7% headroom on top of the advertised frequency. The headroom difference between the worst and best modules is around 4%. This is similar to the fluctuation among memory modules we have observed in previous tests. It was possible to boot with all modules into XP and run the Sandra memory bandwidth benchmark at higher frequencies than Memtest-86 had shown as fault free. Some of the modules, although "unstable" and producing faults in Memtest-86, ran Sandra even above 280 MHz. This shows that it is possible to run Sandra with "unstable" RAM modules which would crash the system sooner than later when applications or games are running.

We also found that our IC7-G sample would not run A-DATA PC 4000 modules above 255 MHz, be it as single module or in pairs. Initially we though that this is a voltage issue. The IC7 provides a maximum of 2.8 volt to the modules. But the board is slightly undervolting and is running only at 2.78~2.79 volt when the BIOS is set to 2.8. On the other hand our 2 ASUS boards let you both set a maximum of 2.85 volt and were both slightly overvolting probably running the modules at 2.86 or 2.87 volt. A-DATA PC 4000 needs more than 2.80 volt to run above 260 MHz. Bit after some message board research we learnt that the IC7 has obviously a RAM frequency limitation issue, because it seems nobody can get their memory running at above 256 MHz on this board. Probably ABIT can solve this issue with a simple BIOS revision.


---
Advertisement:


All original content copyright James Rolfe.
All rights reserved. No reproduction allowed without written permission.
Interested in advertising on OCAU? Contact us for info.

---
Recent Content


Team Group C440 Cardea Ceramic M.2 NVMe SSD


Synology DS720+ NAS


Raspberry Pi 4 Model B 8GB


Retro Extreme!


Intel Core i9-10980XE


AMD Ryzen Threadripper 3960X


Team Group T-Force Vulcan 500GB SATA SSD