Advertisement:

Logitech Mouseman Dual Optical
Join the community - in the OCAU Forums!


Introduction, Package, Details

For years, Logitech has been a reputable manufacturer of input devices – right up there with Microsoft. When it comes to mice, you have two main types: mechanical and optical. Mechanical mice rely on a rubberised ball at the bottom of the mouse that rolls in a specific direction based on which way the mouse is moving. An optical mouse features a tiny camera at the bottom of the mouse, which takes pictures of the surface underneath at a rate of thousands per second. The pictures are then processed by the mouse, so it can determine which direction it's moving in. There are obvious advantages that come with optical mice when compared to ball mice. For starters, optical mice don't collect nearly as much dirt as the rollers inside a ball mouse do, and therefore don't need to be cleaned as regularly. Additionally, you can use an optical mouse on almost any surface, whereas a ball mouse needs a mouse pad in order for the rubberised ball to roll properly. However, many cheap optical mice today do not track the surface underneath them as accurately as some hardcore gamers (I'm no example of one, just in case you were wondering) would like them to. This is experienced when the player slides the mouse across the surface too quickly for the mouse to process. As a result, the pointer "skips" across the screen in random directions instead of going where it's meant to be.

Enter the Logitech MouseMan Dual Optical. This is a mouse designed by Logitech that supposedly solves the "skipping" problem by having two optical sensors instead of one.

Review Computer
Shuttle AK31 v2.0 KT266 motherboard
Logitech Cordless Keyboard
LG 775FT 17" Flatron monitor

The Package & Installation
The Logitech MouseMan Dual Optical retail box includes the mouse itself, a USB to PS2 converter and driver CD. Installation is very straightforward – simply plug the mouse into the desired interface (USB or PS2) and install MouseWare drivers from the CD. However, keep in mind that many users have reported bugs with Logitech's software and the mouse is completely operational under Windows native drivers. I guess it all comes down to a matter of personal preference – you can always uninstall MouseWare if it gives you a headache.

Personally, I didn't have much luck with MouseWare. When I first installed it, the mouse pointer would frequently just freeze without warning and I would have to reboot the computer. I checked this with both PS2 and USB, and I tried using MouseWare with and without the weight inside (more on that later). The problem persisted. As a last resort I uninstalled MouseWare and allowed the mouse to run on Windows native drivers. After this, the mouse worked perfectly on both PS2 and USB.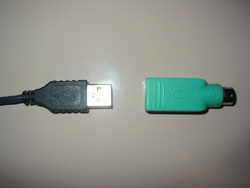 The included adapter allows the user to select either a USB or PS2 port.

Twice the Accuracy?


The unique feature of the Dual Optical is that it uses two optical sensors to track the movement of the mouse instead of one. Supposedly, the two sensors work independently to provide greater precision over a regular optical mouse. Also as mentioned above, it's meant to be very difficult (if not impossible) to confuse the sensors with rapid mouse movement.

Top View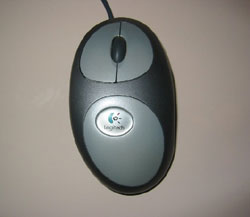 The top of the mouse reveals three buttons (including the scroll wheel) and the Logitech logo. After examining the shape I immediately realised that this mouse was designed for right-handed people, so it looks like all you lefties have been denied yet again. Nasty. Though I do have a left-handed friend who uses his right hand for mice.


---
Advertisement:


All original content copyright James Rolfe.
All rights reserved. No reproduction allowed without written permission.
Interested in advertising on OCAU? Contact us for info.