Advertisement:

ABIT IC7-MAX3 i875P Motherboard
Join the community - in the OCAU Forums!


Introduction and Features

The Taiwanese electronic manufacturer ABIT is one of the smaller players in the market. The company has quite successfully given itself an innovative brand image and positioned its products in the enthusiast market. Several years ago ABIT was the first company to introduce overclocking features when other mainboards did not even allow changing the front-side bus frequency. More recently ABIT introduced the first legacy free mainboard, the IT7, not to mention a long line of boards for both Intel and AMD processors regarded as "best-in-class" by the tweaking and tuning community. Today we have a look at another innovative product from ABIT: The IC7 Max 3.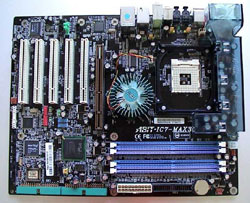 The Max 3 is a variation of the IC7, which was launched in May 2003 and was one of the first Intel 875P chipset based boards in the market. With good overclocking stability, high bandwidth throughput, a 4-phase power regulation, ICH5-R, and CSA the IC7 was well received. The Max 3 is more than a revision of an already existing product. It comes not only with an improved circuitry but also with a few innovative features such as Secure IDE, 4-channel SATA RAID and a new cooling system. These features were not available with any other desktop board when the Max 3 was launched and we will of course have a closer look at them in the following pages.

In order to differentiate the higher positioned Max 3 from the original (and still available) IC7 versions ABIT has given the Max 3 box a more colorful design than the predominantly black IC7/IC7-G container.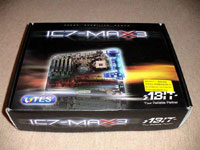 When opening the Max 3 box the owner is greeted by a carefully arranged interior. The main box contains 2 smaller cardboard boxes: one with the manuals, the installation CD and a daughter board for data encryption, and the other one with cables and brackets. The Max 3 box interior is in stark contrast to the P4C800-E, which has the accessories "stuffed in" without care, some of them even without plastic sealing.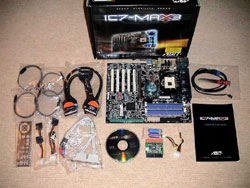 The IC7 Max 3 retail package contains the following items:
1 MAX3 mainboard
2 rounded PATA cables
1 "Secure IDE" daughterboard, power cable, Secure IDE key extension cable with bracket + 2 Secure IDE keys
4 SATA cables
2 SATA power cables with connectors for 4 SATA disks
1 rear bracket with 2 IEEE 1394 ports and 2 USB ports
I/O shield
Installation CD and floppy disk with drivers for Silicon Image 3114 SATA RAID controller
Manual + Quick Installation Guide
Click below for a large features and specifications listing: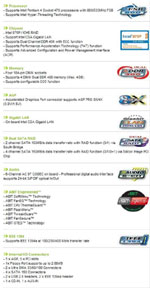 FEATURES
The IC7 Max 3 utilises the ICH5-R Southbridge which allows arranging a RAID 0 array on the 2 x 150 MB/sec SATA channels. The ICH5-R even allows setting up a RAID 0 by hot swapping. The user can simply add one disk to an already existing one. Additionally, ABIT has implemented a 4-channel hardware SATA RAID controller, the Silicon Image SiL3114 chip. A 4-channel RAID controller is a delicious item for RAID enthusiasts. Running 4 disks on 4 channels offers better RAID 0 than with only 2 channels and RAID 0+1 can be arranged as well. No other mainboard for desktop systems is currently offering a 4-channel SATA RAID solution. Buying such a controller as stand-alone PCI card from manufacturers like Highpoint or Promise would set you back by at least 60 US$. Another noteworthy feature is the 4-phase power regulation to the CPU. The industry standard is still a 3-phase regulation. 4 phases are supposed to provide better voltage stability and to keep the circuitry and mosfets cooler. The Texas Instruments TSB41AB3 Physical Layer IEEE1394 controller provides Firewire functionality. This chip is regarded as a better and obviously slightly more expensive solution than the often-used VIA IEEE1394 chip, used for example by ASUS on the P4C800-E and the P4P800 Deluxe.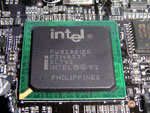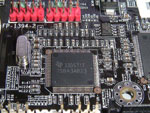 L to R above: ICH5-R, TI's IEEE1394 and Intel's Gigabit Ethernet chips


ABIT had opted already on their 875P-based IC7-G to skip PATA RAID. But we think it's a little too early for a SATA RAID only solution. The overwhelming majority of users are still using PATA disks. Even if the additional PATA RAID ports are not used for a RAID array, they can be used for single IDE PATA disks, DVD or CD ROM drives. On the other hand to utilize all 6 SATA ports provided by the Max 3 would mean running 6 SATA disks, because there are no other SATA devices such as CD ROM drives - that is quite an unlikely user scenario for the time being. One might argue that a SATA port can be used with a PATA disk via an adaptor. But unfortunately the user does not get such a PATA to SATA adaptor with the Max 3. This is the only point where the Max 3 has worsened in comparison with the original IC7-G, which has the "Serillel" adaptor bundled with it.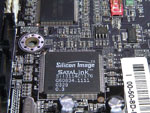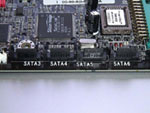 L to R above: SIL3112 on IC7, SIL3114 on MAX3, 4 SATA RAID ports on MAX3
---
Advertisement:


All original content copyright James Rolfe.
All rights reserved. No reproduction allowed without written permission.
Interested in advertising on OCAU? Contact us for info.