Advertisement:

HighPoint Technologies e.SATA RAID Kit v2
Join the community - in the OCAU Forums!


Introduction and Features

Southbridge integrated RAID is rapidly becoming a standard feature for mid- and high-end mainboards. Intel is offering Southbridge integrated RAID since spring 2003 through the ICH5-R, implemented on 865PE / 875P chipset based mainboards. VIA followed with their KT600 / KT800 and P800 / P880 chipsets. Southbridge integrated RAID solutions are not only cheaper for the consumer than stand-alone PCI based RAID controller cards, but theoretically also faster because they don't use the PCI bus with its relatively low bandwidth. Demand for "traditional" PCI based RAID controllers, be it as on-board solution or PCI card is therefore on the decline. Manufacturers are trying to compensate for this with new and extended features for their PCI RAID cards. One example is this e.SATA RAID Kit v2 from Highpoint Technologies.



The e.SATA RAID Kit is combining 2 Highpoint products: A PCI RAID card, the "RocketRAID 1542", and an external disk enclosure, the "RocketMate 1200". The RocketRAID 1542 works independently from the RocketMate 1200, whereas the latter can only be used in conjunction with a PCI device providing Highpoints proprietary e.SATA interface. Highpoint offers several similar combinations where single or dual bay external disk enclosures are combined with 1-, 2-, or 4- channel SATA controllers utilizing the e.SATA interface.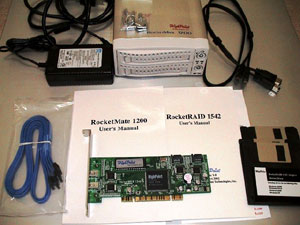 The RocketRAID1542 is a 4-channel PCI RAID card. It supports 2 serial and 2 parallel hard disks with up to ATA 150 in RAID and non-RAID configurations. The RR1542 is based on the HPT374 chipset. We have tested the HPT 374 based Rocket 404 PATA RAID PCI RAID card a while ago and found it reliable and fast when used for RAID 0x2 and RAID 0x4. Highpoint has build an entire product range based on the HPT374 chipset, taking advantage of the additional RAID levels a 4-channel controller offers over the more common 2-channel solution. In the case of the RR1542 the 4 available channels are split into INTERNAL and EXTERNAL SATA 150 channels. The 2 EXTERNAL SATA 150 channels are connected to the RocketMate 1200 external disk enclosure. Highpoint is calling their external SATA solution "e.SATA." It provides a propriety interface that enables SATA controllers to support external storage devices. Highpoint is claiming a transfer speed of 1.5 GB/sec for e.SATA, much faster than USB 2.0 or IEEE1394. The two INTERNAL SATA 150 channels are designed to support standard disk configurations, where the hard disks are fixed into the computer chassis.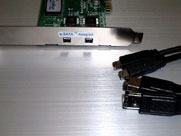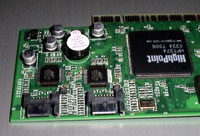 Left to right above: RocketRaid1542 PCI card, e.SATA connectors and cables, internal SATA 150 connectors


The 4 IDE channels available with the RR1542 can be used independently or combined to support a variety of single-disk and RAID configurations. The types of RAID levels possible with the RR1542 depend on the BIOS and driver combination employed.
More about this is explained below under "Installation and usage". Another feature is that the RR1542 supports 48-bit LBA, which means it is compatible with drives larger than 137GB.



The second part of Highpoint's e.SATA kit is the RocketMate 1200 dual external SATA disk enclosure. It accommodates 2 IDE parallel ATA disks in 2 bays. Each of the bays is removable, with a frame for fixing the disk with screws and a Molex connector to supply power to the disks. The RM1200 is used with PATA harddisks and the disk enclosure has therefore a PATA to SATA adaptor integrated. The RM1200 cannot be used with SATA disks. The bays can be locked with a key.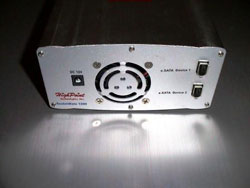 Left: RocketMate front with tray half removed. Right: RocketMate rear view


The enclosure is made of aluminum and comes with a strong 40 mm fan for hard disk cooling. Power to the disks and the case fan is supplied independently from the PC by a 12 volt DC outlet. The connection between the RM1200 enclosure and the 2 external e.SATA connectors on the RR1542 is provided by Highpoint's e.SATA cables. At first glance they look like USB cables, but the connectors are different. The user should take good care of these cables, if they are damaged or lost, it may be difficult to replace them, rendering the RM1200 useless.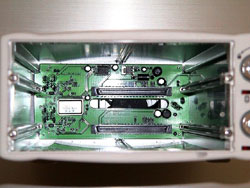 Left: RocketMate tray with HDD installed. Right: RocketMate internal view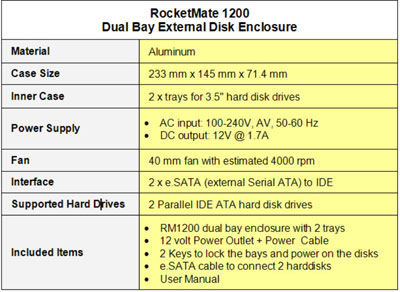 ---
Advertisement:


All original content copyright James Rolfe.
All rights reserved. No reproduction allowed without written permission.
Interested in advertising on OCAU? Contact us for info.

---
Recent Content


Team Group C440 Cardea Ceramic M.2 NVMe SSD


Synology DS720+ NAS


Raspberry Pi 4 Model B 8GB


Retro Extreme!


Intel Core i9-10980XE


AMD Ryzen Threadripper 3960X


Team Group T-Force Vulcan 500GB SATA SSD