Advertisement:

"Dan" MP3 Player
Join the community - in the OCAU Forums!


There is currently a glut of different mp3 players on the market - a trip to eBay will reveal a heap of different models, commonly known by the parlance of 'yum cha' players. Dan (of Dan's Data) has given different models of these 'yum cha' units different common usage names (George, James, Fred etc). So, with this naming scheme in mind I have dubbed this unit `Dan', in honour of the man himself.

This 'Dan' unit seems to fit a niche in the market nicely: it has a good onboard memory size (128 meg), a good sized, backlit LCD screen with ID3 tag support, voice recording function and the capacity to accept Smart Media cards to expand the available memory. At about $120, no other model in this price range can offer all these features.



The unit is shipped with a short USB device cable, a set of basic earphones, a mini CD with drivers and software and a rather basic manual.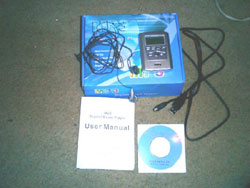 Looking at the unit itself, it seems to be fairly sturdy, which is not a surprise considering its boxy shape. Two AAA batteries are inserted via a slot in the base of the unit, providing the unit with a maximum of 15 hours of playing time, which is fairly generous considering the average play time of a George is 6 hours.



The front of the unit holds its main controls. Stop, Start, Fast Forward, Rewind and Volume buttons are featured just below the LCD screen. Also featured is a menu key, which brings up the player's main menu.

The LCD itself is a 64x128 dot-matrix blue backlit display, which is quite large for a device of this type. It allows for 4 lines of display, which covers time, encoding frequency (i.e. 128kbps/44khz), filename and ID3 tag display. The display is actually quite bright and the text is fairly sharp. There are menu controls, which control the length of time the backlight is lit and can be used to help conserve battery life. There are also Contrast controls to darken or lighten the text. Strangely my LCD seems to have a dark shadow about 2 pixels wide at the top left side of the screen, which extends down for most of the screens height, the even stranger thing about this is that the pictures of the unit on auspcmarket seem to have the same dark patch. Its not a big deal and doesn't effect usage of the unit so I simply ignore it.

The unit also has 5 pre-defined and substantially different E Q settings, these being Live, Class (or Classical), Rock, Pop and Normal respectively. After playing around with a couple of test tracks (and since most of my songs are rock anyway) I felt that Rock was best suited to my tastes. It seemed to have the bass and crispness of sound that I generally enjoy. Something I also noticed is the clarity of treble sound in tracks on this setting, something I've found lacking on my current Kenwood Discman and my Sony R500 Minidisc. Although it should be noted that for the majority of testing I was using my Sony MDR-E805 earphones instead of the stock ones, I felt these were fairly mid level phones (maybe not for an audiophile, but for a regular person) and would allow for a better indication of the units capabilities.

To test the unit I played Metallica's Unforgiven II at both 64 and 128kbps and the difference was noticeable, for a more mellow sound Powerfinger – These Days played nicely and for a heavier sound Pantera's Walk tested out the bass and mid range.
These tracks impressed me as to the flexibility of the unit, plus it passed the "average man" test as my brother was also impressed with the quality (although he does use $10 speakers on his PC………).

Sadly, this unit does not recognise folders and seems to not recognise playlists either, so the more advance features of, say a WeWa unit, would outclass the 'Dan' by far.
Ordering of the tracks has to be done manually, which can be a pain or the great utility ReOrganize can be used to order tracks to your preference. This program can be installed onto the device (in its capacity as a USB mass storage device) so it can be run from any computer while you are on the go. Songs are installed either straight through Windows Explorer (device is mapped as a USB mass storage device) or via the supplied application described later in the review.

I haven't as yet tested the capabilities of the expansion slot, as I have yet to purchase any Smart Media cards. Though after doing some research I was surprised as to the inclusion of a Smart media reader compared to say a MMC card reader, as the SM format seems to have had its run as a storage media already. Nonetheless these cards can be picked up on eBay for fairly cheap, so I'm not complaining. The other drawback is the maximum capacity is 128 MB, though I envisage myself carrying a couple of cards around like psuedo mini discs.

The unit also ships with a rather obscure little program called Iplayer, which allows you to control the files on the device and the memory card from the desktop.



This application also allows the formatting of both the device and the SM Card, strangely though the website for the application is dead, so no further information about it is available.

Conclusion:
All in all I'm extremely happy with the performance of the device. I was originally quite sceptical considering the price and the fact that I've been monitoring these units via Dan's reviews and on eBay since the naming of George, but it's a good all round device. For the price conscious consumer, who is after a good unit without hassles, with the ability to upgrade, but also wanting to steer clear of the high price of other similar devices, I can definitely recommend these. Let's be serious, if you are an audiophile you probably won't be reading the review of a $120 dollar mp3 player, so don't be surprised if this isn't for you. But if you are a regular audio user like me then go for it.
---
Advertisement:


All original content copyright James Rolfe.
All rights reserved. No reproduction allowed without written permission.
Interested in advertising on OCAU? Contact us for info.