Advertisement:

Icemat Mousing Surface
Join the community - in the OCAU Forums!


When it comes to mousepads, most PC users wouldnít be able to justify spending more than a few dollars on one. Whether itís a fabric or plastic mat, or even a piece of paper, most would say that a mouse pad is a mouse pad. Some optical mouse users donít even have one at all. However, it makes sense that many gamers and enthusiasts want as little friction as possible between their mouse and pad Ė for the same reason you would prefer a lighter mouse over a heavier one. Less friction results in less effort involved in sliding the mouse across the surface. We can achieve less friction with a smooth and flat surface Ė glass to be precise. No jokes here, the Icemat is a glass mousepad.

The Package: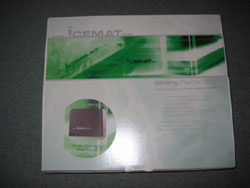 Seems like quite an elaborate box for a mousepad, doesnít it? By the way, this is the black version of the Icemat. There is a cheaper transparent Icemat available but apparently it doesnít work too well with optical mice.



The Icemat package includes the mousepad itself along with instructions and Padsurfers (teflon strips with adhesive backing) enclosed in a zip-lock plastic bag Ė all neatly sandwiched between two pieces of hard styrofoam for protection (remember itís glass).

The Icemat:
There are two positive features I immediately noticed on the Icemat itself upon placing it on my desk. Firstly, the logo is printed beneath the glass surface so it doesnít hinder your mouse movement. Secondly, there are six rubber feet beneath the Icemat to prevent it from sliding around on your desk.

Padsurfers and Instructions:



In addition to the mousepad itself, they also give you two strips of teflon with adhesive backing known as Padsurfers. Thankfully, they also tell you how to use them. Basically, you stick them over your mouseís existing feet to reduce friction even further. Furthermore it helps lessen the noise produced when sliding your mouse across the surface.

Usage: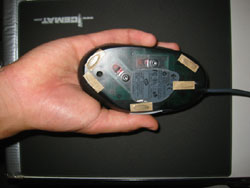 From this image, you can see the Icematís size in relation to my hand and Logitechís MouseMan Dual Optical mouse. You can also see my expertise in application of Padsurfers - although it took me two attempts to get it done correctly.

Note: The black Icemat does not officially support the Logitech MouseMan Dual Optical, as I will find out the hard way later.

Now on to using the Icemat. If there is a smoother mousepad than the Icemat, I would like to see it. To those who are after a mousepad with as little friction as possible, look no further. Keep in mind though, in the end it all comes down to personal preference. There are some who prefer heavy mice and lots of friction on their mousepad (donít ask me why). Because the Icematís glass surface is so smooth, you tend to notice bits of dust more than a regular fabric mousepad. For example, you suddenly feel a bump as your mouse is gliding across the Icemat. To me this is a good thing, because you can always scratch the surface irregularities off with your fingernail without damaging the mousepad (remember Mohís scale of hardness?). Iíve tested this, by the way. After scratching the Icemat with my fingernail, I saw no apparent marks or streaks.

Not all is well and good with my old Logitech MouseMan Dual Optical though, which admittedly doesn't appear on the "tested and approved" list of mice on the Icemat site. It seems to track somewhat poorly at times on the Icemat. Sometimes the direction the cursor moved didnít match the direction I physically moved the mouse. At other times the cursor would move without me even touching the mouse. I tested the Dual Optical on both PS2 and USB ports as well as using both Microsoft and Logitech MouseWare drivers without luck.

Fortunately though, my brotherís Logitech MX500 (officially supported on Icemat) tracks perfectly. Perhaps the MX500ís optical sensor is more tolerant of the refractive nature of the Icematís surface. It would be unfair of me to fault the Icemat for not supporting my mouse because the Dual Optical is not in their list of supported mice. The problem is with my mouse, not the Icemat.

I tested the Dual Optical both with and without the Padsurfers, but only tested the MX500 without them. Mousing was very smooth even without the padsurfers, but smoother and quieter with them in place.

Conclusion:
At $70 AUD, the Icemat is one of the most expensive mousepads in the world. However, it is also the best mousepad I have used. If youíre after the smoothest surface possible, this is it. Iím convinced that Iíll never settle for a fabric mousepad again. Furthermore due to the glass surface, it looks like the Icemat will last practically forever. So in conclusion, cheers to Icemat for an excellent mousepad.
---
Advertisement:


All original content copyright James Rolfe.
All rights reserved. No reproduction allowed without written permission.
Interested in advertising on OCAU? Contact us for info.

---
Recent Content


Team Group C440 Cardea Ceramic M.2 NVMe SSD


Synology DS720+ NAS


Raspberry Pi 4 Model B 8GB


Retro Extreme!


Intel Core i9-10980XE


AMD Ryzen Threadripper 3960X


Team Group T-Force Vulcan 500GB SATA SSD