GTR 450W-LI Power Supply
Join the community - in the OCAU Forums!


Whilst a lot of people will spend literally hundreds of dollars on PC components in the quest for an elusive overclock, or to improve and individualise the looks of their PC, most people don't really spend a lot of money on what is often a critical piece of equipment - the power supply.

Your power supply is responsible for converting AC power into DC power for your PC components. Your CPU and RAM, especially when overclocking, rely heavily on your power supply to give them a clean and reliable supply of electricity - if your PSU isn't capable of providing a reliable supply of power, especially when under load, your system can become unstable and crash. In my personal experience, dodgy power supplies have prevented good overclocks and even caused crashes with PCs running at stock speeds. Less reliable power supplies will often supply variable voltages on the 12v, 5v and 3.3v power rails when the PC is under load, or may even fail to give good, reliable power with little load at all. Such power supplies often come with cheaper, generic computer cases and because they're out of sight, tucked away in the back of the case, as long as they have sufficient cables for connecting up drives and cooling fans, they are often ignored as a potential source of PC instability.

Computer power supplies are often rather dull and boring looking pieces of gear - a simple metal box, with a fan or two and a bunch of untidy power leads hanging out the back, for connection to motherboard, drives and fans. The GTR 450W-LI power supply in this review is anything but dull and boring - as you're about to see.



If you've bought a power supply before, they often come in plain brown cardboard boxes, if they're in boxes at all. The first time you spot one of these GTR power supplies, you're in for a minor surprise - the box is rather large, well made and colourfully decorated. The box carries the marketing phrase "Power Excitement" and also gives the first hint of what the power supply looks like - and as I mentioned before, it's rather different to your average, run-of-the-mill PSU. Does the PSU live up to the praise on the box? Let's find out...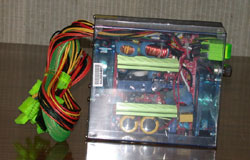 There it is, in all of its glory. Well, in some of it, actually. More about that in a moment.

With a perspex cover (rather than a metal box/cage), this is a rather funky looking PSU. Along with the see-through appearance it has a red PCB and also comes with bright green molex connectors, as well as a bright green mesh sleeve over the main power cable for connecting to your PC motherboard. The rest of the cables are reasonably well zip-tied together, and should be easily tucked out of the way neatly for both good airflow and good looks. In addition to the standard ATX and ATX12V power connectors, this PSU comes with 6 molex connectors, 2 floppy power connectors, and, important if you're considering running S-ATA drives and don't want to use power converters, 2 S-ATA power connectors (which are black, rather than the bright-green of the other connectors). The mesh sleeve and molex connectors aren't just bright in normal light - they're (apparently, I don't have a UV light source) UV reactive, and should glow rather brightly if you have any UV lights in your case. They're not the only glowing bits, though.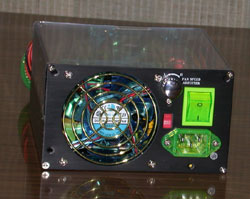 The fans in the PSU initially appear to be simple, clear fans - but once you power up, it's immediately apparent that they're not just clear, but actually have four blue LEDs in each of them, lighting them up a rather nice shade of, well, blue. On the back of the PSU is a rheostat for adjusting the fan speed, and therefore volume. The faster the fans run, the brighter they glow. I found that in my PC, which has three 120mm fans and two 92mm fans (all Panaflos, all rather quiet), that the PSU was pretty inaudible until I'd turned the fans up past about 2/3rds power - at which point there was a rather nice blue glow eminating from the back of my PC. The power switch, which is a nice big green unit that looks like it might light up, doesn't in fact light up, so the blue glow from the rear fan isn't washed out by a green light.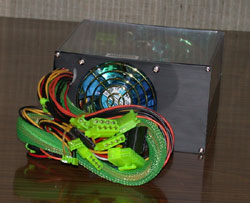 OK, we've established that this thing looks pretty trick, but how well does it actually perform?

Usage:
Looking at the PSU before I installed it, the internal components seem pretty "beefy" compared to some other PSU components I've seen, and so I had hopes that this PSU would prove to be reliable. My 380W Antec Truepower had started to have trouble with my recently acquired P4 2.6C system when I overclocked it - the CPU core voltage started to fluctuate quite badly when I tried to overclock, and the 12v, 5v and 3.3v rails started to sag. I was quite disappointed by this, having always trusted my Antec PSU to give reliable power - and I hoped the GTR, with its 450W rating, might prove to cope a little better with my system.

For those who are interested in such details, my system specs are as follows:
Intel P4 2.6C
Abit IC7-MAX3 motherboard
1GB (2 x 512MB) Corsair XMS3500 DDR-RAM
ATi Radeon 9700/PRO video card
60GB WD "JB" HDD
A-Open 4x DVD drive
Sony 40x/12x/48x CD-R/W drive
3 x 120mm, 2x 92mm Panaflo fans
Chenbro Genie case, modified by Coolcases.com.
I wasn't disappointed. The best stable overclock I could get with the Antec PSU in my system was 3.026GHz - a 400MHz overclock, which is nothing to sneeze at, but with the voltage fluctuations I was seeing, I'd guessed that this wasn't the limit for my particular PSU. And I was proven correct - with the GTR power supply installed, I immediately received much better voltage readings (taken both with a recently-acquired digital multimeter and BIOS/Winbond monitoring software) - the CPU core reading (from the Winbond software which came with my motherboard) wasn't fluctuating anywhere near as badly as before, only 0.02v from the set voltage. 12v, 5v and 3.3v readings were also much better, with 12v and 5v readings within 0.05v of their ratings (shown to be 0.05v low in the Winbond software, and 0.05v high with my multimeter), and although the 3.3v reading from the Winbond software was a little low at ~3.2v, considering that my multimeter consistently rated ~0.1v higher than the readings in the Winbond monitoring software, I was happy with the 3.3v reading as well.





Conclusions:
Based purely on its performance, I feel confident in recommending this power supply to people as a replacement for a poorly performing PSU. When you take both performance and price into account (AusPCMarket, who supplied me with the power supply used for this review, sell it for $132 including delivery to practically anywhere in Australia), I think it's a steal. As a bonus, if you like the looks, you know you're not settling for a dodgy power supply just to have something that looks a little different.
---
Advertisement:


All original content copyright James Rolfe.
All rights reserved. No reproduction allowed without written permission.
Interested in advertising on OCAU? Contact us for info.

---
Recent Content


Team Group C440 Cardea Ceramic M.2 NVMe SSD


Synology DS720+ NAS


Raspberry Pi 4 Model B 8GB


Retro Extreme!


Intel Core i9-10980XE


AMD Ryzen Threadripper 3960X


Team Group T-Force Vulcan 500GB SATA SSD