Advertisement:

Bitspower LED RAM Mod
Join the community - in the OCAU Forums!


This is a stick of Corsair XMS3500C2 RAM:



It's impressive enough memory, but aesthetically speaking it's not particularly exciting. Corsair did put some nice black heatspreaders and a hologram logo on this stick, but overall, RAM seems to be the last bastion of normalcy in a sea of UV-reactive, LED-encrusted PC bits. Many other brands have brightly coloured heatspreaders and Corsair have recently taken things a step further by putting a row of LEDs on the top of their RAM modules. According to the blurb, the LEDs on these Corsair modules indicate memory activity, although I'm not sure it's all that useful to have an indicator of that particular metric tucked away inside your case.

Nontheless, nobody can deny the explosive trend of putting things that glow into PC's. If you're keen to have some glowing RAM but can't afford to fork out for Corsair's top-end stuff, PC Range have a cheaper option.



The Bitspower "RAM Mod" kit is available in a few colours - we've got a red one and a blue one to look at today - there's also a green one available. The kit comes in a basic retail pack, containing a few bits:



Like many case-lighting kits there's a switch on a provided PCI backplate and a molex connector to connect to the power supply. There's no pass-through connector so you will use one molex plug per RAM module if you're fitting all your sticks with this kit. I think this is a bit of an oversight. In this era of dual-channel chipsets, the majority of enthusiast PC's would have two sticks of RAM so a pass-through which let you run both from a single molex would have been nice and surely wouldn't increase the cost much. You also receive a mounting screw for the PCI backplate, a couple of plastic clips which are supposed to go on the RAM module and an adhesive strip to attach the PCB to the top of the plastic clips.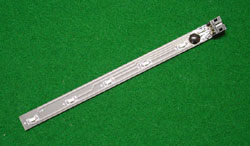 The heart of this kit is the thin PCB which contains the five surface-mounted LEDs themselves, a couple of other components and the power connector. It took me a few seconds to remember where I'd seen this particular plug used before - on CD Audio cables. Here it's used to carry 5v from the molex to the PCB.

This strip looks a little fragile, but it shouldn't break from normal use. Dropping heavy things onto it won't do the surface-mounted components much good, though. Looking at the traces, each LED is connected in parallel and can be controlled individually. When fired up, the blue ones give the same intensely-bright blue effect you see on a lot of components nowadays. The red ones are a little less intense, as expected, but still impressively bright.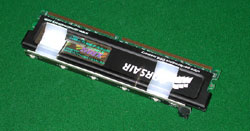 In fact, there are a few effects available. Of course, there's no integration with the RAM module itself so there's no "memory usage" indicator function, but pressing the momentary-contact switch on the PCI bracket cycles through 8 display modes and can turn the lights off completely. The LEDs can only display one colour, so the modes are simply different patterns of flashing. My favourite is one slightly different to the others, where all the LEDs smoothly transition between off and full brightness, giving a pulsating Dr Who glow to your case innards.

One annoyance is that it doesn't remember which setting you chose. Select the effect you like, power the machine off and when you restart it will be back to the first option instead of the one you chose. A rotary dial switch instead of the momentary-contact one used would be a cheap way for it to remember the setting you preferred.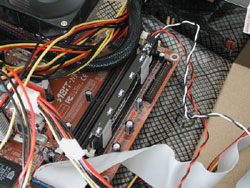 I think the clip system needs a little work too. On a heatspreader-equipped RAM module, the clip is spread so wide that one side would clash with a RAM stick in the next slot on most motherboards. You can manage it by having the wide part of the clip protrude away from the next stick of course, but it'll get complicated if you have several sticks with LED kits on them. The clips can be used on a stick without heatspreaders and they do allow you to move this kit from stick to stick with little effort.

Of course, nobody's forcing you to stick these things to your memory. You could quite easily stick them to hard drives, case insides, the edge of your video card or the bottom of your PSU, for example. You could also mount the switch anywhere there's a suitable hole, or anywhere you can drill one.

But if you do stick them to your memory, here's what they look like: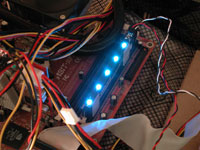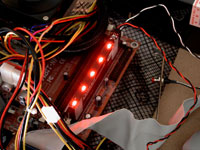 Pretty snazzy! Of course, this image doesn't convey the various patterns the unit can display. On PC Range's page for this product they have some animated GIFs showing the sequences.

AUD $19.95 for the blue or red one or slightly more for the green one isn't unreasonable. If you'd like to spice up the look of your RAM, this kit seems a very simple way to achieve it.

Thanks to PC Range for providing the review samples.
---
Advertisement:


All original content copyright James Rolfe.
All rights reserved. No reproduction allowed without written permission.
Interested in advertising on OCAU? Contact us for info.

---
Recent Content


Team Group C440 Cardea Ceramic M.2 NVMe SSD


Synology DS720+ NAS


Raspberry Pi 4 Model B 8GB


Retro Extreme!


Intel Core i9-10980XE


AMD Ryzen Threadripper 3960X


Team Group T-Force Vulcan 500GB SATA SSD