NYKO AirFlo Mouse
Join the community - in the OCAU Forums!


Everyone knows how important a good mouse is. For a gamer it can be the difference between life and death, and even to the average user having a good mouse adds to the overall computing experience. On review today is the AirFlo mouse manufactured by NYKO, but this not an not ordinary mouse as you will find out.

The NYKO AirFlo mouse has a small built in fan that vents cool air through the walls of the mouse and onto your fingers and palm. Great idea for those people who suffer sweaty palms or are into the PC gaming scene and tend to get a little sweaty during intense fragging sessions!

As well as this mouse, NYKO are producing a range of Air Flo products such as assorted Playstation and Xbox controllers (some wireless) all bearing their patented Air Flo™ technology, designed to keep you cool under the most stressful of gaming scenarios.

But enough of the talk, and onto the mouse!

Specifications:
3 button scroll wheel mouse
850 dpi optical sensor
Certified USB
The mouse comes in a very fancy box! No instructions included, only what you find under the flap on the front of the box; but who needs instructions for a mouse ;)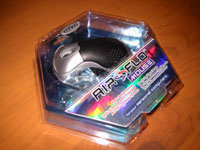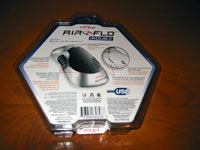 After spending five minutes opening the plastic box (!) carefully I find the beast on all its glory. I was expecting the mouse to be heavier than my previous MS Optical, but I was quite surprised at how light it felt.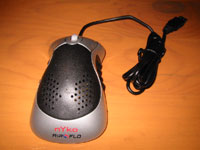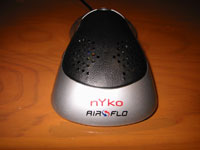 The AirFlo mouse has four vents, each with a set of holes for air flow – one set on each side and 2 on top for the palm of your hand. The two side vents have rubber ribs also, to aid in grip presumably.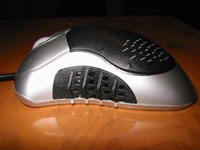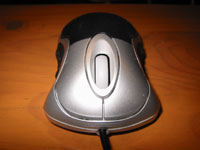 But I haven't really touched on the main feature of this mouse yet! The fan hidden inside the mouse pushes air through the vents on the top and sides. The mouse actually has three states of air flow - "0", "I", "II" with "0" being off, "I" being low and "II" is high. The switch to control air flow is nicely located underneath the mouse, out of sight, but easily accessible unless you have large fingers with no finger nails! The switch is located underneath and towards the top: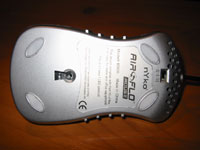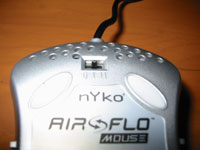 Results:
Setting "I" is very slow and only slightly noticeable. Setting "II" is high and does quite a good job of cooling ALL of your hand, although it is a little hard to get a hand sweat going during winter for testing. ;) The fan does feel good on your palm and is not distracting in any way.

Aside from having this great feature, it is actually useful as a mouse! The buttons have a pleasant soft touch to them and the mouse glides across my desk much, much more easily than the previous MS Optical mouse I was using. It is a different shape though, so it is taking some time to get used to - especially the buttons which have quite a sharp angle about them, almost a 45 degree slope downwards. The ventilation holes emit a faint red glow when powered: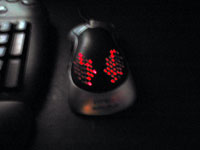 I'm currently running the mouse off a PS/2 connection with no problems whatsoever. However, to run it off a PS/2 connector I had to use a USB to PS/2 adapter. Unfortunately the package did not come with this connector.

So far I'm finding this mouse to be excellent in design, movement and added cooling functionality. I am also noticing the benefit of the higher dpi (850) compared to my previous mouse which had only 400dpi. Movement is certainly more responsive within Windows and gaming shows quite a big overall improvement; it certainly adds to the gaming experience.

Having said this though, the mouse does have one major drawback I have not yet discussed. When placing the air flow setting on low and high settings there is a noticeable buzz emitted from the mouse. It is not a very loud buzz but it certainly is noticeable. The buzz wouldn't be noticeable when the sound is pumped up during heavy gaming sessions. You may also be thinking about vibration. There is no vibration from the mouse whatsoever when placed on the desktop, but if you lift it into your hand you can feel it slightly.

Conclusions:
The mouse does what it has been designed to do; cool your hand if you suffer from sweaty hands during intense game play. It does this job quite well. In terms of looks it is nicely shaped mouse with quite a bit of "style", with a silver finish and black rubber inserts/ribs covering the cooling vents. It would have been nice to get a couple of extra buttons, although not really essential.

Pros:
Feels like it's gliding on air – very smooth
Air Flo™ fans for cooling sweaty hands. This works quite effectively
Ability to regulate air flow via a control switch, and even turn it off when not necessary
Quite an improvement in button feel over previous mouse; very soft to the touch
Given the extra feature of fan cooling and high dpi it is priced about right
Very light
Cons:
Annoying buzzing noise, which while gaming will not be noticeable, you can definitely hear it though
Switch is a little on the small size. If you have big fingers and no fingernails this could be a problem
As far as I'm aware it does not come in a wireless version
Did not come with a USB to PS/2 adapter
Recommended retail price is $59.95 but I picked mine up from David and Karma's PC Cooling Gear for $49.00.
---
Advertisement:


All original content copyright James Rolfe.
All rights reserved. No reproduction allowed without written permission.
Interested in advertising on OCAU? Contact us for info.

---
Recent Content


Team Group C440 Cardea Ceramic M.2 NVMe SSD


Synology DS720+ NAS


Raspberry Pi 4 Model B 8GB


Retro Extreme!


Intel Core i9-10980XE


AMD Ryzen Threadripper 3960X


Team Group T-Force Vulcan 500GB SATA SSD