Advertisement:

VIA EPIA CL6000E Motherboard
Join the community - in the OCAU Forums!


Introduction, Features

Today we're going to have a look at one of the more recent incarnations of the VIA EPIA platform, the CL6000E. VIA EPIA motherboards are mini-ITX form factor with integrated VIA processors - ideal for building into systems where it's desirable to have something small, quiet and relatively cool-running.

The EPIA CL series motherboards are clearly aimed at networking applications rather than intense gaming or workstation tasks. However, they boast plenty of onboard features - especially when you consider their small size. The CL6000E's fanless design and dual onboard LAN configuration means that it's very quiet, and no extra PCI cards are required to connect to both an ethernet modem and a LAN. This means it's perfect for router or firewall tasks in a tiny space - as the board can be mounted in a very small and quiet enclosure.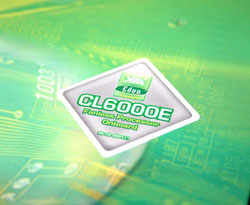 There are currently two CL series EPIA motherboards available - the CL10000E, which features a 1GHz C3 Nehemiah CPU and requires a heatsink/fan, and the CL6000E which we are reviewing today. This sports a fanless 600MHz Eden low voltage CPU.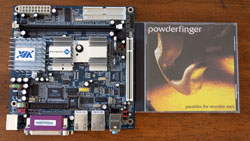 After getting the motherboard out of its box, it's soon apparent just how small it really is. The mini-ITX form factor is nominally 17cm x 17cm, which is not a lot bigger than a CD case.

The retail package includes the standard accessories along with the motherboard - a backplate, cables, a nice printed manual and driver CD.

Features and Specifications: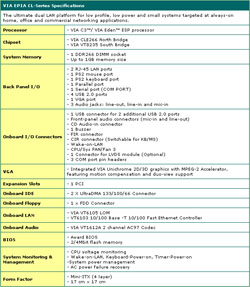 click pic to enlarge


The specifications of the motherboard are quite impressive. Dual LAN, 6 x USB2.0 ports, 2 x ATA133 channels, up to 1GB of RAM and integrated video adapter with MPEG-2 acceleration are the highlights.

Motherboard layout:
The motherboard layout is a little different to most boards you may have seen, but it's well thought out and remarkably neat, with some nice little touches. Let's have a closer look.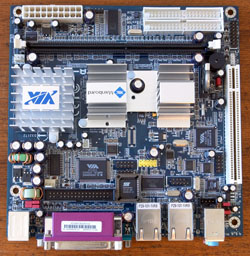 Looking at an overview of the CL6000E, we can see that it's uncluttered, with the back panel ports along one edge (as you'd expect). The processor and motherboard chipset sit under two passive heatsinks mid-board, and the DIMM slot, IDE connectors and standard ATX power connector are on the other side. A single, lonely looking PCI expansion slot sits down one side.

My first impression was "wow, how did they fit everything onto such a small board", and I'm still amazed, to be honest. It's a very well engineered motherboard.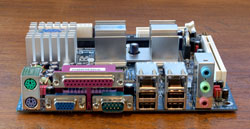 The back panel connectors include (from left to right):
Standard PS/2 mouse and keyboard connectors
Parallel, serial and VGA connectors
Two banks, each containing an RJ45 10/100 network port and two USB2.0 ports
Standard analogue line in/out and microphone audio jacks
---
Advertisement:


All original content copyright James Rolfe.
All rights reserved. No reproduction allowed without written permission.
Interested in advertising on OCAU? Contact us for info.