Advertisement:

Antec NoiseKiller
Join the community - in the OCAU Forums!


Antec have made themselves known with quiet and well built cases, power supplies and colourful fans. This new NoiseKiller offering from them is for people who want nice quiet PCs. They're available for 80mm and 120mm case fans and for PSUs. Since my case fans were louder than my CPU heatsink+fan (Zalman CNPS7000A), when I first saw the NoiseKillers I immediately jumped up and ordered one. 1 day later and I had an Antec NoiseKiller for 80mm fans in my hot little hands. Note that the Antec NoiseKillers will not completely quieten the air-movement noise of a fan - they work by removing vibrations between the fan and the case.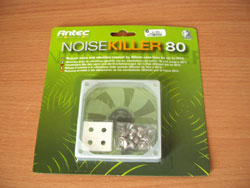 This is how the package arrived out of the parcel – simple, colourful and nicely presented.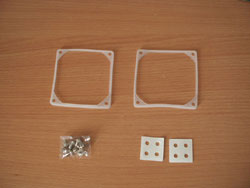 Upon opening the package I was greeted with 2 silicone gaskets (for 2 fans), 8 silicone washers and 8 screws (with some more washers already fitted on them).

Installation:
Fitment was pretty straight-forward. First, fit one of the gaskets to the side of the fan contacting the case: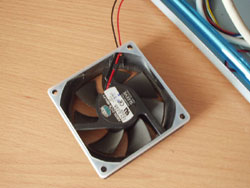 Now screw the fan to the case using the screws: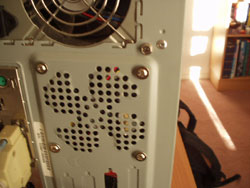 The extra 8 washers are for removing vibrations and noise from any other equipment in your PC, like the Northbridge fan…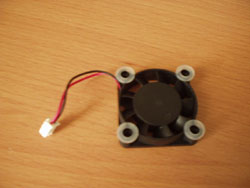 And remounted…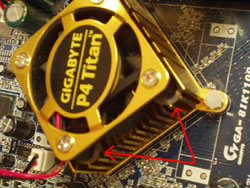 However, in the case of Gigabyte motherboards with small heatsinks that have little fan mounting space, some modding was required. The fan didn't spin due to the washers jamming the fins. A bit of stanley knife action and all is well: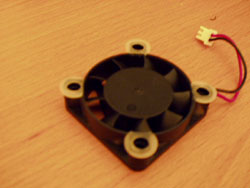 Conclusions:
I didn't have access to any sound level meters, but I was pleasantly greeted with a somewhat quieter PC. My case no longer had evil vibrations and noise that could be heard in the next room. The packaging says that it will "Reduce noise and vibration by up to 80%", but I would estimate it to be around 50%-60% quieter.

I got mine from Scorpion Technology. At around $18 it's well worth it for anyone who needs to remove unnecessary noise from their PCs. Thanks to Antec for yet another great product.

Antec products are distributed in Australia by Altech Computers.
---
Advertisement:


All original content copyright James Rolfe.
All rights reserved. No reproduction allowed without written permission.
Interested in advertising on OCAU? Contact us for info.

---
Recent Content


Team Group C440 Cardea Ceramic M.2 NVMe SSD


Synology DS720+ NAS


Raspberry Pi 4 Model B 8GB


Retro Extreme!


Intel Core i9-10980XE


AMD Ryzen Threadripper 3960X


Team Group T-Force Vulcan 500GB SATA SSD