Advertisement:

Xice ExternalCool Watercooling Kit
Join the community - in the OCAU Forums!


Introduction

Water-based PC cooling generally attempts to take one of two approaches: it can be designed for maximum cooling performance or it can aim to be as quiet as possible. Often our reviews concentrate on extracting the maximum performance from your PC equipment, but Xice - a German company - have taken the alternate approach. Today's review unit, the Xice ExternalCool EC900 Off-Center 'Clip', is a "high quality hand-crafted products for passive liquid cooling of PC's". The box that the unit arrived in proudly proclaims: "no noise comes true" - Xice have designed the ExternalCool to provide true 'silent computing'.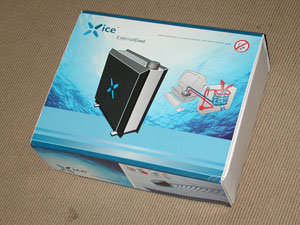 I'm fairly certain that the Xice designers also had another well known approach – commonly known as KISS - in mind when they put together the ExternalCool kit. Given that the Xice's design is targeted clearly toward 'no noise computing' and that the unit is relatively expensive, it will be interesting to see how it performs in terms of both cooling performance and noise levels.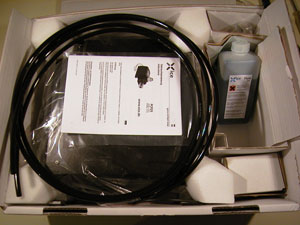 The box itself is fairly large at 460x380x160mm and when opened it can be seen that the ExternalCool unit itself takes up most of the room. The ExternalCool unit, as the name suggests, is designed to be positioned outside the computer case and is the heat exchanger or radiator component. The solid cardboard box and foam corner pieces enclose the ExternalCool unit and protect it well during transit. Unfortunately our bottle of Xice fluid developed a leak during transit, apparently because the cap was over-tightened, so some of the fluid leaked into the box. Luckily, while this did result in some wet and mouldy smelling cardboard, there was no other damage.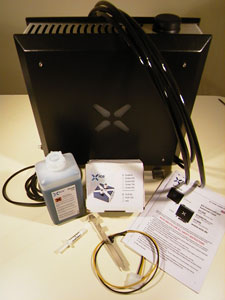 The content of the Xice ExternalCool kit – with only a handful of components – really outlines the 'keep it simple' principle. The highlight of the kit is the large black ExternalCool unit itself. Also included is the Xice xpk (more commonly known as a waterblock), tubing, coolant fluid, a PCI backing plate with a power connector, a bunch of instruction booklets and some thermal paste. The included thermal paste is actually Arctic Silver Ceramique, which is a nice touch. Xice supply the ExternalCool kit with either an AMD or Intel xpk, and while the waterblock is the same in both cases the side clip's mounting mechanism is different.

Our review unit, the Xice ExternalCool EC900 Off-Center 'Clip', contains two main components, the ExternalCool unit and the waterblock. The 'EC900' designation indicates that our kit contains a 12 Volt pump that is powered via the PC power supply. Xice also provide a range of 'EC600/H' kits that have 230 Volt/50 Hz pumps that are powered by a wall-socket (presumably with European style plugs).

The waterblock - in our case the Off-Center 'Clip' model - is designed to fit on socketA/462 CPUs such as AMD's AthlonXP or Duron. The side clips that hold the waterblock in place attach via the usual plastic lugs found on these CPU sockets (see the next page for full details). Although Xice advertise the mounting mechanism for use with AMD CPU's, I can see no reason why it would not work for any CPU mounted in a socket with the 3 socket lugs on each side, such as Socket 370 (Pentium 3 and Celeron) CPU's. Although Xice do also supply, at an additional cost, a Socket 370 side clip.

Two additional CPU mounting types are also available: Center 'Clip' kits and Center 'Bolt' kits. Xice's Center 'Clip' CPU mounts, are for Intel P4, Socket 478 CPUs, and have side clips with tabs at the base which are designed to be snapped into the motherboard's plastic mounting brackets - so there is no need to remove the plastic brackets as there is with many other after-market coolers. The the Center 'Bolt' CPU mounts, for Socket 478, 604, 754 and 940 CPUs, use one of three different top plates, and a bolts to attach the waterblock via the holes in the motherboard.

Xice's website indicates that each kit is hand made and tested before it is shipped, even going as far as providing a 'lead time' indicator to let you know how long after your order is placed shipment would be expected. Sales of the Xice units are also via their website, at this time we are not aware of any local stockists, but the order form appears to be in German only. Xice also stock a number of GPU waterblocks and other accessories, which would probably be worth looking into to ensure your computer was as quiet as possible. A two year warranty is provided with each Xice unit purchased.

Our ExternalCool EC900 Off-Center 'Clip' is priced at 339,00 EUR, but this includes 16% 'compulsory general sales tax' (46,76 EUR) which may not be required for non European purchasers. Xice's order form appears to indicate a 18,00 EUR postage charge for 'world' delivery, however, their terms and conditions suggest that "possible delivery charges be obtained via telephone or email before making a purchase". This makes the Xice ExternalCool kit fairly expensive - it will cost you about AUD$500 to $600, depending on shipping and VAT.


---
Advertisement:


All original content copyright James Rolfe.
All rights reserved. No reproduction allowed without written permission.
Interested in advertising on OCAU? Contact us for info.

---
Recent Content


Team Group C440 Cardea Ceramic M.2 NVMe SSD


Synology DS720+ NAS


Raspberry Pi 4 Model B 8GB


Retro Extreme!


Intel Core i9-10980XE


AMD Ryzen Threadripper 3960X


Team Group T-Force Vulcan 500GB SATA SSD