Kat from QLD's P2-350 @ 522MHz
Join the community - in the OCAU Forums!
| | |
| --- | --- |
| | |


Kat from Queensland sent along this picture of his P2-350 at an impressive 522MHz: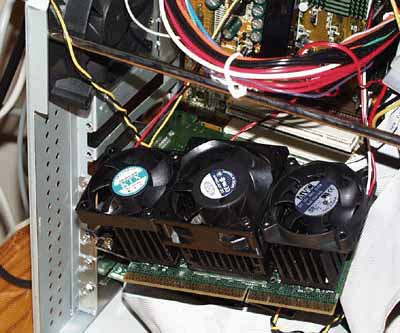 Instead of getting a heatsink for PII, someone bought me a heatsink for a slot1 celeron. In order not to waste my bucks (the heatsink cost around 40 bucks) I had a huge operation on the CPU to take the PII case off.

The fan that originally came with the heatsink is the "AVC" one which is now on the right end of the heatsink. Since it was designed originally for celeron, I think it ain't powerful enough to cool the heatsink and as you can see I added two extra fans on top of the heatsink. The one in the middle is one I got from my K6-200, and the one on the left is from a K6-2 300 (which has the fastest RPM of all three fans)

When I tried the CPU on my MSI 6163 the very first time, the system runs so unstable, it hangs even on the default of 350MHz. It still the same after I change the volt to 2.20. I found out that the temperature measured from the BIOS is pretty hot (about 45c) but the heatsink ain't hot at all, so there must be some problem with the connection between the heatsink & CPU.

I was right on that one, the CPU surface wasn't touching the CPU properly. So I used some Unick Silicone Heat Transfer Compound to fix the problem. Bingo~ now the system runs fast and stable at the standard voltage of 2.00v at 3.5 x 148 = 522 (should have been 518, but anyway) after I gave it a test run on playing 2 vcdz at same time on my 2 CD-ROMs for 48hours.

Here's list of my parts in my comp.

Intel Pentium2 350Mhz CPU
2 x 64 Hitachi PC100 SDRAM
(The Hitachi and Samsung's ram can handle up to 133 or even 148
I was originally looking for Samsung's, but they are too rare in Australia. Also, the Simens' can only handle up to 124)
MSI 6163
Gigabyte GA300 16M Banshee AGP
6.4 Quantum EX
SoundBlaster Live! Value
Iomega Internal IDE Zip Drive
Aopen 48x CDROM
TEAC R55s 4x write 12read CD-R
Adaptec 194x ISA SCSI Card
SONY 15" SF200
Win98

This article originally appeared here.
---
Advertisement:


All original content copyright James Rolfe.
All rights reserved. No reproduction allowed without written permission.
Interested in advertising on OCAU? Contact us for info.

---
Recent Content


Team Group C440 Cardea Ceramic M.2 NVMe SSD


Synology DS720+ NAS


Raspberry Pi 4 Model B 8GB


Retro Extreme!


Intel Core i9-10980XE


AMD Ryzen Threadripper 3960X


Team Group T-Force Vulcan 500GB SATA SSD