Connectland 2-Port PS/2 Mini KVM Switch
Join the community - in the OCAU Forums!


The idea of a keyboard / video / mouse switch, or KVM switch, is not new. The historical problem has always been the sheer expense of them. The ability to connect a single keyboard, monitor and mouse to several PC's, switching between them without having to unplug cables, is extremely handy and invaluable in terms of space saving in a corporate datacentre. Aimed at the corporate market, KVM switches like the Cybex Commander series I remember using in 1995 tended to be priced well beyond the means of enthusiasts - both for the unit itself and the extra, poprietary, cables from the switch unit to each PC.

I've known a few people, including myself, who have inherited old KVM switches from work or bought them at auction, to discover the second big downfall of oldschool KVM switches - a lack of support for higher resolutions. Considering most of the old switches were designed in the days of servers with text-mode consoles, the switching electronics and the long cables used just don't cope with carrying a high-resolution, high refresh-rate video signal. Most enthusiasts only ever want to switch between two, or maybe four, PC's, so what the market really needs is a cheap 2- or 4-port KVM switch that can handle high resolutions and doesn't require separate expensive proprietary cables. Over the last couple of years there's been a few such devices appear, and today we're looking at one from Connectland, sent over for review by Peridyme, their Australian distributor.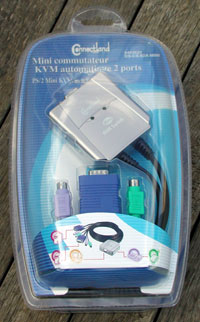 This 2-port PS/2 KVM comes in a basic destroy-while-opening blister pack, requiring a Stanley knife or similar to cut it open. The contents of the package are simple, being the silver KVM unit itself, two permanently-attached sets of KVM cables and two small manuals, one in English, one French.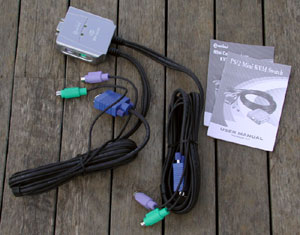 The cables included with the unit are impressively long - the manual states 6 feet, but by my measurements they're closer to 5.5 feet, or 170cm. The manual advises that you can use normal VGA or PS/2 extension cables - provided good quality cable is used you can apparently go to about 20 feet.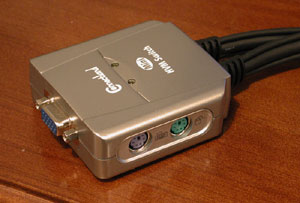 The unit itself is simple, with two PS/2 connectors for mouse and keyboard, a 15-pin VGA connector for video, and two LEDs to show which port is currently active. I couldn't find any info on the availability of a USB or 4-port version, although Connectland do also make a more traditional box-shaped KVM with 4 PS/2 ports. The Mini KVM supports up to 104-key keyboards.

Usage:
Operation of the Mini KVM is extremely simple. In fact, it seems designed to be connected, then tucked away and forgotten about. You control the switching via the connected keyboard, so you don't need access to the Mini KVM at all. Two taps of the scroll-lock button then uparrow or downarrow will switch you to the next PC. Or, tap scroll-lock twice then the number 1 or 2 to select a specific PC. You can even leave it automatically switching between the PC's every 8 seconds, by tapping scroll-lock twice then hitting S. This 8-second interval is not configurable, but seems fine for monitoring the status of two servers or two Folding boxes. When you tap the scroll-lock key the Mini KVM beeps quietly. A quick experiment in Excel reveals that you don't lose scroll-lock functionality when using the KVM. The mouse's scroll-wheel works fine on both PC's also.

Connectland rate the Mini KVM as being able to handle up to 2048x1536 resolution and 400MHz of video bandwidth. Both of those are very high - so high in fact that I can't test the upper limits on the monitors I have here. Using a 19" AOC CRT, a 17" IBM P70 (Trinitron) CRT and a PolyView PT-725A 17" LCD, I tested a range of resolutions from 1600x1200 @ 75Hz to 800x600 @ 120Hz. The image remained sharp and bright for desktop work or gaming, so no complaints there.

A couple of other KVM-specific niceties are provided by this unit. The ports are hot-pluggable, so you can connect or disconnect PC's without having to shut the PC or KVM down first. The KVM will respond to ports even when you're looking at the other PC. So, you can reboot PC 1, flip back to PC 2 and keep working - PC 1 won't stop with a "no keyboard present" error. The only limitation is that you shouldn't switch while the PC is in the middle of rebooting, and you shouldn't use the keyboard and mouse while you're switching - presumably interrupted signals could confuse the PC. Of course, being a completely hardware-based solution, there's no drivers required and it's completely operating-system independent.

Conclusions:
This handy little gadget from Connectland works exactly as advertised. If you're looking to save space on your desk, or simply save the cost of a second monitor, keyboard and mouse, it's definitely worth a look. Peridyme list a RRP of $121 AUD inc GST, which is a little more than I expected, but reasonable enough compared to the cost of a second monitor.

Thanks to Peridyme for providing the review unit.
---
Advertisement:


All original content copyright James Rolfe.
All rights reserved. No reproduction allowed without written permission.
Interested in advertising on OCAU? Contact us for info.

---
Recent Content


Team Group C440 Cardea Ceramic M.2 NVMe SSD


Synology DS720+ NAS


Raspberry Pi 4 Model B 8GB


Retro Extreme!


Intel Core i9-10980XE


AMD Ryzen Threadripper 3960X


Team Group T-Force Vulcan 500GB SATA SSD