A.C.Ryan Backy
Join the community - in the OCAU Forums!


Here's a quick little gadget from A.C.Ryan, a relative newcomer to the modding accessories scene. They call it the "Backy", and it lets you connect various things that are normally found only inside your PC, to the outside.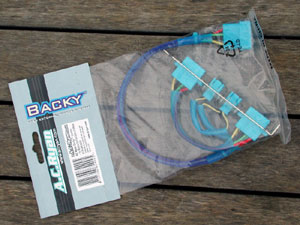 This particular model is the "2x Molex 2x Fan3pin UVBlue" and contains, as per the name, two four-pin Molex power connectors (for hard drives, etc) and two three-pin fan connectors. In fact, only two pins are present on the connectors - the RPM-monitoring pin is not connected. The whole unit is powered from a single Molex plug inside the PC, so there's no way to pass that monitoring-pin signal back to the motherboard or a fanbus, short of running a single wire from each plug.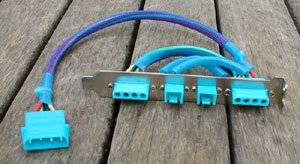 The "UVBlue" in the name refers to the fact that the Backy glows when exposed to UV light, like many case-modding accessories nowadays. There are other versions available - the back of the pack says "Molex 1x, Molex 3x, Combo Molex & Fan, SATA Combo, ATA133" and other versions are available, and to watch out for more. Their ATA cables are apparently EMI shielded and you can also get EMI shielded external cables in other configurations.

Installation is simple - Backy replaces a single PCI slot cover at the back of your PC and plugs into a single Molex power connector from your PSU. The power cable has some UV-reactive blue mesh on it, while the shorter lengths of cable are covered in a UV-reactive blue plastic sheathing.



I installed it in our COMSCOM Think Tank testbed. You might have to pick your PCI slot carefully if your motherboard has tall components near the PCI slot covers, as the bottom connector is quite low on the slot cover. No mounting screw or thumbscrew is provided.



Watercoolers might find this useful for powering fans and pumps outside their PC's. People with external case lighting and remote mini-LCD screens might also benefit. It's also handy if you want to quickly test something without opening up your PC. Personally I tested it with a few different fans and powered up a CDROM drive outside the case. It worked fine. I had to use a Molex extension cable to connect the CDROM drive - including one or two would have been nice, as it's reasonably likely that you'll need one to connect things to the Backy.

There's not a lot more to say. You could probably build one of these if you set your mind to it, but if you're like me it'd take you all day to buy and assemble the components and it'd end up looking really dodgy. This product seems pretty well-finished and works as advertised. Backy apparently retails for about $12 USD, but I'm not sure who sells it in Australia yet. I've emailed them as per this page and will update this review when I get their reply.

Update: Within minutes, they replied suggesting CoolPC is the place to go for Backy in Australia. No sign of it or a price on their site as yet.

Thanks to A.C.Ryan for providing the review sample.
---
Advertisement:


All original content copyright James Rolfe.
All rights reserved. No reproduction allowed without written permission.
Interested in advertising on OCAU? Contact us for info.

---
Recent Content


Team Group C440 Cardea Ceramic M.2 NVMe SSD


Synology DS720+ NAS


Raspberry Pi 4 Model B 8GB


Retro Extreme!


Intel Core i9-10980XE


AMD Ryzen Threadripper 3960X


Team Group T-Force Vulcan 500GB SATA SSD