Case Painting with Frank
Join the community - in the OCAU Forums!
| | |
| --- | --- |
| | |


Frank's solution to boring beige boxes!

Hi,

My nickname is [CD]. I'd like to share with you my thoughts on colours. To be more exact, the lack thereof. You see, as computer users, we've put up with computer beige for decades now......why can't we choose our own colours just like any car buyer? (or a Nokia 5110/6110/3210 owner)

If you spend a lot of time infront of your computer, the least you could do is make it "pretty". Say goodbye to the plain, old beige.....invent your own iPC.....and choose from over 100 colours available on the market.

I use TAMIYA model paint (spray can) because of the HUGE selection of colours available and the quality of the finish of the paint. These paint cost around $9-$10 at hobby shops or at a Mr Toy's Toystore. They come in 2 variaties - normal Acrylic (code: TS-xx) and Polycarbonate (code: PS-xx). Acrylic is for normal plastic and metal....and Polycarbonate is for Radio Controlled cars with the vacuum formed shells. Polycarbonate is peel-resistant and costs $1 more. I think it's more durable than normal, but someone at Mr Toys told me that Polycarbonate eats plastic.......well, it hasn't eaten up my case yet......so you can still use that on some kinds of plastic.

The colour I decided to experiment with my case (Aopen HX-48) is Gun Metal (code: PS-23). It's basically a dark, metallic gray colour that looks very close to black, except that it looks much more futuristic and modern.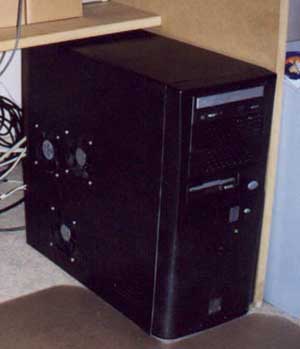 First I took the case apart, separated the front panel from the case frame and cover. I also removed the buttons on the front, and the CD-ROM face cover and floppy face cover. I then put them all on a big piece of newspaper and sprayed away. When you use spray paint, spray approx. 20cm from the object you're painting and use lots of thin coats. Lots of thin coats is better than one thick coat. It'll look more even and shiny, and have more depth. Spray one a new coat approx. every 30min. You'll probably want around 3 coats.

For the silver CD-ROM tray, floppy button + dust cover and case buttons, I just used the cheaper $4 bottle paint (also from TAMIYA). The colour name is Chrome Silver (code: X-11).

I also painted the centres of the fans on the side with the same Chrome Silver paint. Don't the fans look cool? They actually do the job too!!! The case temperature is around 2-4C above room temperature....but that's about cooling, we'll talk about that later. By the way, I've redone the holes at the front (beneath the CD-ROM), and it looks much better now.

There.....the case is done.

The Modem is metallic blue (code: TS-19) and Chrome Silver. All I did was take the plastic case apart.....and spray away...very easy, and bring some life to my crappy no-name 56k modem.

My latest project was the facelift of my newly acquired Cambridge FPS1000 speakers. Can't really beat $170 for value..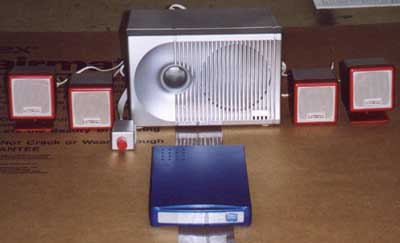 Anyway, the satellites are composed of Silver Leaf (code: TS-30) and Metallic Red (TS-18). The stands are Metallic Red. The grills are left alone (white). This makes the satellites look rather retro......and look like wood.....instead of the cheap plastic that they are. Remember to put masking over the grills.......don't want the paint to get on the drivers now.....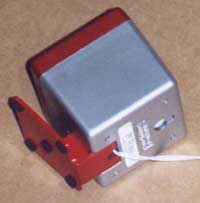 I sprayed the whole thing silver first, then put masking tape over the silver/red border, and sprayed on red. DON'T USE CELLOPHANE TAPE. The adhesive on that grabs onto the paint, and the result isn't very pleasant. Use masking tape!!!! With Silver Leaf, even masking tape may take a bit of paint with it. But it doesn't take away enough to be noticed.

The subwoofer is all Silver Leaf. I took the sub driver out of the case, and covered the holes and plugs with masking tape... (pretty obvious when you think about it). The knob is Metallic Red......

The volume control is Metallic Red + Silver leaf. Just took it apart.....and painted them separately.

Overall, I think that painting your computer is well worth it......even though many people would argue that it's a waste of time. To me, visual appeal is just as important as raw performance......so what good can a Celeron 300A o/c to 504mhz do if it's in a plain, beige case?

I hear you ask: " Why didn't you paint your monitor too? "

Well, you see, it's a 15" ......and I'm saving up to get a 17" or 19" .....so if any one of you own one of those, please email me and tell me about your experience with your particular 17" or 19" monitor.....I'd appreciate it.....

When I eventually upgrade my monitor, I'll paint the front section (b4 the holes on the sides) metallic red, to match the speakers.

Well, hope this hasn't been too boring.....hope to see your computer coloured!!!

Disclaimer: I'm not liable for any events or damages that arise directly or indirectly from the contents of this article. You are doing this at your own risk.

This article originally appeared here.
---
Advertisement:


All original content copyright James Rolfe.
All rights reserved. No reproduction allowed without written permission.
Interested in advertising on OCAU? Contact us for info.

---
Recent Content


Team Group C440 Cardea Ceramic M.2 NVMe SSD


Synology DS720+ NAS


Raspberry Pi 4 Model B 8GB


Retro Extreme!


Intel Core i9-10980XE


AMD Ryzen Threadripper 3960X


Team Group T-Force Vulcan 500GB SATA SSD