Advertisement:

Travel Easy Cable Bag
Join the community - in the OCAU Forums!


Ever been in that situation where you've got every cable, except for the one you need? Usually it's the wrong gender, or has a different-size connector, or you just plain forgot it. This handy little kit aims to lessen the chance of being stuck without connectivity, by combining a huge number of connections in a little carry case.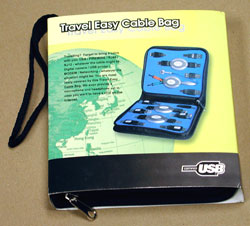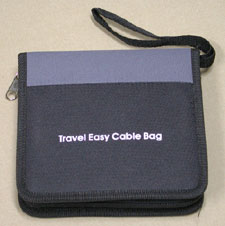 The packaging is nice enough, a cardboard sleeve covering the case itself. It's about the size of a CD and in fact looks quite a lot like a CD wallet. Once you open it up, however, the coolness factor increases a lot: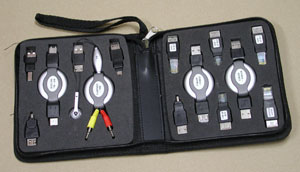 Inside are 4 retractable cable spools (the silver ovals) and 10 adapters. The spools extend out, to about 1.1M or so long. They're a bit like roller-blinds, in that you pull them partly or fully out and they lock, then another pull and they spring-rewind again.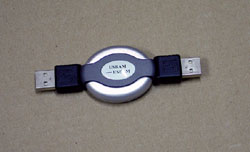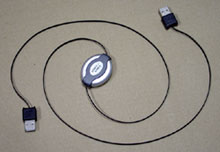 The adapters attach to the ends of the spools and provide a vast array of options for connecting things to other things. For example, on the right side of the case we have two USB spools - one spool has two male connectors and the other spool has one each of male and female. The male USB adapters convert to either 4-pin mini, 5-pin mini or B mini. The female adapters connect to RJ45 (etherner jack, two provided), RJ11 (telephone jack, two provided) or RJ45 crossover for making an ethernet loopback cable. There's also a USB gender-changer provided, so you can use the connectors in a variety of ways on each spool.

There's also a IEEE1394/FireWire spool, with a FireWire to 4-pin mini connector, and an Audio spool which has a microphone and earphone connecting to two micro-phono jacks. I guess the connectivity options are best explained by the diagram on the back of the packaging: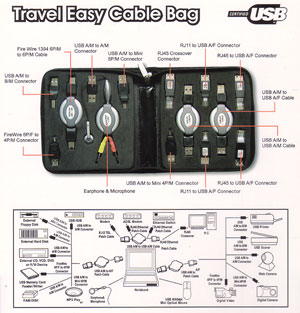 Here's one partly-extended spool configured as an RJ45 cable, for example, which you could use to connect a PC to a LAN. Use the crossover connector to join two PC's together, or to connect your Xbox to your PC, etc. Note that it's not carrying all pairs of the RJ45 connector - as you can see in the close-up below. I have a cable tester which doesn't register this cable at all, but I type this I am connected to my switch using it, connected to IRC, downloading email and webpages etc with no problems.



Note also that some combinations of connectors are probably not a good idea. Running USB to RJ11 isn't going to magically create a USB modem, for example, and the way the pins end up being connected might confuse/damage devices on either end. However, there would be very few commonly-encountered connectivity situations where you couldn't use this kit to get things working.

I haven't benchmarked the cables in comparison to a normal cable, because you wouldn't really use this kit as a long-term solution anywhere. The cable in the spools is extremely thin and doesn't seem to have any twists or shielding, so even though it has RJ45 connectors I doubt you could run Gigabit Ethernet over it. However, I have tested connectivity with USB, 100Mb Ethernet, 100Mb Ethernet Crossover and even ran a 56k modem connection over the RJ11 link - all worked fine with very usable transfer speeds. I couldn't test FireWire as both my FireWire devices (DV camera and laptop) have the small connector, while only one is provided with this kit.

A couple of minor complaints: firstly, it's a little tricky to get the connectors out of the foam packaging in the case with just fingers. It's easy if you have a pen or something handy, though. Secondly, the tabs on some of the plastic headshell connectors (particularly the RJ45 ones) are quite fragile. I stupidly stood on the RJ45 crossover connector at one point and broke the locking tab off it, which I can't blame the kit for, but mysteriously one of the other connectors has a no-longer-springy connector on it too, which must have happened during normal use. The connectors still work fine, but they can be easily pulled out of the socket now the locking tab is broken.

Female connectors for RJ12 and RJ45 would have been a nice inclusion, allowing this kit to be used as a last-meter (literally) extension lead. In fact, they could have simply included RJ45 female, because RJ12 male will fit it.

Conclusions:
Every geek I've showed this kit to has said something along the lines of "wow, how cool, where can I get one?" I'm inclined to agree. Next time I have to go fix a PC problem somewhere, or even just rely on my laptop in a remote location, I'll be throwing this kit into my tool bag for sure. You never know when you're going to need some obscure combination of connectors and this handy little case covers a whole range of situations.

Thanks to Anyware, the distributor, for providing the review sample. A quick sniff around reveals a street price of about $45-$55 AUD.
---
Advertisement:


All original content copyright James Rolfe.
All rights reserved. No reproduction allowed without written permission.
Interested in advertising on OCAU? Contact us for info.

---
Recent Content


Team Group C440 Cardea Ceramic M.2 NVMe SSD


Synology DS720+ NAS


Raspberry Pi 4 Model B 8GB


Retro Extreme!


Intel Core i9-10980XE


AMD Ryzen Threadripper 3960X


Team Group T-Force Vulcan 500GB SATA SSD