Advertisement:

A4Tech BatteryFree Mouse
Join the community - in the OCAU Forums!


Introduction and Features

Ah yes, the humble mouse; moves your pointer swiftly from one side of the screen to the other, with little effort. Every neo-modern computer user sees it as just another part of the whole shebang, oblivious to the technical marvel that it really is. The mouse was invented in the 60's by Douglas C. Engelbart, it was a rather wooden affair, quite literally: the very first working prototype was made of wood!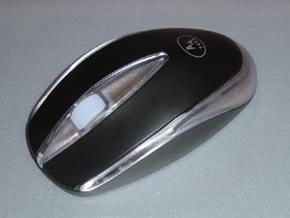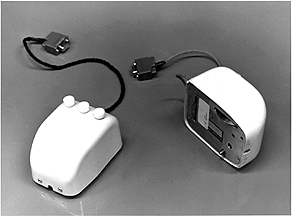 Left: A4Tech's BatteryFree Wireless optical mouse. Right: Early prototype mice - chunky!


Of course it wasn't until the early eighties, when Wozniak and Jobs invented the Apple macintosh, that the majority of people started to use a mouse. This was really a chicken and egg situation: why have a mouse, if you don't have a GUI (graphical user interface) to control with it? The mouse remained primarily the same for many years, coming out in various incarnations, with essentially the same basic mechanisms: rollers that adjust x / y co-ordinates. Eventually came the optical mouse, and more recently the laser mouse. Of course, somewhere along the way, the mouse lost its tail, initially using infra-red waves, then RF waves, then bluetooth. All these types of wireless mice have one thing in common: they all required batteries, or recharging. There have also been tablet-based mice-like devices, which rely on the "pad" to do the positioning, and although that technology would seem relevant to this article, it really isn't, as you will see.

Today we look at a wireless mouse that doesn't require recharging, as a matter of fact, it doesn't even HAVE batteries. It's the A4Tech BatteryFree mouse and it comes complete with a "magic" mouse pad - or so the packaging will have us believe. A4Tech has been releasing value-class mice for many years, but this one is a bit different. It's clear from looking at the construction of the mouse that it's better than average quality and nicely finished. A4Tech have a patent on the induction technology used in this mouse, and on the implementation of RFID in this mouse. This is a new way to use these existing technologies, but is it better? Read on to find out!

Technology:
Although the mouse doesn't have it's own power store, it still requires power; the power comes from the mouse pad, via induction. Induction is the process by which charge is created in a conductor by the presence of and movement through an electric field. In essence: a current will appear in a wire passing through a magnetic field. Commonly this is done by using a tightly wound coil of wire, placed adjacent to another coil that is electrically charged. So, the mouse is powered by the charged coil that is inside the mouse pad, via it's own inlaid coil, whenever you move it. The mousepad itself draws power from a USB port. Neat!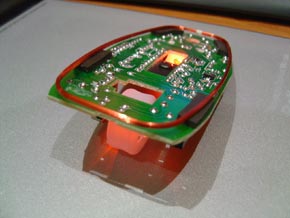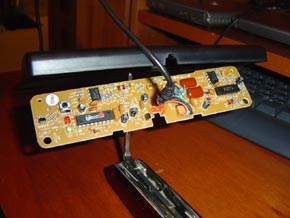 Left: Inside of mouse, showing it's inlaid coil. Right: Inside of pad, showing RFID receiver board.


The mouse uses a standard optical pickup and RFID for transmission. There isn't really much information about how the RFID transmitter/receiver works, but it is suffice to assume that it works just like any other RF mouse, just really short range. I can only guess, but it would make sense that the mouse pad scans for the signal, which contains X / Y coordinate offset information from the mouse, so essentially the mouse does no active transmission at all, rather it just changes the information contained within the RFID chip.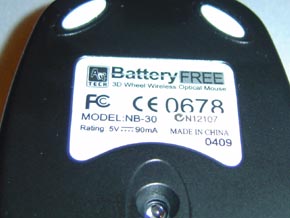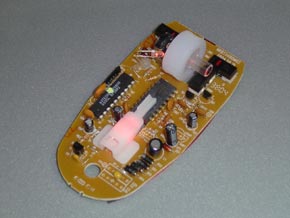 Bottom of mouse: 5v at 90mA. Right: Inside of mouse, showing circuit board.


The mouse uses, as the bottom of the mouse says, around 90mA at 5 volts. That is quite low, and can easily be supplied via the induction coil. Note the capacitors which collect the charge from the coil. The RFID worked exactly as A4Tech said: no interference with the RF mouse. I actually used the A4-tech, and the other wireless mice in tandem, and had no problems what so ever.



Power / run indicators and tune button


The Run indicator lights up when you use the mouse. This is not really necessary, but looks kinda cool. The power indicator does what it is supposed to and the little tune button probably does as well. I pressed it, and the Run and power lights went off for a second, and then back on, which means that it tuned in to the mouse's RFID chip. You don't get a driver CD with this mouse, and you don't need one for Windows XP. A driver is available for other OSs, from A4Tech's website.


---
Advertisement:


All original content copyright James Rolfe.
All rights reserved. No reproduction allowed without written permission.
Interested in advertising on OCAU? Contact us for info.

---
Recent Content


Team Group C440 Cardea Ceramic M.2 NVMe SSD


Synology DS720+ NAS


Raspberry Pi 4 Model B 8GB


Retro Extreme!


Intel Core i9-10980XE


AMD Ryzen Threadripper 3960X


Team Group T-Force Vulcan 500GB SATA SSD