Mini RC "Super Explorer 3" Submarine and Radio Controlled Speedboat
Join the community - in the OCAU Forums!


Introduction, In The Boxes

I've always been a little afraid of deep water. It's not that I'm afraid of drowning – I can swim quite well. I'm more afraid of what's down there - in those terrifying depths lurk huge sharks that can swallow you whole, sea snakes, electric eels, lost fishing lines... it's a veritable cornucopia of wet, slimy horror.

However, thanks to two new miracle devices, I'm no longer afraid!

Introducing the "Super Explorer 3" Mini RC submarine and the... er... "Radio Controlled Speedboat". The boat doesn't really explore, so it misses out on a thrilling name.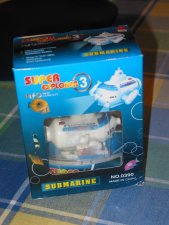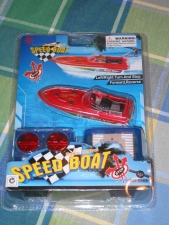 Firstly, let's have a look at the submarine...

This little gem will allow me to explore the depths of the deep end of the pool without fear, thanks to its cheerful can-do attitude and rather bright 'searchlight' LED. No longer will the bathtub be a source of anxiety attacks and bedwetting.

The simple facts of the RC Sub are this: It costs $19.95 from ToyRange.com.au, it comes with the sub itself, a controller, two spare propellers, two 'conning towers' and a charger. Yup, this cheap lil' bugger doesn't require you to feed AA batteries into it over and over: only into the transmitter. The sub itself takes its power from a mains-powered charger.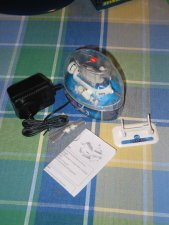 The spare propellers that come in the small dome packaging are pretty self-explanatory as to their use, but the 'conning towers' are a different story. The top of the sub has 3 small pins, that the charger clips onto to charge the internal battery, but these conning towers also sit over the top of the pins.

Inside each tower piece is a simple, everyday computer board jumper, shorting two pins and firing the sub into life. If you lose the two towers – which would be easy, considering they're the size of one and a half TicTacs – you can always just pinch a jumper off an old computer circuit board.

Reading the instructions is a mixed bag of success: the illustrations are somewhat helpful, but the engrish is rather hardcore. As some of you may know, I'm somewhat of an enthusiast for Japanese things and have studied the language for a while. I've therefore seen a fair amount of engrish, but this is a new level that I feel honoured to read. It's almost fully usable english, which is why the bits of engrish in it make it even more perplexing.

1. The propellers of the boat will spin at high speed. Do not try touch the propellers by fingers to avoid causing body hurts or motor damages.

Hmmm... body hurts... Toyrange didn't say anything about the possibilty of body hurts.

6. Keep the boat out of touch little children.

Unnnnnnh... keep the boat of what? Touch little children? Keep the children touching the boat? It's not even a boat!

It's all very confusing.

Basically, plug the charger into the wall, plug the sub into the charger. Wait. While waiting, put 4 AA batteries into transmitter. Wait. After 30 minutes or so, remove the sub from the charger, turn off charger, place 'conning tower' pin thingy over sub's 3 pins. Throw sub into nearest body of water.

But before we get completely carried away with the sub, let's look at the speedboat.

It's red, it's sleek, it has two props - for which it has two replacements - so it's gotta be good. This little gadget also has it's own internal rechargable battery, but rather than a mains-powered charger, it has a AA battery-powered charger. It takes 4 batteries and I've charged the boat up heaps of times - it's yet to fail giving a full charge. The controller also takes 3 AA batteries.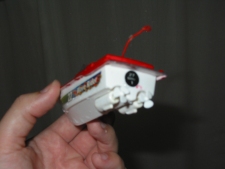 Interestingly enough, the speed boat has two prop shafts, but no rudder: it does all its turning by changing speeds and directions of the individual propellers. This is a bit disconcerting at first - it's kinda like driving a tank... that floats on water. Forward on the left propeller and reverse on the right propeller to rotate right, or just forward-left to do a right turn, etc. Once you get used to it, it's rather fun and fairly zippy. Strangely enough, it's much faster in reverse than in forward. I suspect this is because the props are somewhat hidden from the water by the hull of the boat. In reverse, the props are fully open to the water and give it a good thrashing.


---
Advertisement:


All original content copyright James Rolfe.
All rights reserved. No reproduction allowed without written permission.
Interested in advertising on OCAU? Contact us for info.

---
Recent Content


Team Group C440 Cardea Ceramic M.2 NVMe SSD


Synology DS720+ NAS


Raspberry Pi 4 Model B 8GB


Retro Extreme!


Intel Core i9-10980XE


AMD Ryzen Threadripper 3960X


Team Group T-Force Vulcan 500GB SATA SSD