Advertisement:

DDR2 Takes Off: OCZ PC2-4200 Rev.2 and ASUS P5AD2-E
Join the community - in the OCAU Forums!


Introduction, Features, Timings Comparison

DDR2 memory is an evolution of DDR1, allowing for higher frequencies and accordingly higher bandwidth. DDR2's frequency starts where DDR1 ends: at 400 MHz. In addition, the industrial standardization body JEDEC has so far specified DDR2 frequencies of 533 MHz and 667 MHz. DDR2 technology is probably good for up to 800 MHz even by tight JEDEC standards. Itís therefore just a matter of time that even higher DDR2 frequencies are officially approved. DDR2 modules are typically running at 1.8~2.0 volt and therefore cooler than DDR1. Another difference is the pin count: DDR2 modules have 220 pins, DDR1 182 pins; the user needs therefore a new motherboard to run DDR2 memory. Although the benefits of DDR2 are obvious in theory, it has been off to a slow start since its introduction in summer 2004. The shelves of PC hardware suppliers reveal that DDR2 is still an exotic item. That it is more expensive than DDR1 would be still excusable. But the lack of performance in comparison to high yielding DDR1 running at 400 MHz and more at aggressive latency timings of 2-2-2 is not. That is what users experienced when they benchmarked their expensive first generation DDR2 533 running at timings of 3-3-3. Even at 667 MHz running at 4-4-4, DDR2 doesn't really outrun high-end DDR1.

This situation must bother Intel very much, as they are pioneering DDR2 with their 900 chipset family. Interestingly it was the other way around when DDR1 was introduced 4 years ago. AMD, normally not in the chipset business, even designed a chipset, the AMD760, to facilitate the introduction of DDR memory. The situation is entirely different now with DDR2. Although the industry has embraced DDR2 and all manufacturers are offering modules since mid 2004, AMD is on the sidelines obviously waiting to see what is happening. Rumor has it that they are also considering DDR2 support when better yielding DDR2 products are available. Well, they might want to have a look at our test results with DDR2 533 from OCZ, a small, but well-known US company serving the enthusiast market for high-end PC components.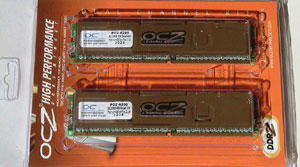 The product we are testing here goes officially by the lengthy name "OCZ DDR2 PC2-4200 Platinum Enhanced Bandwidth Revision 2 Limited Edition". OCZ is selling two modules in dual channel optimized kits with 2 x 512 MB (OCZ2533512EBPER2) and 2 x 1 GB (OCZ25331024EBPER2). OCZ PC2-4200 Rev. 2 is built with OCZ "Proprietary Enhanced Bandwidth Technology" and a life time warranty. Enhanced bandwidth technology sounds good, but we did not find it explained on OCZís website and donít know what exactly is behind this title. Life time warranty however is a tangible and welcome feature. OCZ PC2-4200 Rev. 2 is specified to run at 2.0 volt, but OCZ is expressively extending the warranty for usage with 2.2 volt. The OCZ modules are covered by mirrored copper heatspreaders. They look extremely good, in particular when installed on a black PCB. And they give (unlike aluminum spreaders) because of their heavy weight a quality feeling. Whether heatspreaders for DDR2 modules are really necessary is another question. DDR2 runs cooler than DDR1 because of its lower voltage; the modules in our test became just lukewarm, even when massively overclocked. But heatspreaders certainly donít do any harm either.




The most important feature of OCZ PC2-4200 Rev. 2 are the stock (SPD) latency timings of 3-2-2-8. They were at the time when this article was written the most aggressive timings for DDR2 memory, promising significantly better result than with first generation DDR2 specified to run at 4-4-4. Even though these initially released DDR2 products were in fact running at 533 MHz with 3-3-3, the OCZ PC2-4200 latency timings of 3-2-2 are expected to give a boost in system performance when compared with these first generation products.

The contenders in our test are Samsung PC2-4200 and Crucial Ballistix PC2-5300. The Ballistix is rated to run at a frequency of 667 MHz and in line with JEDEC requirements for DDR 667 it uses latency timings of 4-4-4-10. The Samsung and Ballistix modules are sold as single modules only, not in pre-tested dual channel kits like the OCZ. Samsung DDR2 comes without a heatspreader. Itís the only brand in our test where the actual RAM chips and their marking are visible.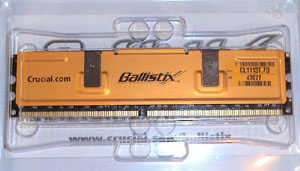 It has to be noted that OCZ does not manufacture memory chips. Like many memory vendors, OCZ purchase the chips and manufacture the printed circuit board to use them on. The memory chips on the Ballistix modules are from Micron which is Crucialís parent company. The Samsung modules of course carry Samsung memory chips. We have asked OCZ who is manufacturing the OCZ PC2-4200 Rev. 2 chips, and although their customer support is very responsive, they would not tell us. Well, sourcing is often confidential business. The consumer usually only cares about the performance they get for their money and not where the parts are from.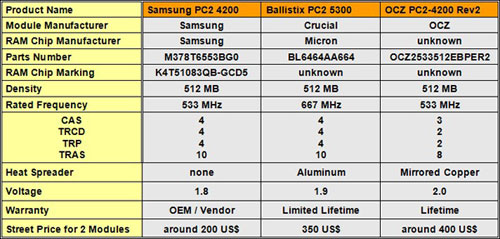 TEST SETTINGS:
The only chipset currently supporting DDR2 is Intelís 900 series. Our testbed is based on the formidable ASUS P5AD2-E, currently widely regarded as the best 925XE based motherboard in terms of features and performance. The 925XE chipset is the high-end version of the 900 chipset series. The 925XE memory controller runs with a system-bus speed of 4 x 266 MHz = 1066 MHz. We have tested this chipset and the matching 3.46 GHz Extreme Edition here recently. Intel has lowered the specified memory timing to be used with the 925XE chipset from CL 4 to CL 3. With a system-bus speed of 4 x 266 MHz providing a bandwidth of 8.2 GB/sec, this chipset is the right product to test high speed DDR2.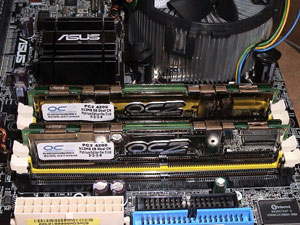 Our testbed:
P4 3.46 GHz Extreme Edition (ES)
ASUS P5AD2-E BIOS 3.10 beta
Windows XP Pro, SP 2, DirectX 9c
1 PATA Maxtor Diamond Plus 9 160 GB
nVidia 6600 GT PCI-Express video card
---
Advertisement:


All original content copyright James Rolfe.
All rights reserved. No reproduction allowed without written permission.
Interested in advertising on OCAU? Contact us for info.