Advertisement:

Zensonic Z800 5.1 Home Theatre Speakers
Join the community - in the OCAU Forums!


First Impressions, Front Speakers, Subwoofer

Today we're going to have a look at and a listen to the Zensonic Z800 home theatre speakers. This is a full 5.1 home theatre speaker package including an active subwoofer.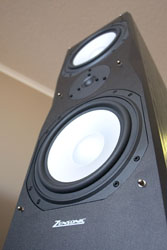 I have to admit that I'm a bit of a closet audiovisual junkie. I wouldn't say I'm an audiophile, and I'm no expert, but I like my music, I like my movies, and I like my speakers, amps, and all that sort of cool stuff. When the opportunity arose to review some home theatre speakers, I was ready, willing and able.

Zensonic have released a number of home theatre products in recent times, including a DVD player, the Z400 Digital Media Player, an amplifier, some wireless headphones and a learning remote. The Z800 speaker package is available as a full 5.1 set, or as separate components.

First Impressions:
The Zensonic Z800 home theatre speakers arrived in four boxes, and rather large boxes at that. One box for each of the main front speakers, one box for the subwoofer, and a fourth box containing the centre speakers and both rear speakers, totalling around 108kg. I live in a sixth floor apartment, and the day the boxes arrived our lift was out of action. After six flights of stairs, I really was wishing I'd taken a first floor apartment.

Z800F Front Speakers: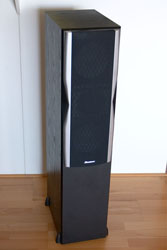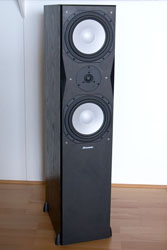 The Z800F front speakers are quite large and very solidly built. They're a 2-way design, with dual 8" aluminium mid/bass drivers and a 1" soft dome tweeter.

Aluminium driver cones, as used in all of the Z800 speakers (apart from the subwoofer), are more rigid and resistant to distortion than traditional doped paper or polypropylene driver cones, while still being relatively light. In theory this produces a cleaner and more dynamic sound. All the Z800 speakers feature removable cloth grills and are finished in a black woodgrain finish.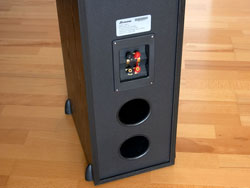 On the back, we can see that the Z800F speakers are able to be biamped, and since they are bass-reflex design, we can also see two bass ports. Biamping is when one amplifier is used to drive the mid/bass drivers and a second amplifier is used to drive the high frequency driver, such that (say) a high bass amplifier load will have no effect on the high frequency signal. The Z800F speakers have two separate sets of inputs on the back, connected by busbars. To biamp the Z800Fs the busbars would be removed and two amplifiers would be connected, one on each set of inputs.

Underneath, the Z800F speakers have 4 small "feet" (for want of a better word), which sit them up off the floor by a couple of millimetres. Spikes are also provided if you want to isolate the speakers better from the floor, and they screw into the bottom of the feet. I have polished wooden floors, so I didn't install the spikes.

All of the Z800 speakers are rated at an impedance of 8 ohms, and have binding post connectors on the back, able to accept a bare wire or banana plugs.

Z800SW Active Subwoofer: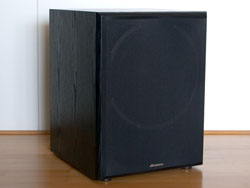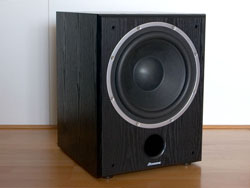 The Z800SW subwoofer is a front-ported bass-reflex design, with a single 12" long-throw driver firing forwards. Being an active design, it includes a 150W RMS amplifier, and can be driven by either a line-level or speaker-level input signal.

The Z800SW is pretty big (615 x 520 x 493mm), and very sturdy, which is a good thing for a speaker that will be bouncing a 12" driver around. It weighs about 25kg.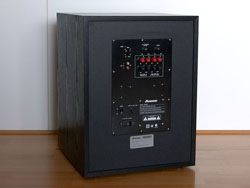 On the back of the Z800SW we can see the controls and inputs. The main controls are volume and crossover dials, as well as switches to set the phase (0 or 180 degrees) and auto-on (or just on all the time).

Phase switching is used to control how the subwoofer interacts with the other speakers. Generally, if it's facing the same way as the front speakers, the phase switch should be set to 0 degrees (in phase with the main speakers), but if it's behind you facing the main speakers, it should be set to 180 degrees (180 degrees out of phase with the main speakers). If the phase is incorrect, the main speakers can cancel out some of the bass effect from the subwoofer, and vice versa.

The inputs are fairly standard - one set of line-level inputs and one set of speakers level inputs. The line-level inputs are stereo, but either could be used if connected to a mono subwoofer output from a home theatre amplifier. A set of speaker level outputs are also provided, which would be handy if you wanted to run some satellite speakers from the subwoofer.

Underneath, the Z800SW has four rubber feet, to stop it from shaking its way around your living room.


---
Advertisement:


All original content copyright James Rolfe.
All rights reserved. No reproduction allowed without written permission.
Interested in advertising on OCAU? Contact us for info.

---
Recent Content


Team Group C440 Cardea Ceramic M.2 NVMe SSD


Synology DS720+ NAS


Raspberry Pi 4 Model B 8GB


Retro Extreme!


Intel Core i9-10980XE


AMD Ryzen Threadripper 3960X


Team Group T-Force Vulcan 500GB SATA SSD